Home / All Recipes / Chinese / Spicy Egg Tofu with Dou Ban Jiang
Spicy Egg Tofu with Dou Ban Jiang
This is another tofu recipe that is super fast to make, and best of all, you only need a microwave. That said, you can always go the traditional way by steaming the tofu for 5 minutes, and the sauce can be made on a stove. Let's move on to the sauce itself, dou ban jiang is the main sauce for making mapo tofu, and seeing how most people love mapo tofu, I am betting that this recipe will be a smashing hit too, but you can always substitute dou ban jiang with the same amount of black bean garlic sauce.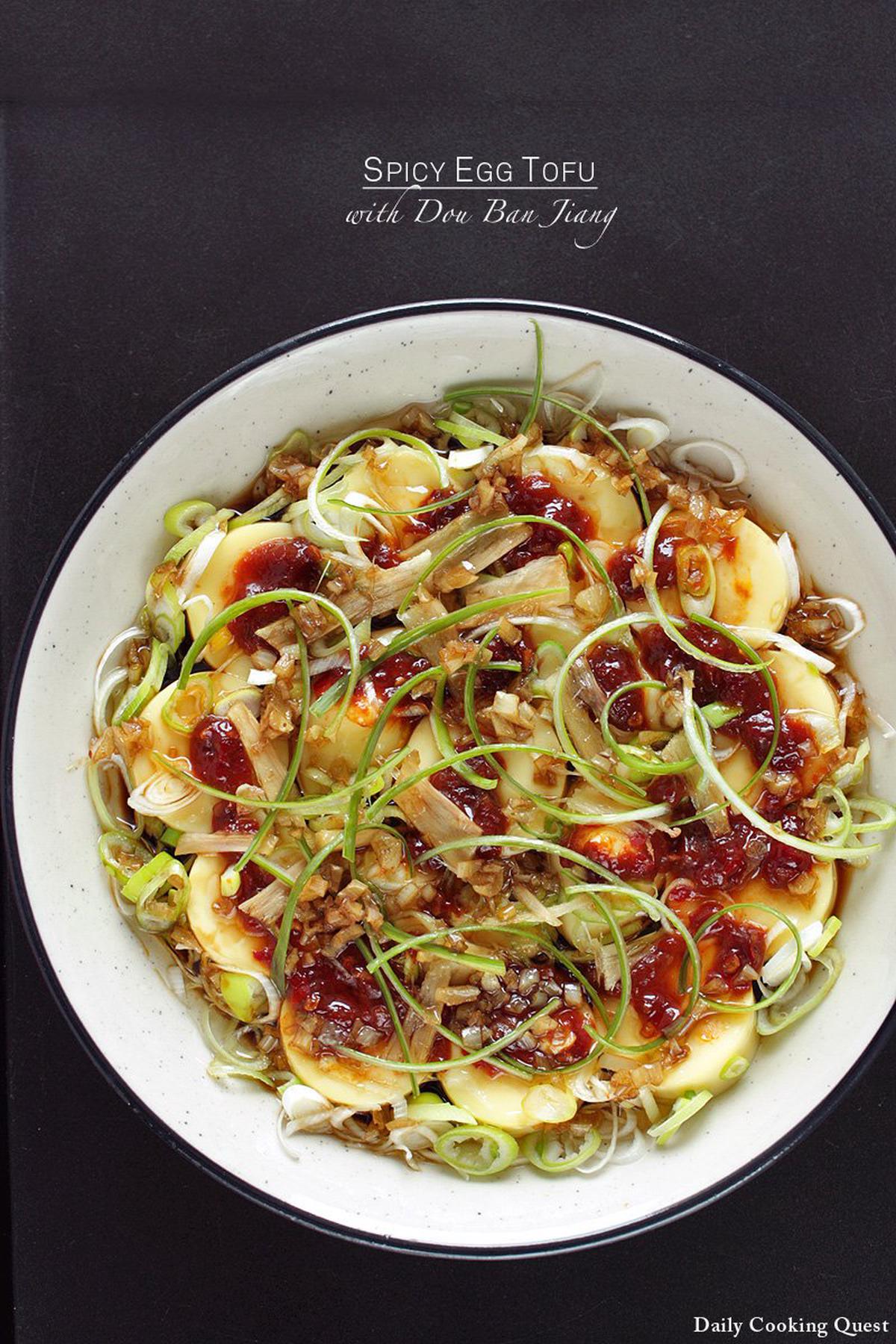 Spicy Egg Tofu with Dou Ban Jiang
5.0 from 1 reviews
Ingredients
2 tubes of egg tofu (about 300 gram), cut into 1 inch thick rounds
2 scallions, thinly sliced the white parts and cut into long ribbons the green parts
1/2 inch ginger, peeled and thinly sliced
1 tablespoon chili bean sauce (Chinese: dou ban jiang)
1/2 teaspoon sugar
2 tablespoon canola oil
3 cloves garlic (Indonesian: bawang putih), minced
1 tablespoon soy sauce
Instructions
Arrange egg tofu rounds on a microwave safe plate. Top with white parts of scallion, ginger, dou ban jiang, and sugar. Microwave on 450 Watt for 3 minutes. Set aside.
Mix canola oil and minced garlic in a microwave safe bowl and microwave on 450 Watt for 1 1/2 minute. Remove from microwave, then add soy sauce and mix well.
Scatter green parts of scallion on top of the egg tofu, then pour the garlic soy sauce oil. Serve immediately with steamed white rice.