Home / All Recipes / Indonesian / Steak Tempe - Tempeh (Soy Bean Cake) Steak
Steak Tempe - Tempeh (Soy Bean Cake) Steak
Made of soy bean, tempe is naturally packed with protein comparable to that of a meat, so tempe steak is not a far fetch idea. In fact, if you have a favorite steak recipe, I would highly suggest tinkering with tempe as the meat substitute and you may be surprised by its taste.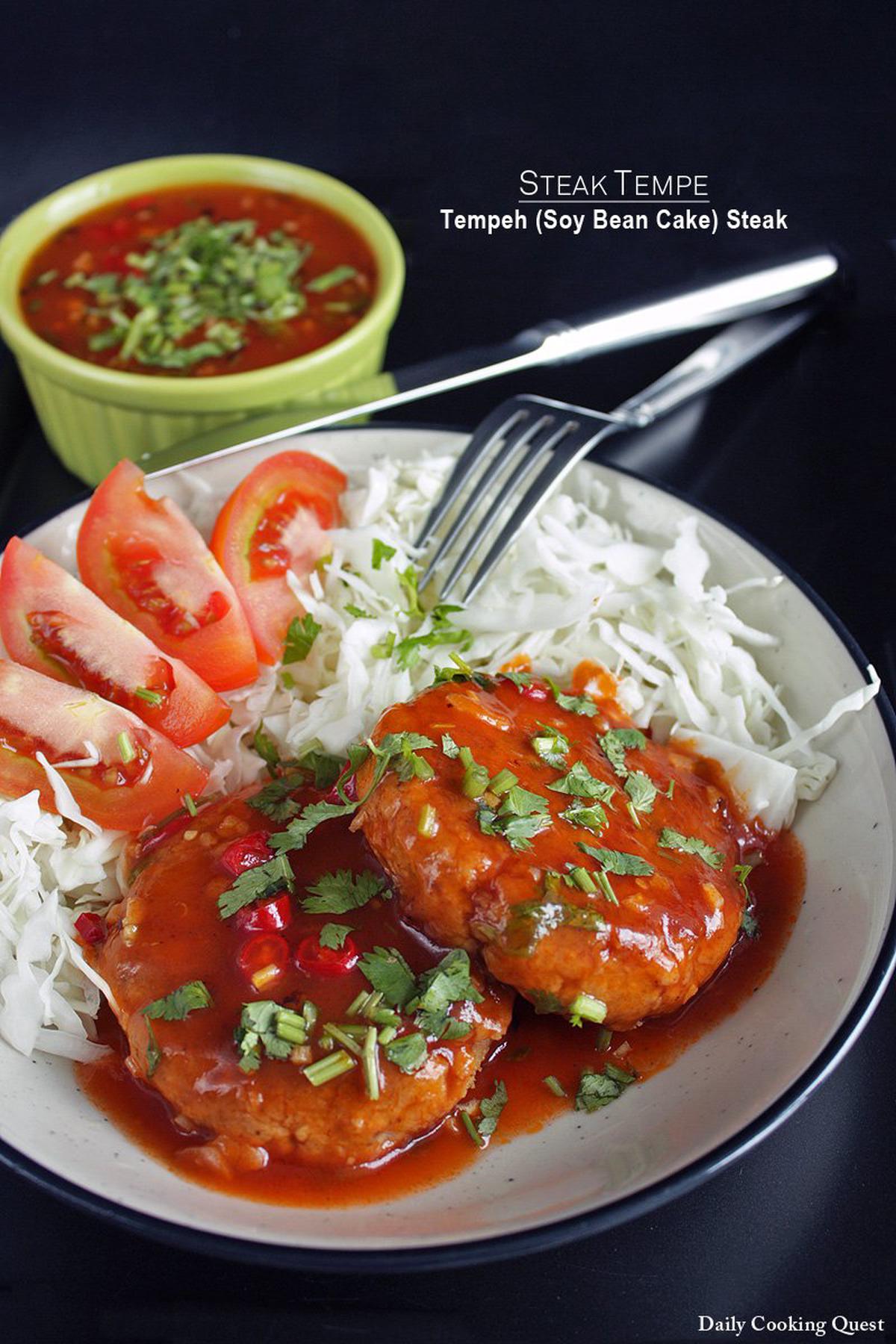 For this recipe, I added some coarsely chopped shrimp to the tempe to make steak patties. It is a great success combining the two, though I honestly think the steak will still be delicious even without the shrimp. The sauce is an Indonesian interpretation of tomato based sauce, really delicious. Granted it might be a bit unusual for those tasting it the first time, but I am betting most will love it after the first try. I have yet to see even a little kid running away from this sauce. ;)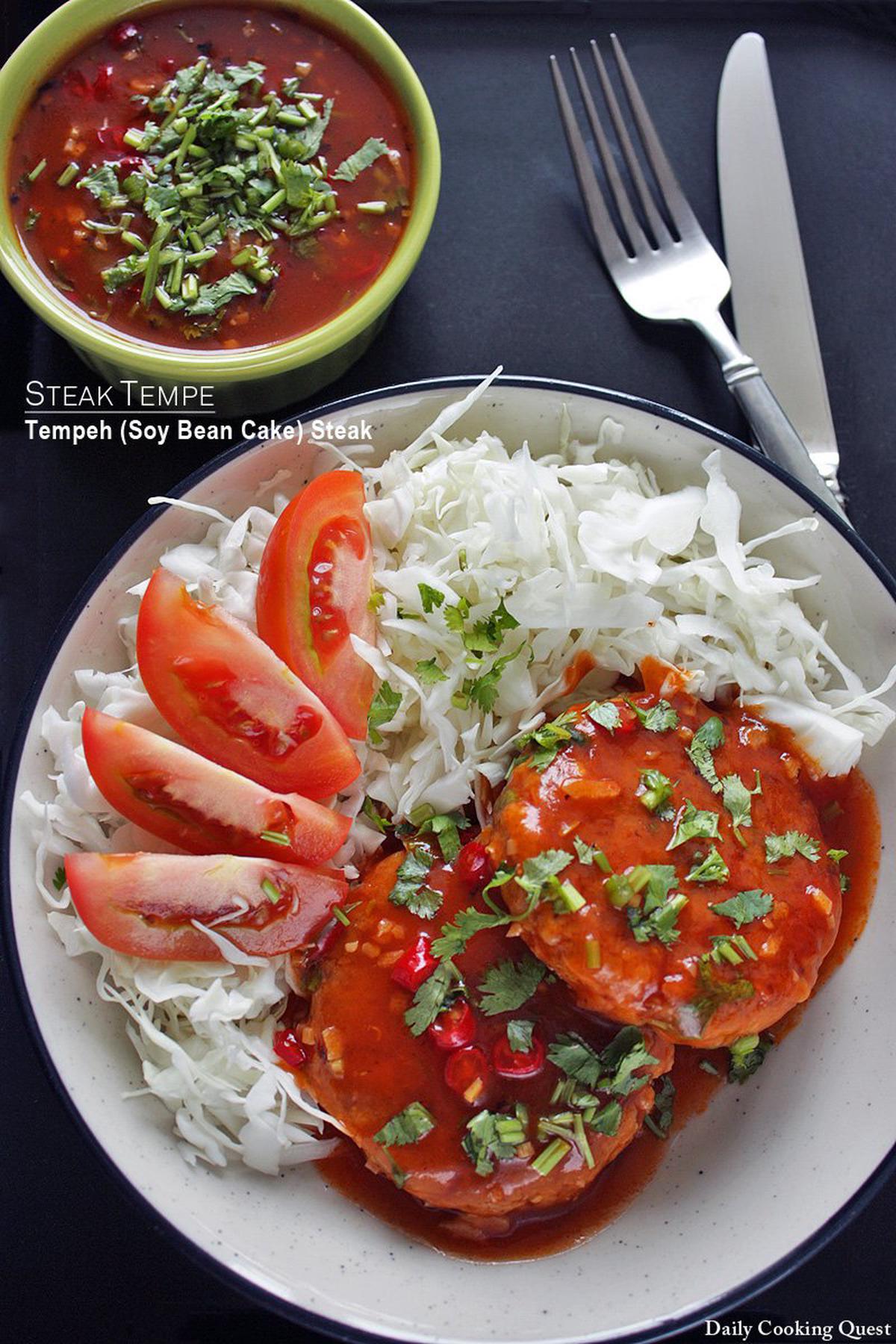 Steak Tempe - Tempeh (Soy Bean Cake) Steak
5.0 from 7 reviews
Ingredients
Steak
250 gram tempeh/soy bean cake (Indonesian: tempe)
75 gram peeled and deveined shrimp, coarsely chopped
1 clove garlic (Indonesian: bawang putih), minced
2 tablespoon corn starch (Indonesian: tepung maizena)
1/2 teaspoon salt (Indonesian: garam)
1/2 teaspoon sugar (Indonesian: gula)
1/2 teaspoon ground white pepper (Indonesian: bubuk lada)
1/2 teaspoon ground nutmeg (Indonesian: bubuk pala)
2 tablespoon butter (Indonesian: mentega)
Sauce
1 tablespoon butter (Indonesian: mentega)
2 cloves garlic (Indonesian: bawang putih), minced
2 red cayenne chilies (Indonesian: cabe keriting merah), thinly sliced
4 tablespoon tomato sauce (Indonesian: saus tomat)
1 tablespoon chili sauce (Indonesian: sambal)
250 ml water
1/2 teaspoon salt
1/2 teaspoon sugar
1/2 tablespoon corn starch + 1 tablespoon water
1 teaspoon lemon juice
1 bunch coriander leaves, thinly sliced (about 3 to 4 tablespoon)
Instructions
Steak

Cut the tempe into 1/2 inch cubes. Steam for 20 minutes. Transfer to a mixing bowl and mashed with a fork.
Add shrimp, garlic, corn starch, salt, sugar, ground white pepper, and nutmeg to the mashed tempe. Mix well, knead if you must, and divide into 4 portions. Shape each into a patty shape.
Heat butter in the frying pan until melted, then cook the tempe steaks until golden brown on one side, about 4 to 5 minutes. Then flip and cook the other side, another 3 to 4 minutes. Transfer to a serving plate and set aside.

Sauce

Heat butter in a frying pan (use the same pan to cook the tempe steak), then sauté garlic and chilies until fragrant.
Add tomato sauce, chili sauce, water, salt, and sugar. Mix well and bring to a boil.
Thicken the sauce with corn starch solution and cook until the sauce starts to bubble. Turn off heat, add the lemon juice and 2 tablespoon of coriander leaves to the sauce. Mix well, and transfer the sauce to a serving bowl (or a gravy boat if you have one).

To serve

Arrange the tempe steak on a serving plate, drizzle with some sauce, and garnish with some of the sliced coriander leaves. You can add some simple salad at the side to go with the steak.