Home / All Recipes / Chinese / Steamed Chicken with Red Dates
Steamed Chicken with Red Dates
Master this easy Chinese steamed chicken with red dates, then take it up a notch by adding even more ingredients such as ginger, shiitake, and goji berries.
When I am short on time but still want to cook something quick and healthy, I often rely on steamed dishes. Today, I am going to share this steamed chicken with red dates recipe, a super easy dish, super fast to prepare, and pretty healthy to boot.
If you want to be extra healthy, opt for free range chicken, or ayam kampung in Indonesian, which literally means village chicken. Ayam kampung tends to be smaller in size and the meat is much leaner compared to normal (farmed) chicken. But normal chicken will work just fine.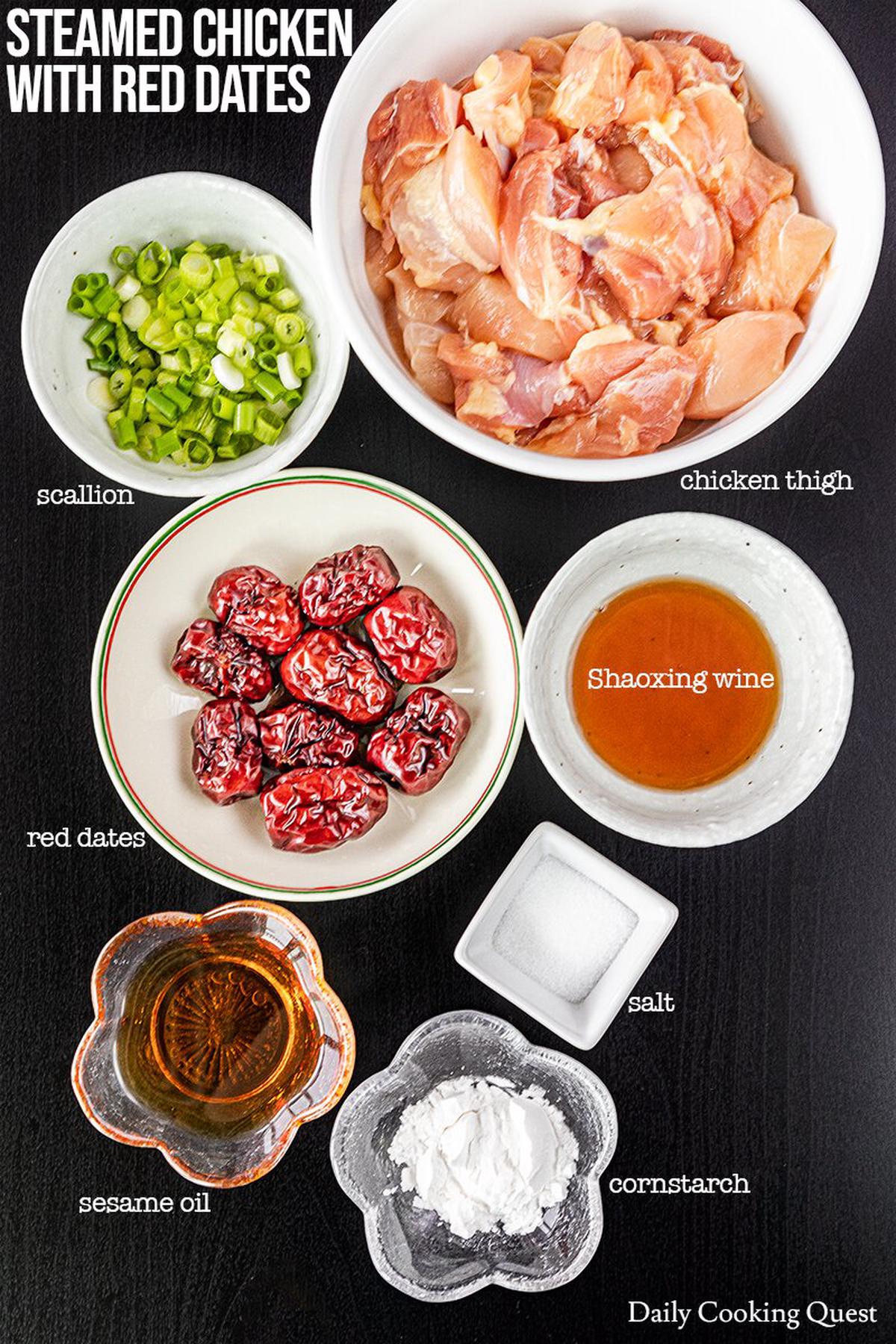 Why chicken thigh is better for steaming
Steamed dishes tend to be free of oil, and this steamed chicken with red dates is no exception, that is why I prefer to use chicken thigh to make the dish juicier.
If all you have is chicken breast, you can go for it too, maybe add 1/2 tablespoon vegetable/canola oil in the mix to make up for the lack of oil.
Alternatively, is you are using one free range chicken (ayam kampung), get your butcher to chop it into 18-20 pieces and you can use the whole chicken in this recipe. The free range chicken option is the one my Mom prepares for us all the time.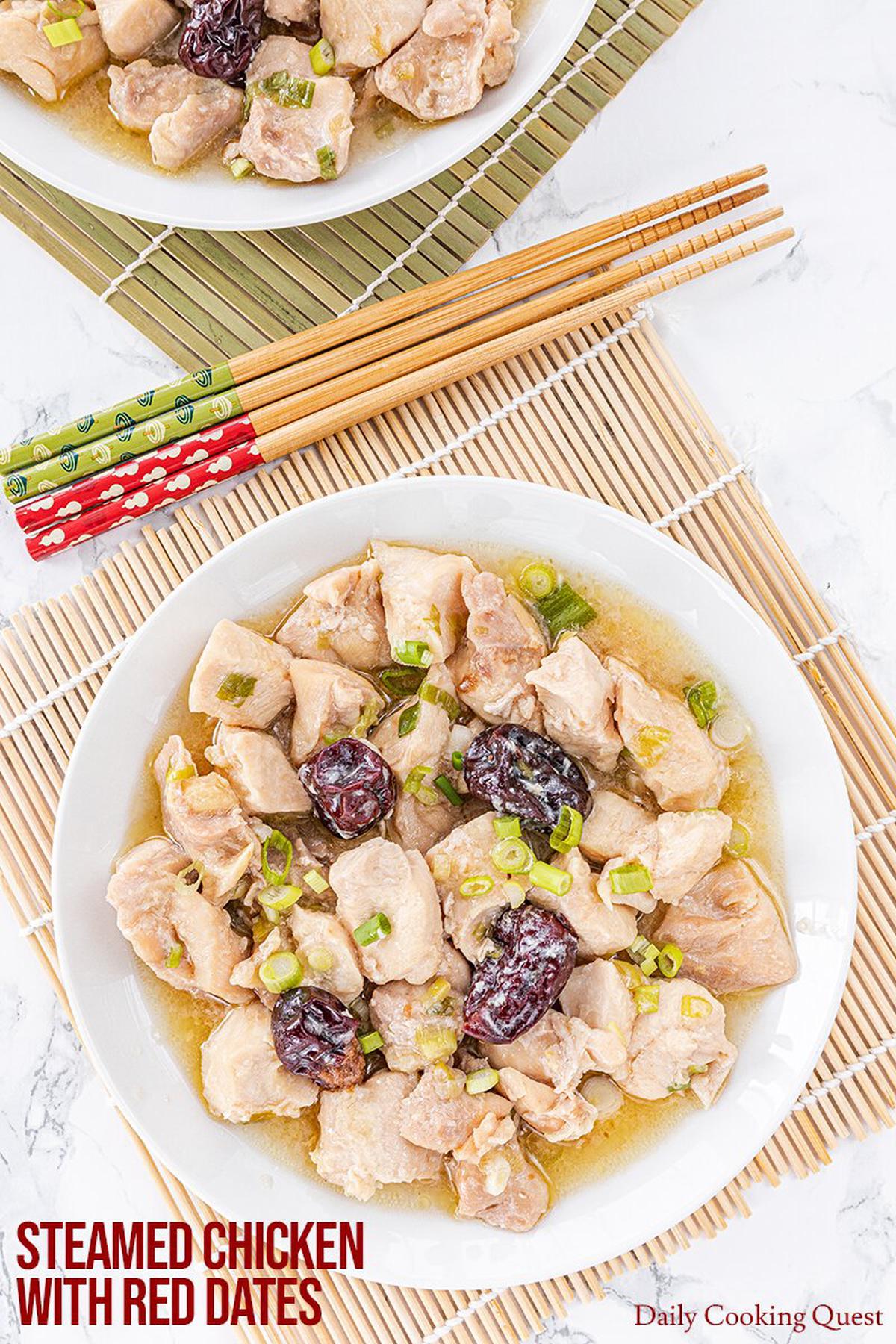 Chinese red dates/jujube
The only required Chinese herb for this dish is some Chinese red dates/jujube. Most Chinese groceries and even Korean groceries should have red dates/jujube available, some times in a dizzying array of options, from seedless, with seeds, and so many different brands.
And if you are feeing a bit more adventurous, you can also add even more Chinese herbs to the mix. Some of my favorites include: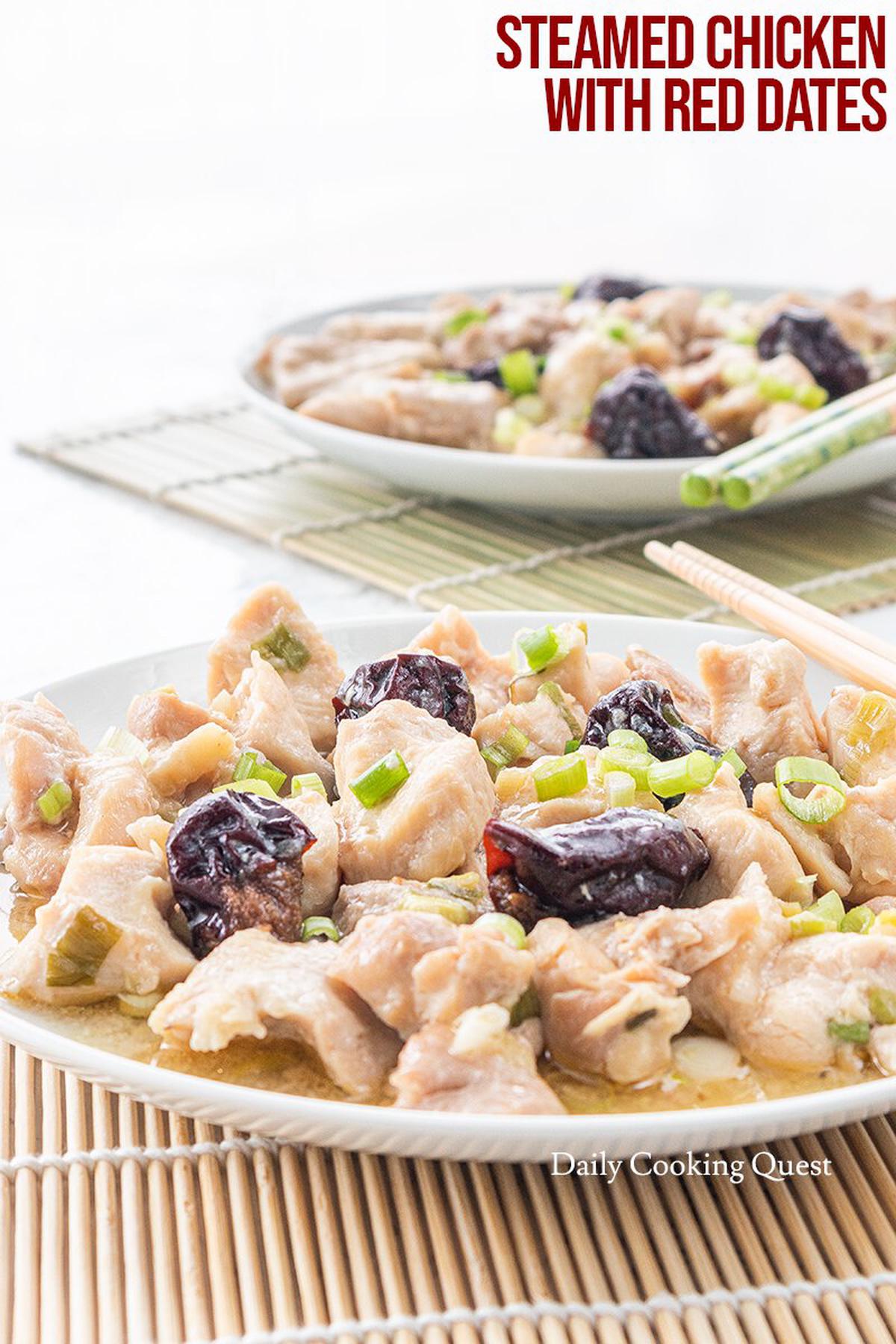 Shaoxing wine and it's alternative
To find a good Shaoxing wine, I highly recommend you skip the cooking aisle and head to the wine/sake/alcoholic beverages section of your Asian grocery.
A good size store, such as 99 Ranch Market or the like, should have at the very least one good Shaoxing wine available. And by good, I mean, it's meant to be for drinking, and as such should have 0% salt!
If you think about it, it makes perfect sense right? Since when we cook dishes with red wine or white wine, the one we prepare with drinking red/white wine will always be superior to the one with cooking red/cooking white wine. :)
Now, if you cannot get good quality Shaoxing wine, you can still make this dish with cooking Shaoxing wine (the one with salt content in it), or even mi jiu/rice cooking wine, but maybe reduce the salt by 1/2 teaspoon.
Incidentally, if you cook a lot of Japanese dishes, this should also be the same aisle to hunt for your sake instead of using cooking sake! :)
Steamed Chicken with Red Dates
5.0 from 8 reviews
Ingredients
800 gram chicken thigh meat, cut into bite size pieces
50 gram Chinese red dates/jujube, soaked overnight
1 1/2 teaspoon salt (if your Shaoxing wine contains salt, reduce this to 1 teaspoon)
2 teaspoon corn starch
2 tablespoon water
2 tablespoon sesame oil
3 tablespoon Shaoxing wine
2 scallions, thinly sliced (optional)
Instructions
Prepare a steamer.
Mix together all the ingredients in a mixing bowl. Transfer to a heat (steamer) proof dish, I use an 8" square Pyrex baking dish.
Steam over medium heat for 25-30 minutes, or until the chicken is fully cooked.
Remove from the steamer, garnish with thinly sliced scallions (if using), and serve immediately with steamed white rice.