Home / All Recipes / Chinese / Steamed Chicken with Salted Soy Beans and Green Chilies
Steamed Chicken with Salted Soy Beans and Green Chilies
Simple and so tender, a more unusual approach to steaming chicken by using salted soy beans (Indonesian: tauco) and green chilies (Indonesian: cabe hijau besar). If hot and spicy food is more your thing, you can add a couple more green chilies, or even a bit of Thai chilies (Indonesian: cabe rawit), and it will still be a great dish. ♥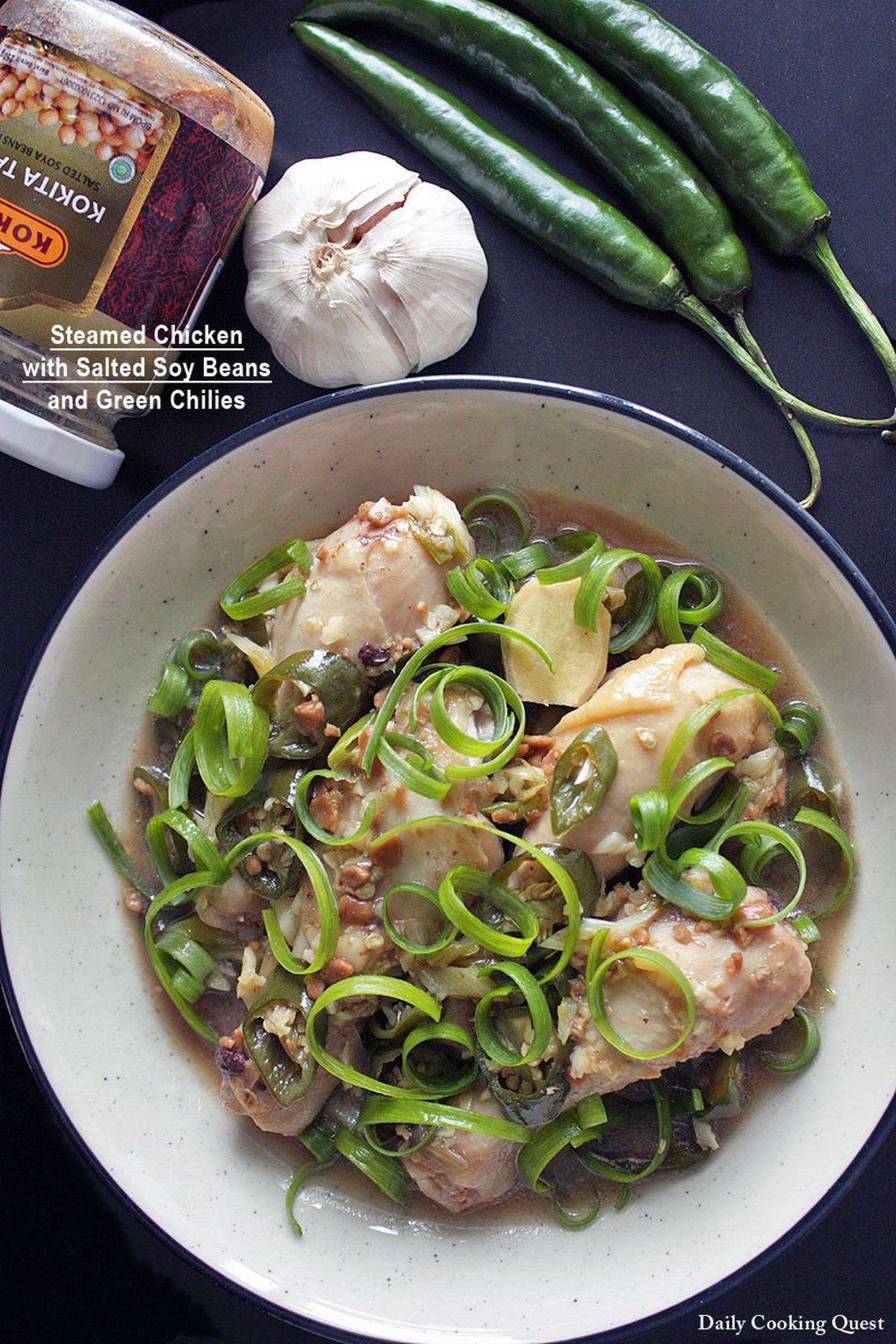 Steamed Chicken with Salted Soy Beans and Green Chilies
5.0 from 1 reviews
Ingredients
4 chicken drumsticks
1 inch ginger, peeled and thinly sliced
3 cloves garlic, minced
2 green chilies (Indonesian: cabe hijau besar), thinly sliced diagonally
2 scallion, thinly sliced the white parts and cut into ribbons the green parts
Sauce
2 tablespoon salted soy beans (Indonesian: tauco)
1 tablespoon soy/peanut/canola oil
1 teaspoon light soy sauce
1 teaspoon sugar
1/4 teaspoon sesame oil
Instructions
Mix the sauce ingredients together and rub the chicken pieces. Set aside to marinade for 10 minutes.
Prepare a steamer.
In a steam proof bowl/plate, scatter half of the ginger at the bottom, top with drumsticks (include all the marinating sauce), followed by the rest of the ginger, garlic, green chilies, and the white part of the scallions. Steam for 20 minutes.
Garnish with green parts of the scallions, and serve hot with steamed white rice.