Home / All Recipes / Chinese / Steamed Chicken with Salted Soy Beans
Steamed Chicken with Salted Soy Beans
Steaming chicken or fish with a simple salted soy beans sauce (Indonesian: tauco) is a healthy way to prepare a quick dish for lunch or dinner. Salted soy beans can be found in many Asian grocery store. My favorite salted soy beans is the one from Yeos, a Malaysian brand, which happens to be very similar to the ones I grow up eating in Indonesia. There will be slight different in taste if you choose other brands of salted soy beans, feel free to experiment to find out which one you like best.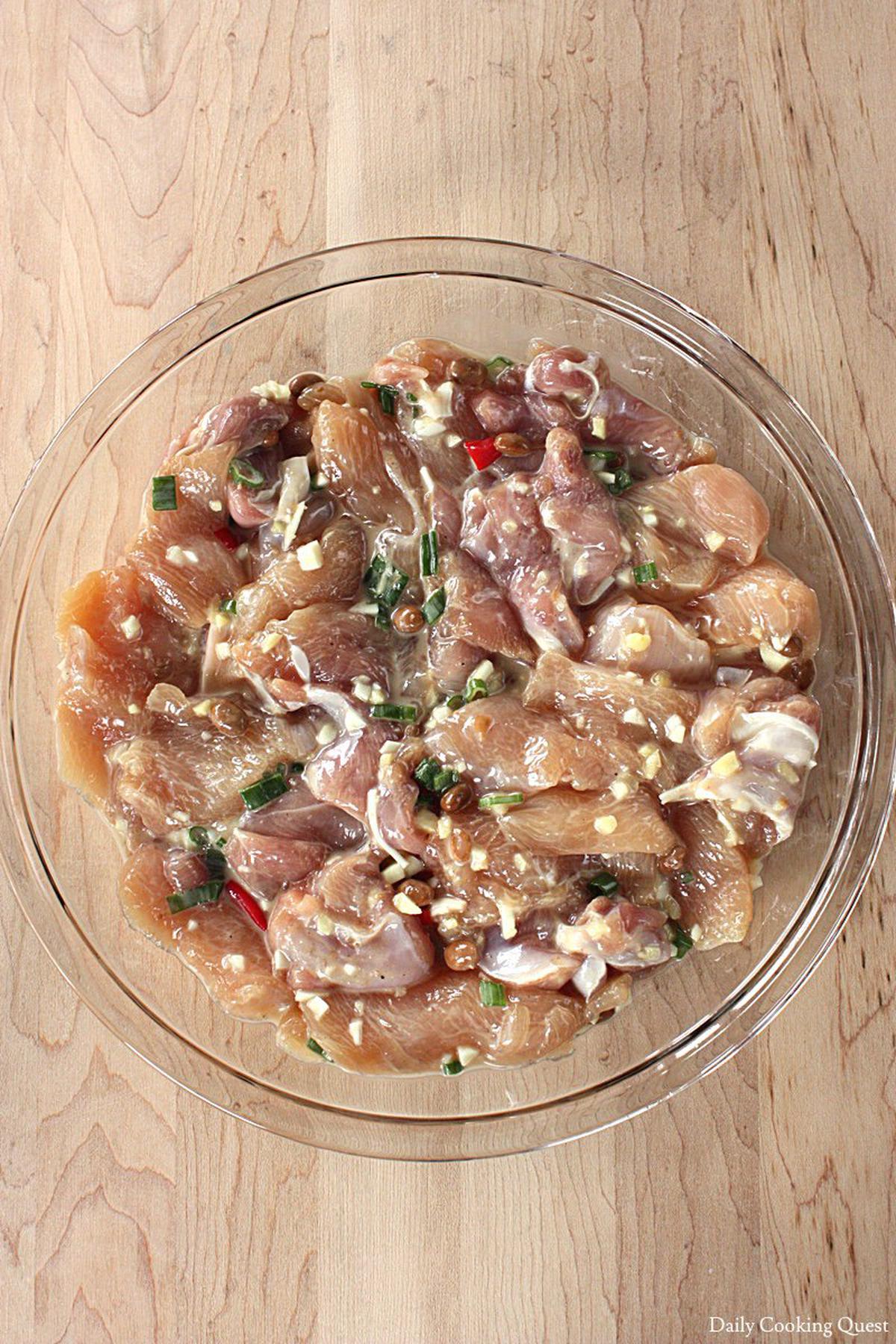 If you opt to use chicken meat, I suggest a mixture of skinless boneless breast and thigh, or 100% thigh meat if you don't mind the slightly higher calories. A pure 100% breast meat is still good, just not as juicy. You can also use white fish fillet slices (again, make it bite sizes) such as tilapia, rock fish, or red snapper, but be sure to reduce steaming time to 5 minutes since fish cooks much faster than chicken.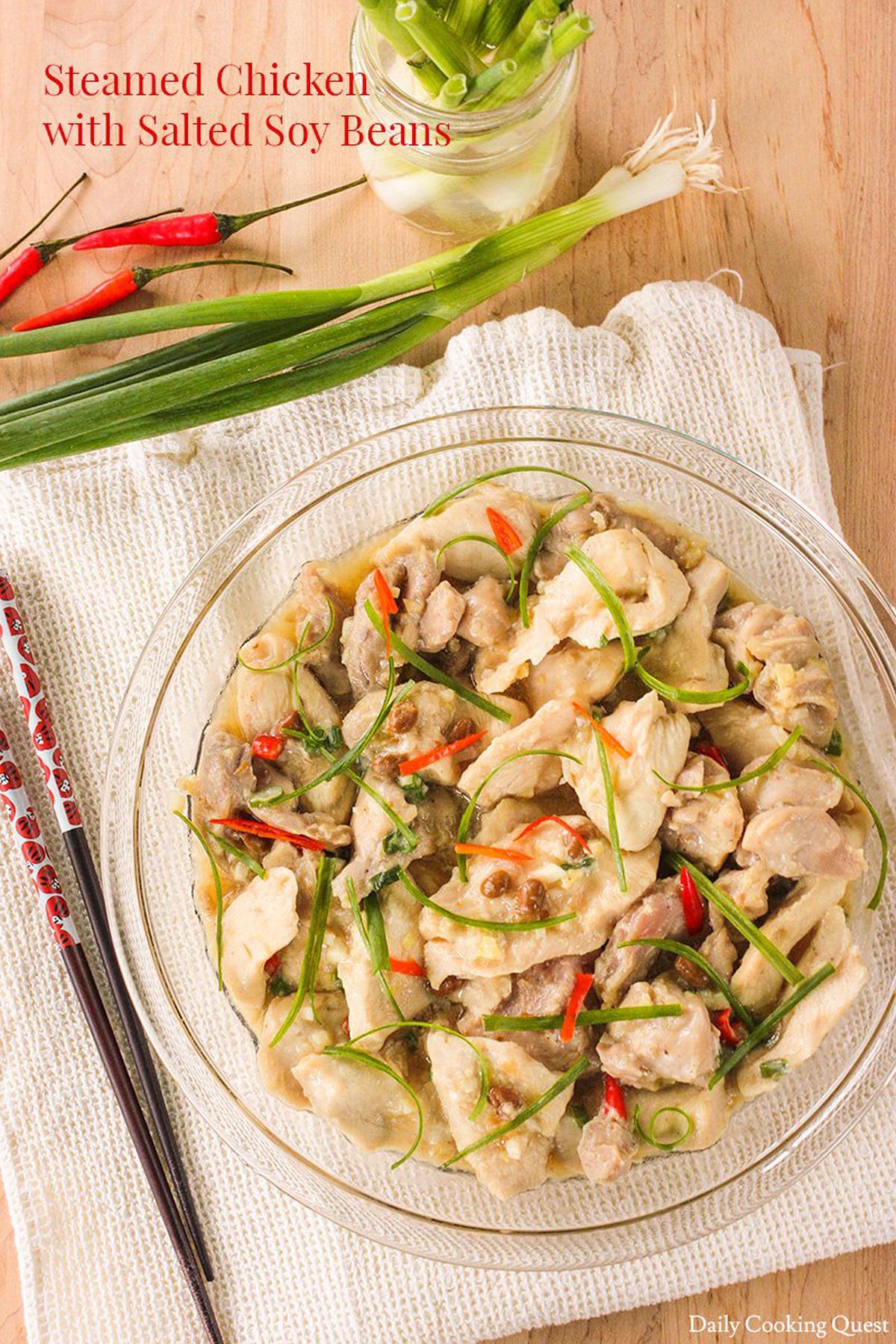 I love this dish so much and since my parents are still here in the States, I made two batches back to back! They are staying with my younger brother so I am packing one batch for them to enjoy :)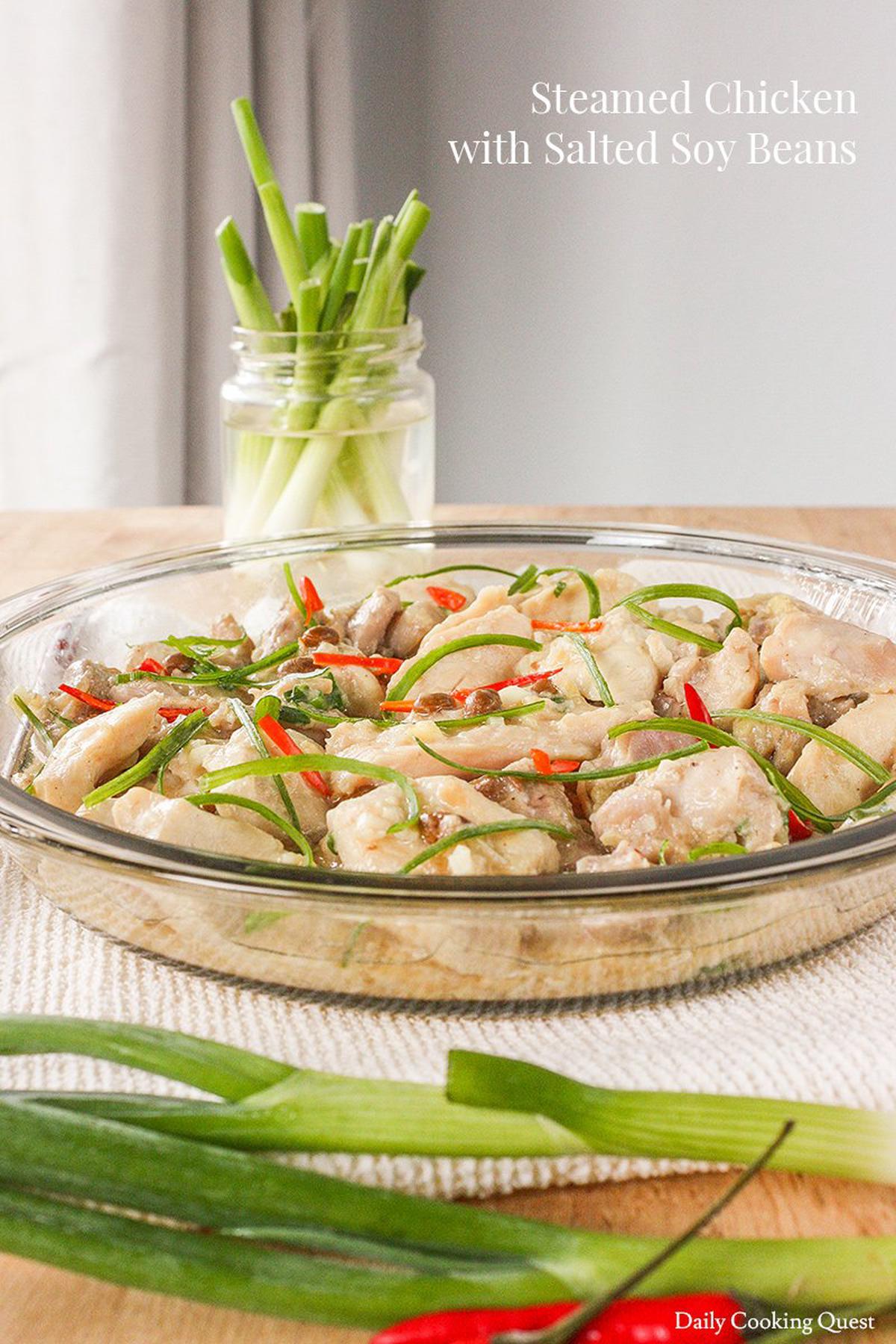 Steamed Chicken with Salted Soy Beans
Ingredients
500 gram chicken breast/thigh meat, bite size
Marinating sauce
1 tablespoon salted soy beans (Indonesian: tauco)
1 teaspoon soy sauce
1 teaspoon Shaoxing wine
1 teaspoon sugar
1/2 teaspoon salt
1/4 teaspoon ground white pepper
Other ingredients
1 tablespoon corn starch/tapioca starch
2 tablespoon water
3 cloves garlic, minced
1 inch ginger, minced
1-2 bird eye chilies, seeded and thinly sliced
1-2 scallions, thinly sliced
Instructions
Mix chicken with marinating sauce and let the chicken marinate for 1 hour.
Preheat a steamer on high heat.
Add corn starch/tapioca starch, water, garlic, ginger, and half of sliced chilies and scallions. Mix well.
Transfer to a steam proof bowl (e.g. a 9" Pyrex pie dish), and steam on medium-high heat for 10 minutes.
Remove from steamer. Garnish with the other half of sliced chilies and scallions. Serve with steamed white rice.