Home / All Recipes / Chinese / Steamed Chicken with Shiitake, Wood Ear, and Lily Flowers
Steamed Chicken with Shiitake, Wood Ear, and Lily Flowers
Perusing through the dried Chinese ingredients in my local Asian groceries can be a fun time. It is messy and the organization is not always perfect, sometimes what's being displayed and the price tag can be a mismatch, but I still love doing it all the same.
One of the more uncommon ingredients, at least to non Chinese, is probably going to be dried lily flowers. Unlike dried chrysanthemum or dried rose, at a glance dried lily flowers don't look like flowers at all.
Dried lily flower are typically sold in a see-through plastic packaging. The flowers look more like 3 inches of golden brown stalks, and probably not the most appetizing thing judging from their appearance. But if you manage to find it in your market (or just buy from Amazon), these flowers have a mild flavor with crunchy and interesting texture, a perfect addition to your stir fry dishes, soup especially hot and sour, and of course I am going to use them in this recipe.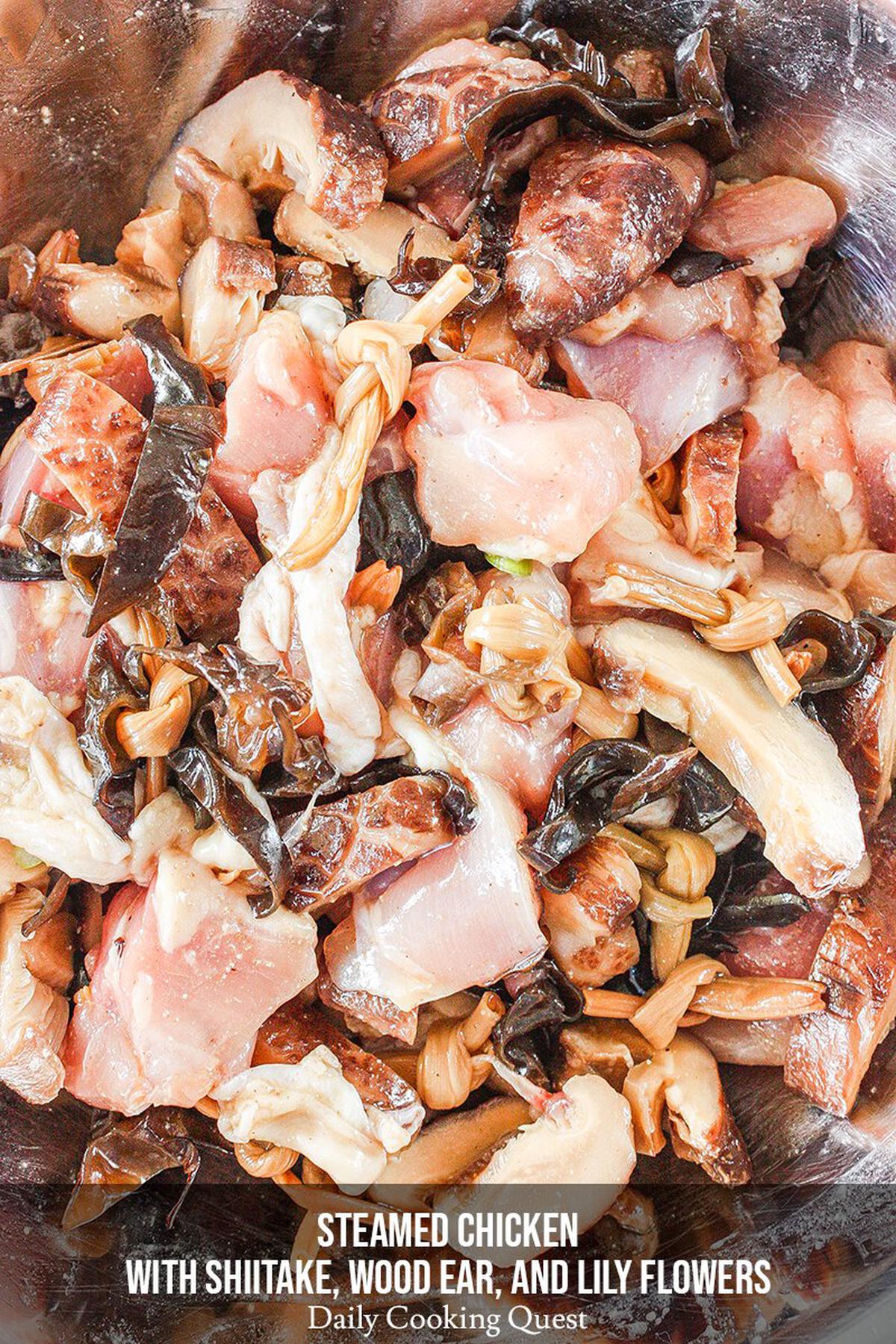 This is a very homely dish, something that my Grandma made for us when we were kids, and definitely not something you find served in fancy restaurants.
You will need to start preparing the dried ingredients the night before you want to cook the dish, I usually wash and soak all my dried ingredients (wood ear, shiitake, and lily flower) in separate bowls just before I am ready to go to bed so they have enough time to fully rehydrate by the next day when I prepare for lunch.
Once they are fully rehydrated, squeeze out the water, then thinly slice the wood ear and shiitake, chop off the stem (if present) of the lily flowers and tie each flower in a knot. If you are short on time, you don't have to tie them in knots, but I think it is a nice touch and that's how it's been done in my family since my Grandma's time.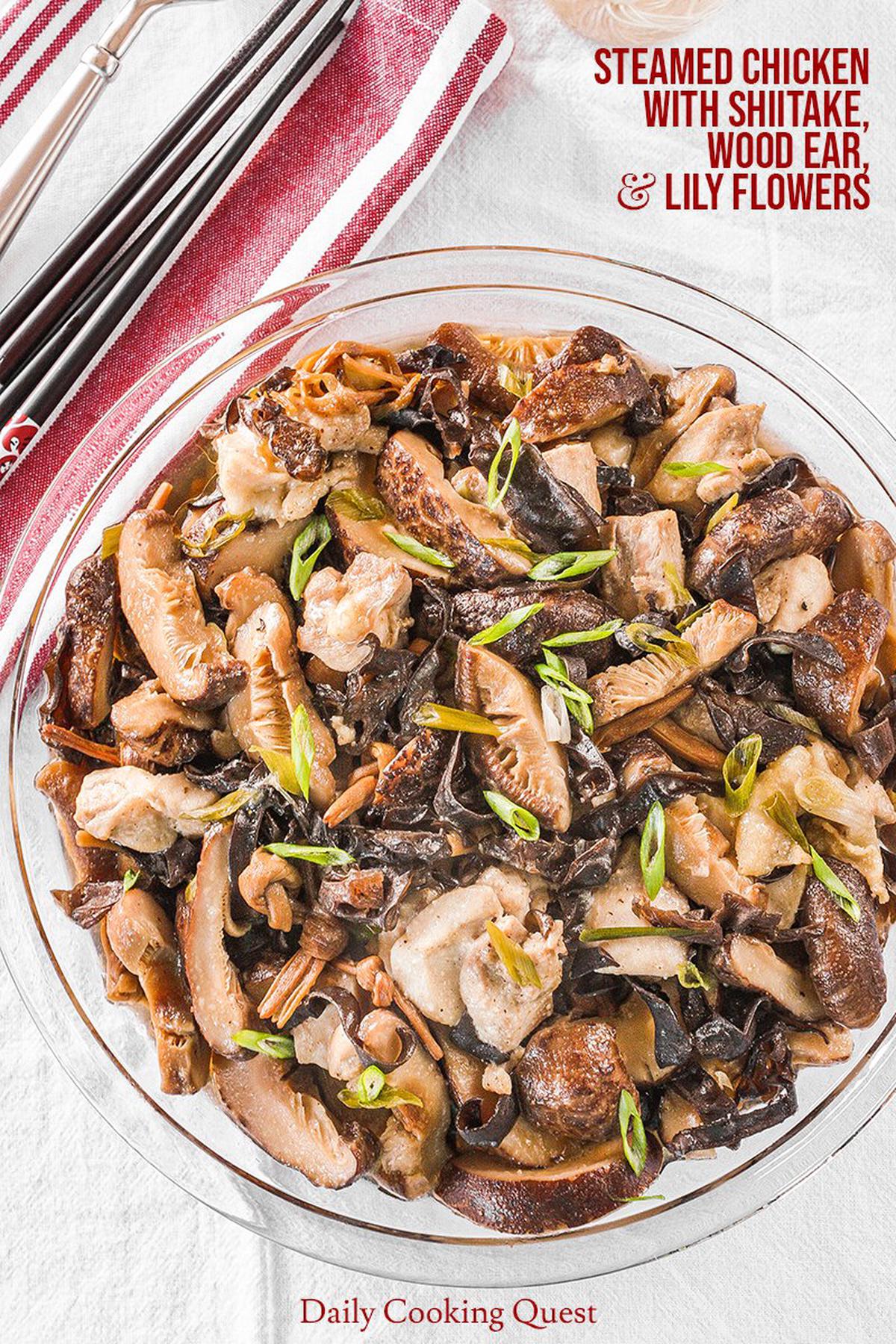 The rest of the steps is very easy, but we will still need to marinate for 2 hours, so if you want to make this for lunch, it is best to do this step by 10 a.m. Simply combine all the ingredients (minus cornstarch) in a mixing bowl, cover the bowl with a saran, and marinate for 2 hours in the fridge. Remember to return to room temperature prior to cooking.
To cook, prepare a steamer and let the water boils on medium heat. While we wait for the water to boil, add cornstarch to the mixture, mix well, and transfer the whole thing into a steam proof bowl.
I use a 9" pie dish and it is perfect. Once the water boils, just put the dish into the steamer and steam for 15 minutes. Remember to let the dish rest another 5 minutes before taking off the lid. Garnish with scallions and the dish is done!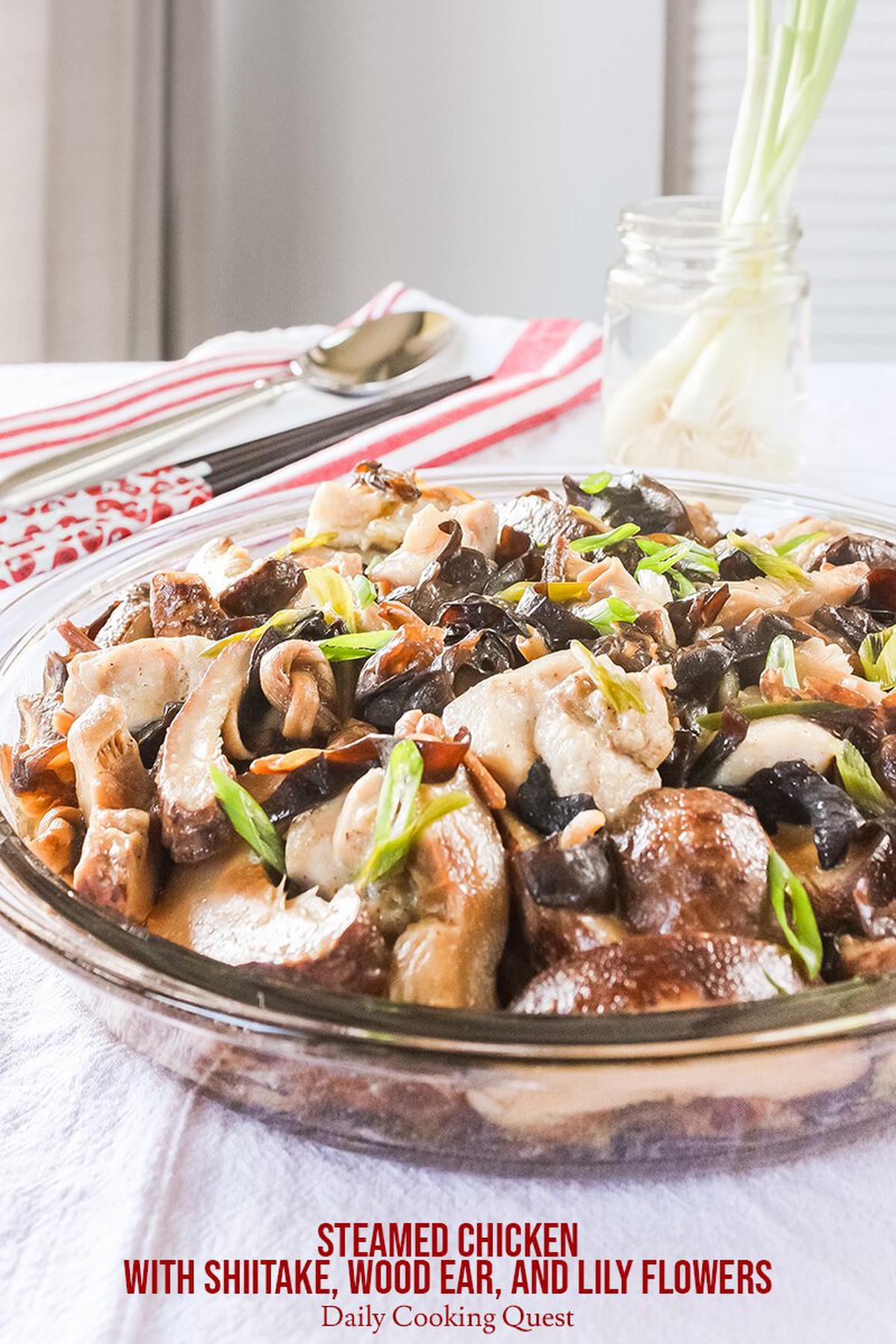 Steamed Chicken with Shiitake, Wood Ear, and Lily Flowers
4.7 from 3 reviews
Ingredients
100 gram dried shiitake mushroom
10 gram dried wood ear mushroom
15 gram dried lily flower
500 gram chicken thigh meat, cut into bite size pieces
1/4 cup water
1 tablespoon oil
1/2 teaspoon sesame oil
1 tablespoon Shaoxing wine
1 tablespoon oyster sauce
1/2 teaspoon sugar
1/2 teaspoon ground white pepper
3/4 teaspoon salt
1/2 teaspoon grated ginger
1 scallions, thinly sliced, separate white and green parts
1 tablespoon cornstarch
Instructions
Wash and drain dried wood ear mushrooms, dried shiitake mushrooms, and dried lily flowers. Place each dried ingredient in separate bowls and add enough water to submerge. Let them rehydrate overnight.
Drain and squeeze out as much water as you can from the rehydrated dried ingredients. Thinly slice wood ear mushrooms and shiitake mushrooms. Cut off the tough stems (if present) from the lily flowers, and tie each into a knot (tying is optional).
In a mixing bowl, combine chopped wood ear mushrooms, chopped shiitake mushrooms, lily flowers, chicken, water, oil, sesame oil, Shaoxing wine, oyster sauce, sugar, ground white pepper salt, grated ginger, and the white parts of scallion. Mix well. Wrap with a saran plastic and marinate for 2 hours in the fridge. Return to room temperature prior to cooking.
Prepare a steamer on medium heat.
Add cornstarch to the marinated ingredients, mix well. Make sure there is no more liquid. If you still see any liquid, add a little more cornstarch and mix well. Transfer to a steam-proof bowl. A 9" pie dish is perfect for this.
Steam for 15 minutes. Turn the heat off, and let the dish rest for another 5 minutes in the steamer.
Gently remove the cover to avoid any water from the lid drips into the dish. Take the dish out from the steamer, garnish with green parts of scallion, and serve with steamed white rice.