Home / All Recipes / Chinese / Steamed Prawn with Chili and Garlic
Steamed Prawn with Chili and Garlic
Definitely one of the easiest and fastest prawn recipe, not to mention they look lovely and fit for a banquet. If you don't own a microwave, you can make the garlic oil on a stove top by first heating the oil in a frying pan, and then stir fry minced garlic until they turn golden brown. If you do own a microwave, then this will be a pretty mess free recipe to make. ♥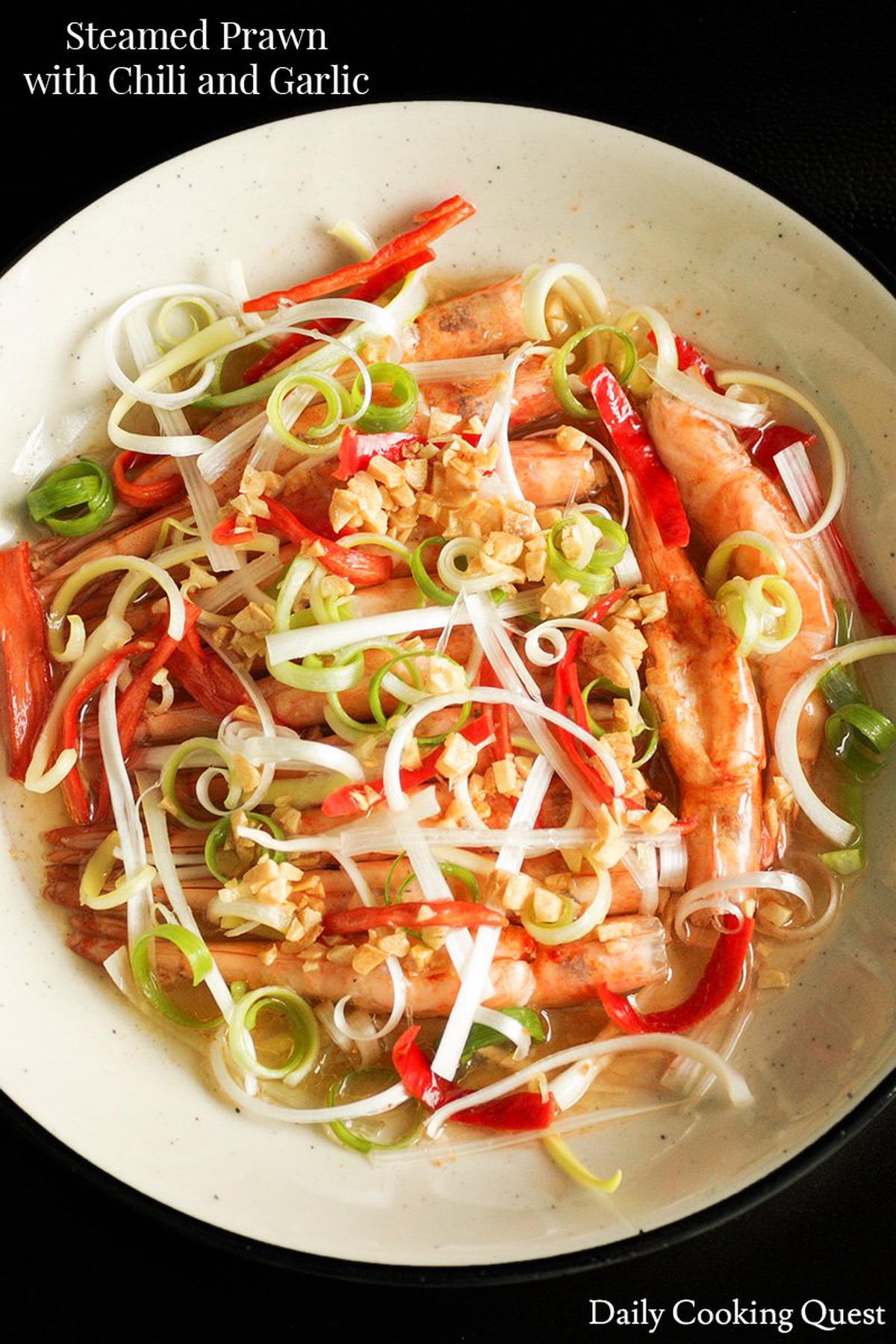 Steamed Prawn with Chili and Garlic
Ingredients
12 medium size prawns
1 1/2 tablespoon Shaoxing wine (Chinese: Shao Xing Hua Tiao Jiu)
1 1/2 tablespoon water
1/4 teaspoon sesame oil
1/8 teaspoon salt
1/8 teaspoon ground pepper
1/8 teaspoon fish sauce
4 cloves garlic, minced
3 tablespoon peanut/soybean/canola oil
1 stalk scallion, cut into 2 inch ribbons
1 red chili, remove seeds and cut into 2 inch ribbons
Instructions
Chop away the eyes part of the prawns, partially cut the back of the prawns and devein, leaving the prawns still in their shell. Wash, pat dry, and place in a steam proof bowl.
Add Shaoxing wine, water, sesame oil, salt, ground pepper, and fish oil into the bowl.
Steam for 5 minutes.
Meanwhile, mix together garlic and peanut/soybean/canola oil in a microwave proof bowl. Cook in the microwave with 450 Watt power for 3-4 minutes, or until the garlic has turned golden brown. Remove from microwave and set aside.
When the prawns are cooked, remove from the steamer, scatter scallion and chili ribbons, and pour the garlic oil on top of the prawns. Serve immediately.