Home / All Recipes / Chinese / Steamed Spare Ribs Black Beans
Steamed Spare Ribs Black Beans
Tender and juicy steamed spare ribs with black beans like those from a Chinese dim sum. Now you don't have to wait until the next dim sum to enjoy this.
Do you have favorite dishes that you must order whenever you go for a Chinese dim sum? For us, steamed spare ribs with black beans is definitely one of our must-haves. Though lately, we have been ordering this less and less because of how easy it is to actually prepare this dish at home. These spare ribs are so delicious and ridiculously easy you will want to make them, again and again, to serve with steamed white rice.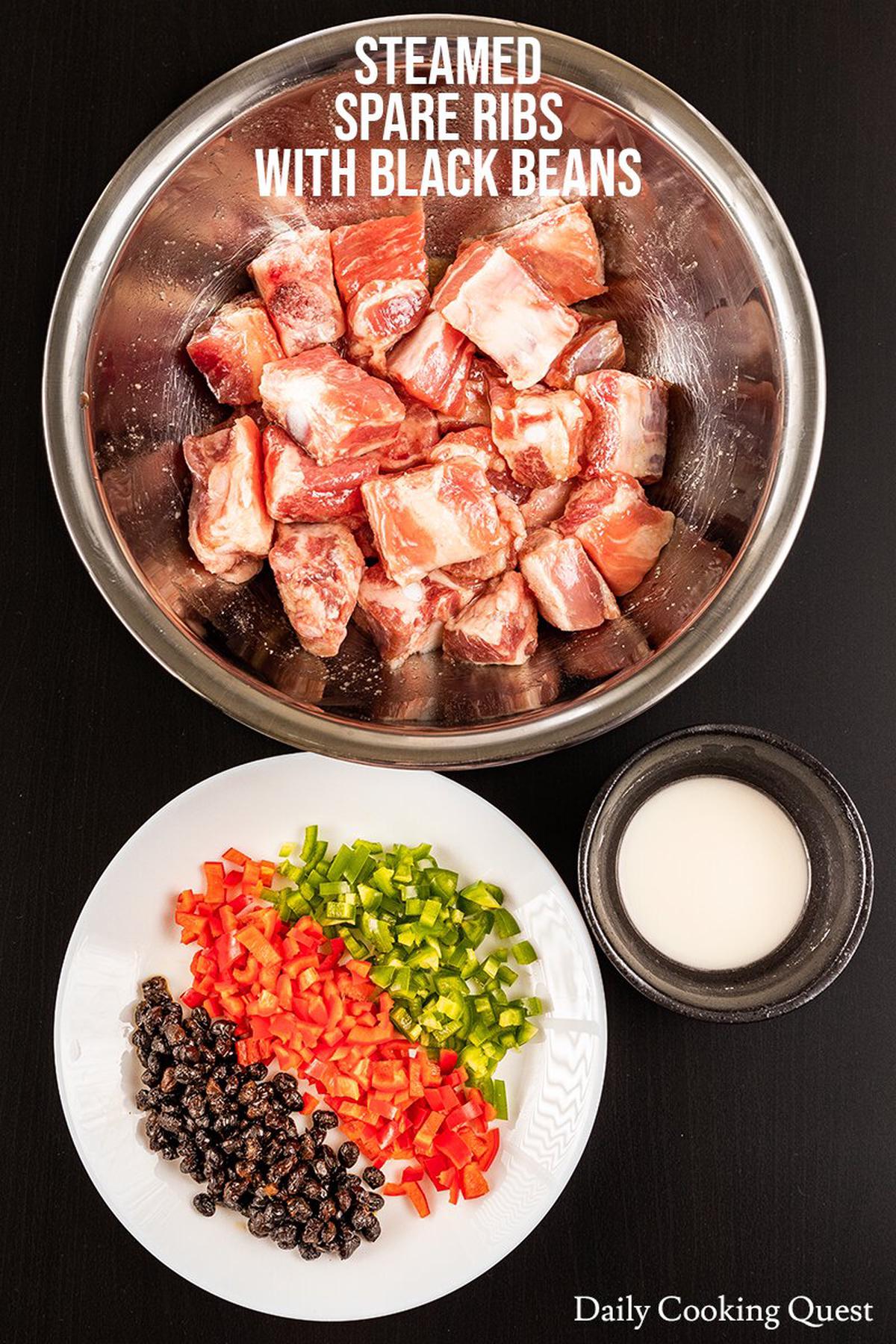 For dim sum style, make sure to use a shorter spare ribs
Do you notice that Chinese style spare ribs are much shorter compared to their Western counterparts? It's actually the same thing, but Chinese butchers usually cut the regular spare ribs into two lengthwise to create shorter ribs, which makes them much easier to handle with a pair of chopsticks. If you want your spare ribs to look exactly like the dim sum version, you will definitely want to get your butcher to chop them for you. Or, if you buy your spare ribs from a Chinese/Asian grocery store, it is very likely that they are already pre-cut for you.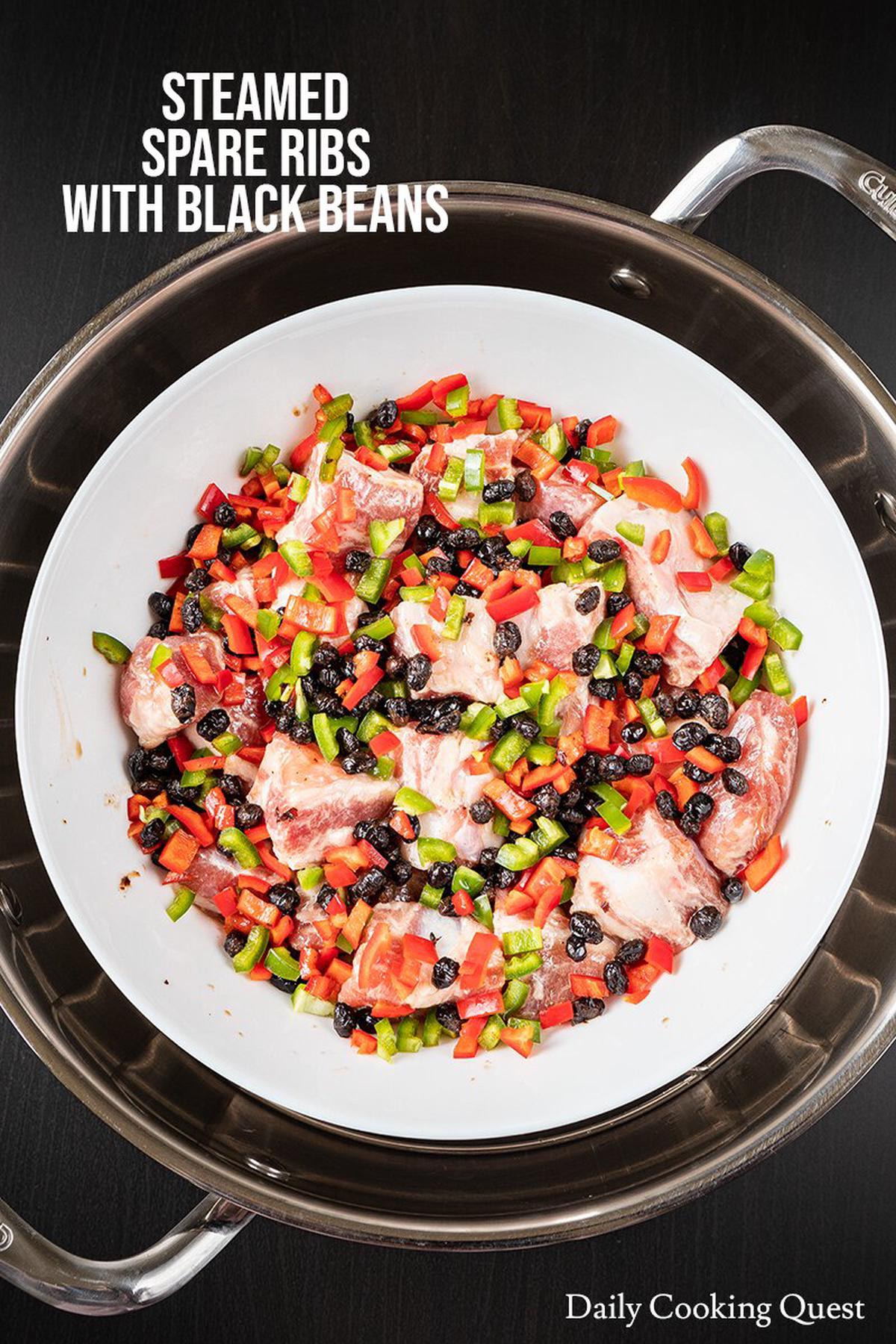 The prep works: marinate the spare ribs and prepare the rest of the ingredients
Once you have your requisite spare ribs, you will want to marinate them with the following for at least 2 hours, though I usually let them rest overnight in the fridge.
Shaoxing wine
sesame oil
sugar
salt
ground white pepper, you can use black pepper too if you don't mind the black specks in the final dish
And here are the rest of the prep works that you need to do prior to steaming:
chopping 1 red chili, I usually use Fresno chili for this
chopping 1 green chili, I usually use Jalapeno or Serrano
rinse and drain the fermented black beans
You should be able to find fermented black beans in any well-stocked Chinese/Asian grocery. I find that these are usually found in the dried/preserved ingredients aisle, along with dried turnips and the assortment of dried vegetables.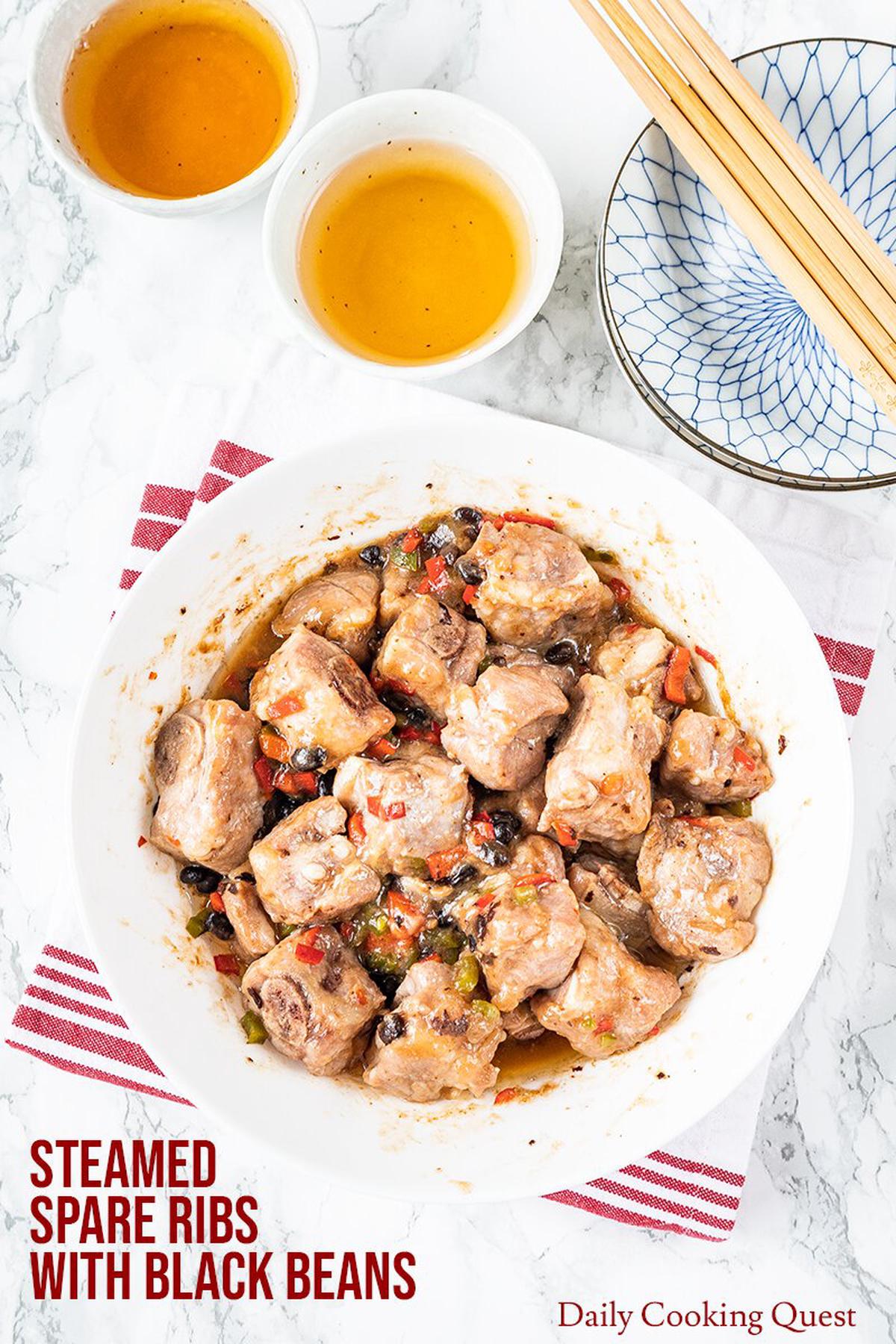 Steaming the spare ribs
There are two ways you can choose to steam your spare ribs: the dim sum style, or the normal way.
Dim sum style
You will need several small rimmed heatproof porcelain plates, like those you get from the dim sum. You then divide the spare ribs into several of these tiny plates, making sure that each plate only has one layer of ribs, or your cooking time will be off and the ribs won't cook at the same time, then top with the chilies and fermented black beans.
Normal/simple style
Simply arrange the spare ribs in a heatproof rimmed plate/bowl, again in one layer, then top with the chilies and fermented black beans.
Once they are arranged, be sure to steam over medium heat until the meat is opaque and fully cooked. I usually need around 8-10 minutes as long as I keep the ribs in one layer. Enjoy!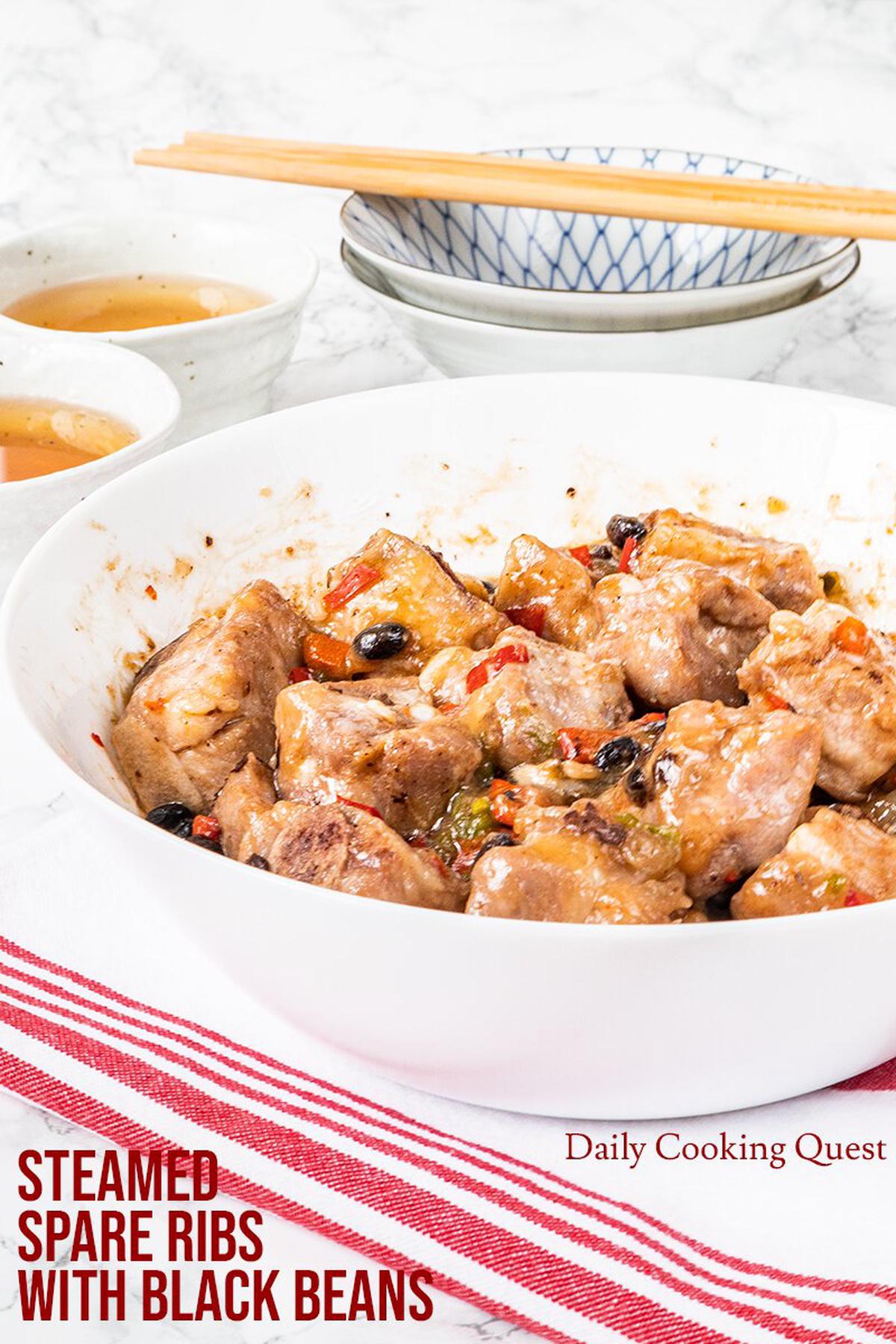 Steamed Spare Ribs Black Beans
5.0 from 11 reviews
Ingredients
500 gram (~ 1.1 lb.) spare ribs, cut into bite size pieces
1 tablespoon Shaoxing wine
1 teaspoon sesame oil
2 teaspoon sugar
1 teaspoon salt
1/4 teaspoon ground white pepper
1 tablespoon cornstarch
1 tablespoon water
1 Fresno chili, seeded and chopped
1 Japaleno chili, seeded and chopped
1 tablespoon fermented black beans, rinsed and drained
Instructions
Marinate spare ribs with Shaoxing wine, sesame oil, sugar, salt, and ground white pepper for at least 2 hours, preferably overnight.
When ready to cook, return the spare ribs to room temperature.
Make a cornstarch slurry by mixing the 1 tablespoon cornstarch with 1 tablespoon water, then add this to the marinated spare ribs. Stir to mix, the cornstarch slurry should be absorbed by the spare ribs and you shouldn't be seeing any standing liquid.
Arrange spare ribs in one layer in a heatproof bowl, or a rimmed plate to catch the juice. Top with chopped Fresno chilies, chopped Jalapeno chilies, and the fermented black beans. (*)
Prepare a steamer pot with at least 1 inch of boiling water over medium heat.
Steam the spare ribs for about 10 minutes, or until the meat is opaque and fully cooked. Serve immediately.
Notes
(*) If you want to do a dim sum style version, you can arrange this into several smaller bowls/plates instead of in one big bowl/plate. Please make sure to arrange the ribs in only one layer or the cooking time will be off.