Home / All Recipes / Chinese / Stovetop Braised Char Siu
Stovetop Braised Char Siu
Char siu is typically made in an oven, but with this recipe you can make char siu on stovetop with great ease and result.
Char siu has always been one of my guilty pleasure. I know it can be quite fatty and growing up, my parents would always remind us not to eat too much char siu. For a long while, I was a good daughter and did restrain myself. Now that I know just how easy to prepare a good char siu at home, it has been a challenge. And especially with this stovetop braised char siu recipe, making a good char siu is such an easy thing the only way to stop is to not even buy any pork when doing my groceries. :D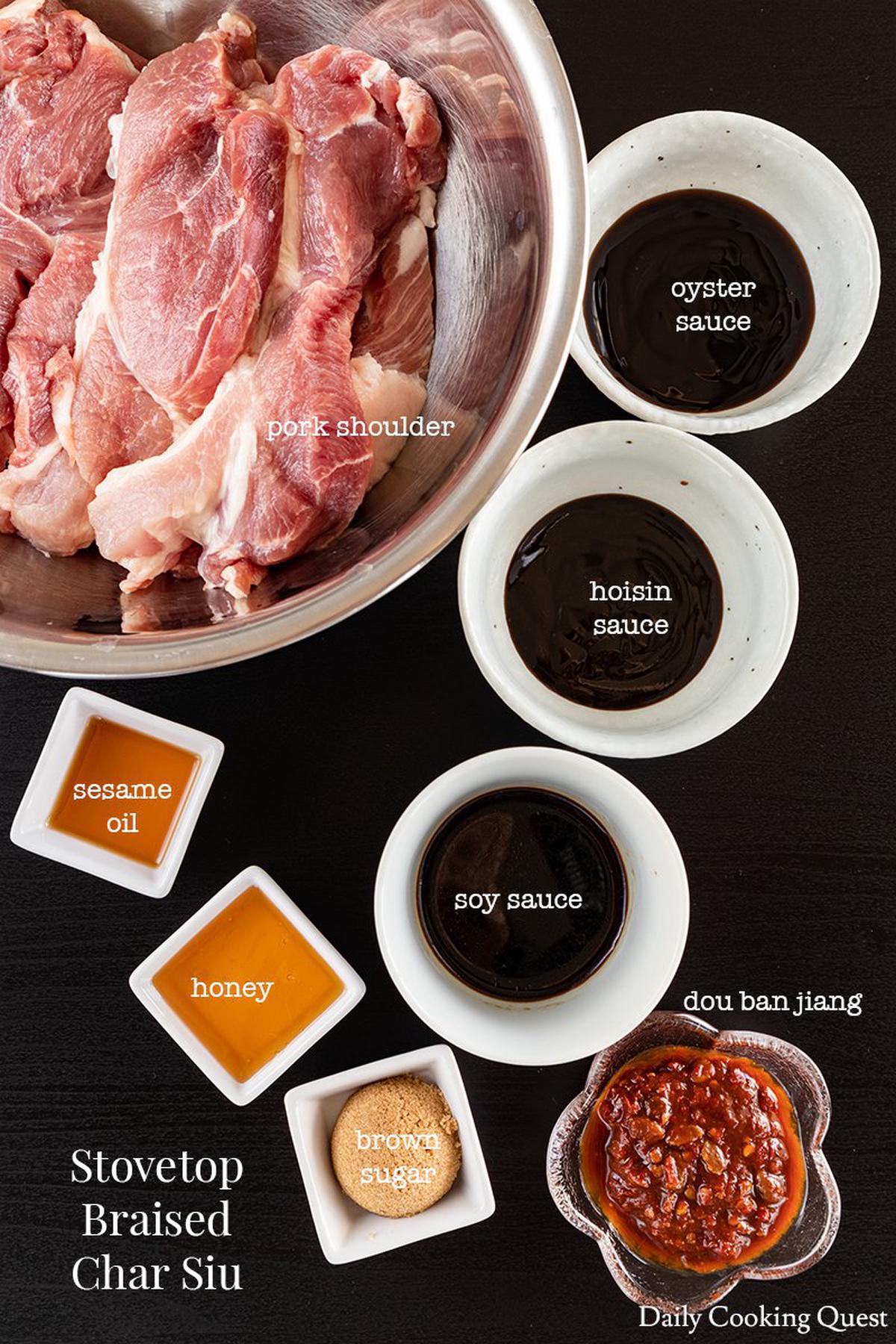 I have to thank my friend Pearlyn for this wonderful recipe. I usually prepare my char siu with preserved bean curd (nam yue), but hers uses fermented chili soy bean paste (dou ban jiang). I know she is a remarkably good cook and followed her recipe exactly and it turned out so good I don't want to change anything. If you love char siu, you owe it to yourself to at least try the recipe once. But, don't come to me later to complain you cannot stop cooking this. ;)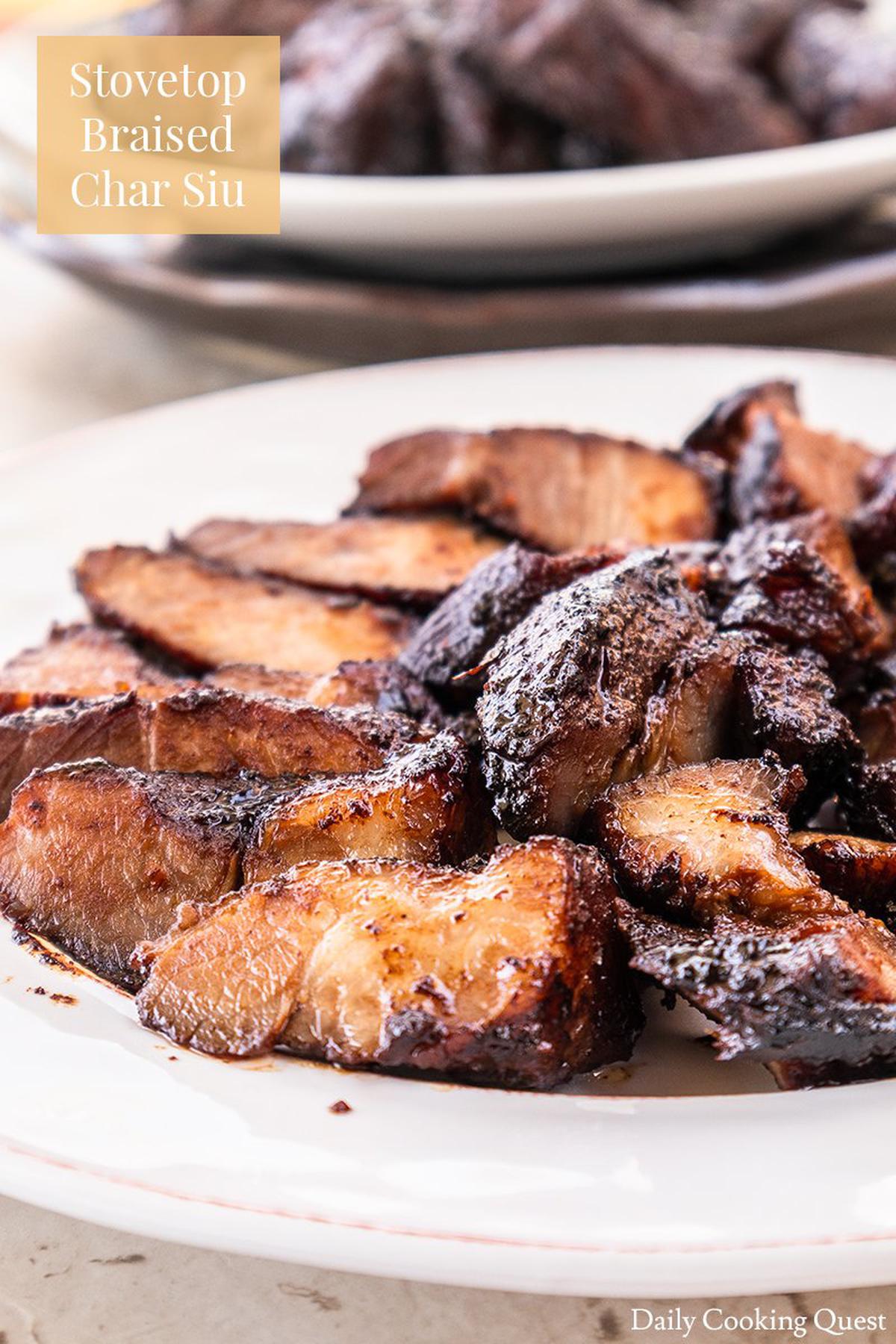 Why is the char siu not red?
If you are wondering why the char siu is not as red as the ones in restaurant, it is because those are usually colored with red food coloring. There is a way if you want to add red color naturally, but you need to get some red yeast rice (angkak). Soak 1 tablespoon (or even up to 1.5 tablespoon) of angkak in hot water for 1 minute, drain, then grind in a food processor and mix with the rest of the marinating ingredients to marinate the pork. If you do it this way, your char siu will be red.
Stovetop Braised Char Siu
5.0 from 9 reviews
Ingredients
1 kilogram (~ 2.2 lb) pork shoulder/pork collar, cut into long thin 1.5cm (0.5 inch) slices
5 tablespoon oyster sauce
4 tablespoon hoisin sauce
2 tablespoon dou ban jiang (fermented chili soy bean paste)
1 tablespoon sesame oil
2 tablespoon maltose/honey
1 tablespoon brown sugar
3 tablespoon light soy sauce (or use 2 tablespoon regular soy sauce + 1 tablespoon water)
2 tablespoon Shaoxing wine (optional)
Instructions
Mix pork with all ingredients in a large mixing bowl. Let the pork marinate for at least 4 hours, overnight is best.
Arrange the pork in a single layer in a large skillet with a lid. Then, mix the marinating sauce with 1 cup of water, and pour this over the pork.
Cover the lid, and turn the heat on to medium-high. Once it boils, continue cooking for 10 minutes. Flip the meat, cover the skillet again, and continue cooking for another 10 minutes.
Now remove the lid and check if there is still enough liquid or not. Usually it can be a bit dry at this point, and I usually add about 1/2 cup of hot water to the skillet and shake it around a bit loosen up the sauce.
Continue cooking (without lid) until the sauce is reduced and the meat is caramelized, about 20 minutes. You may want to flip the meat every 10 minutes.
Turn off the heat, and remove the skillet from heat. Let the meat sit in the hot skillet for another 10 minutes, then cut into thin slices. Char siu is great with rice or noodle, and you can even use it as filling for Chinese steamed buns.