Home / All Recipes / Indonesian / Sumpia Kacang dan Wijen - Peanut and Sesame Seeds in Wonton Pouch
Sumpia Kacang dan Wijen - Peanut and Sesame Seeds in Wonton Pouch
Use your wonton skins/wrappers to make this super easy and delicious Indonesian wonton pouches sweet snack with ground peanuts and sesame seeds filling.
Wonton skins can be exceedingly useful for dessert and snack preparation. Though they are most familiar for making wonton (of course!), I am going to show you a neat and fast way to make sumpia. Sumpia is basically a wonton pouch filled with some stuffing (sweet or savory) and deep fried. This recipe is for sweet sumpia and the filling I use is a mix of ground peanut, toasted sesame seeds, and sugar. Savory sumpia is commonly filled with abon (meat floss).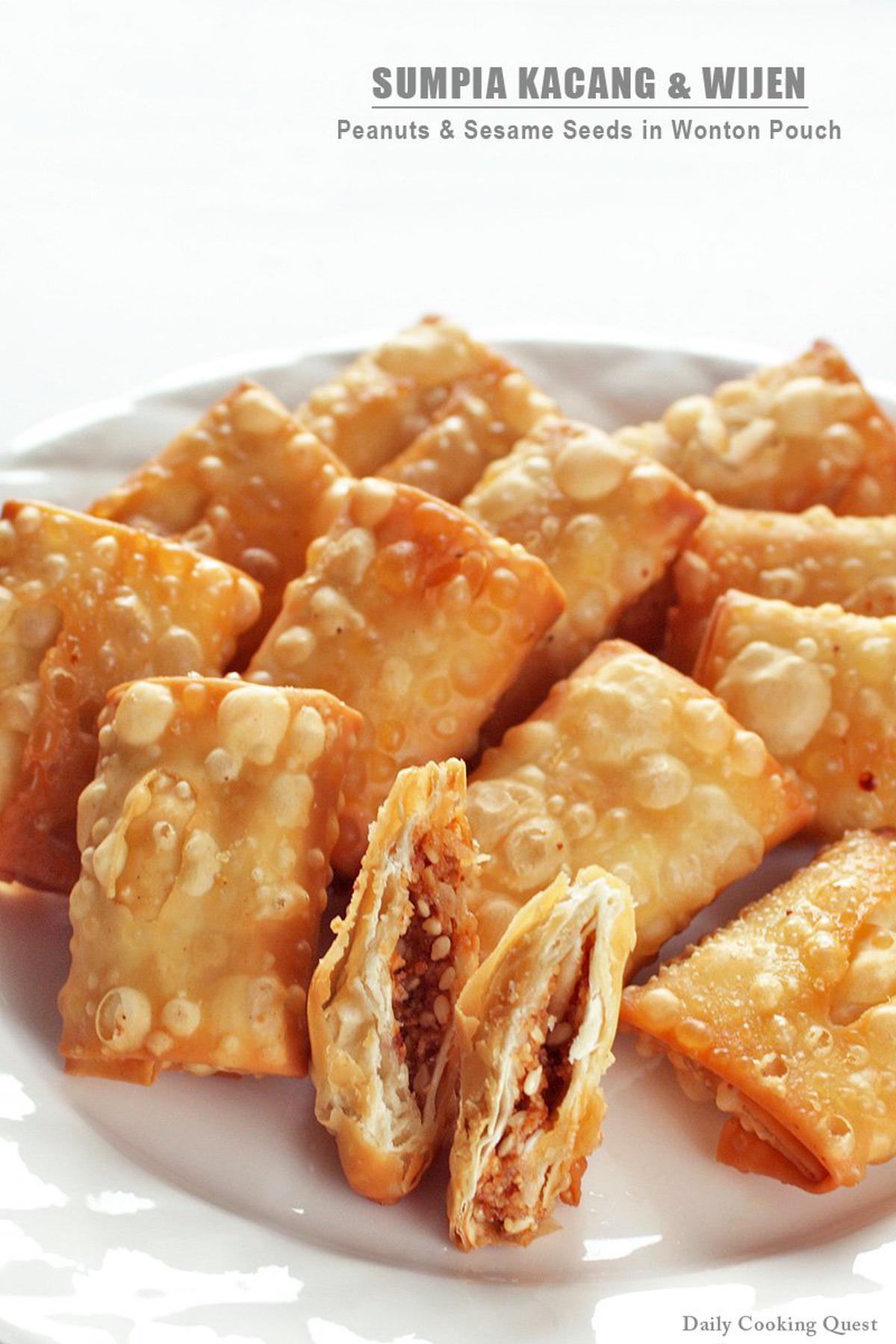 Sumpia Kacang dan Wijen - Peanut and Sesame Seeds in Wonton Pouch
Ingredients
25 wonton wrappers
1 egg white
enough oil for deep frying
Filling (combine the following ingredients together)
100 gram roasted peanut (Indonesian: kacang tanah sangrai), ground
50 gram sugar
2 tablespoon sesame seeds, toasted
Instructions
Lay a wonton wrapper in front of you so that it forms a diamond shape.
Use a small brush to wet all the edges with egg white.
Place approximately 1 teaspoon of filling near the bottom.
Roll over once, tuck in the sides, and then continue rolling. Seal the top.
Repeat step 1 to 4 for the rest of the wonton skins.
Deep fry sumpia until crispy and golden brown, about 2 to 3 minutes. Remove from the oil and drain on wire rack or paper towel. Serve immediately.