Home / All Recipes / Indonesian / Sup Daging Medan - Medan Style Beef Soup
Sup Daging Medan - Medan Style Beef Soup
The last time I visited Medan was in 2012 for the occasion of Qing Ming Festival, where we all went to my Grandpa and Grandma's tombs to pay our respects. My aunt and uncle took us to a restaurant where their beef soup is the town's favorite. The soup did not disappoint, and I can still remember how it tastes even now. Imagine my surprise when I stumbled upon the very same recipe supposedly contributed by the exact same restaurant here. Naturally I must reproduce this a.s.a.p. and boy oh boy, am I glad to give it a go. It tastes amazing and now I don't have to go all the way to Medan for the soup anymore. :D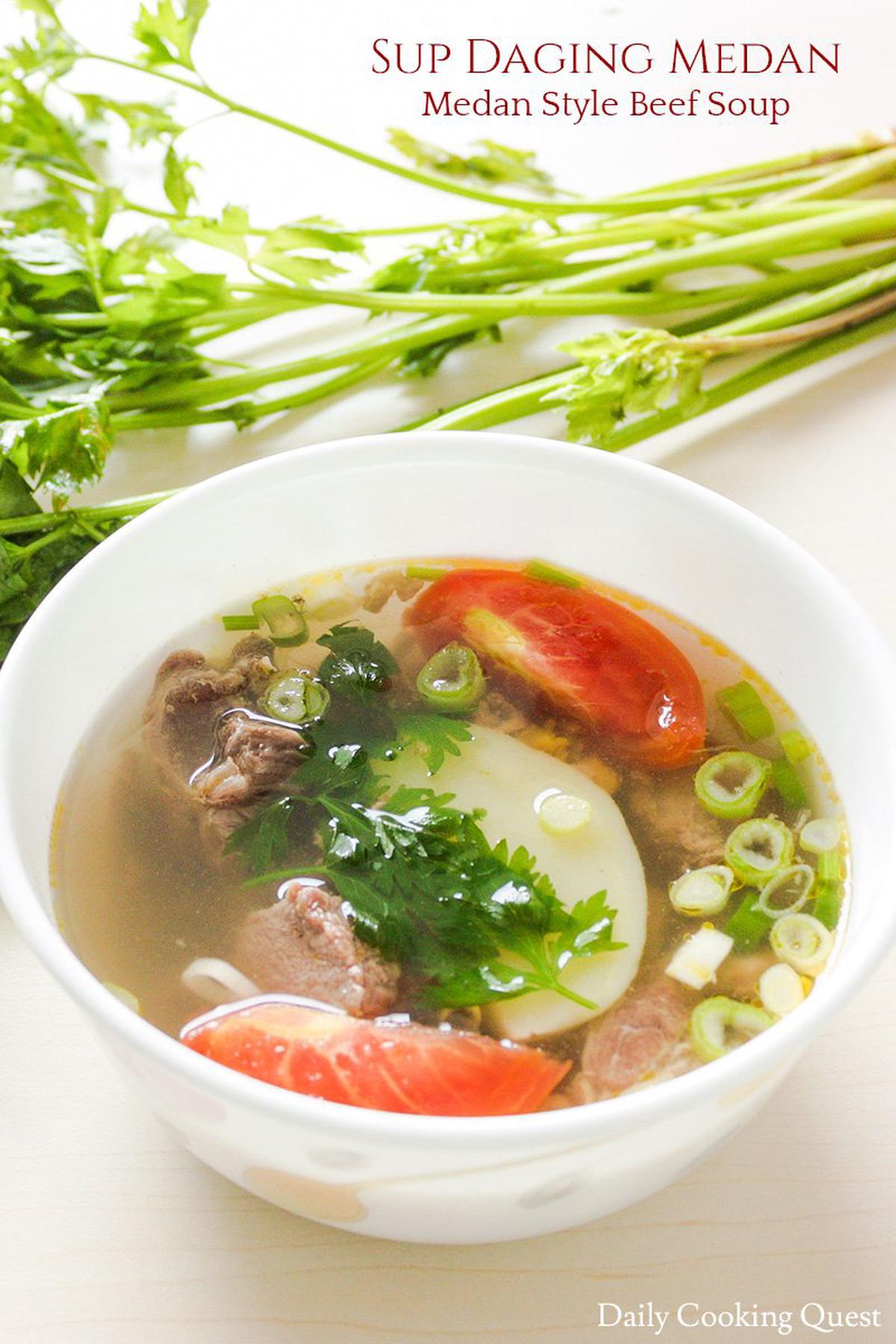 Sup Daging Medan - Medan Style Beef Soup
Ingredients
500 gram beef shank (Indonesian: daging sengkel), cut into bite size pieces
1 liter water
4 cloves garlic, minced
1 inch fresh ginger, peeled and minced
1 cinnamon stick (Indonesian: kayu manis)
1 teaspoon salt
½ teaspoon ground pepper (Indonesian: bubuk lada)
¼ teaspoon ground nutmeg (Indonesian: bubuk pala)
1 potato (about 150 gram), peeled and quartered lengthwise
1 tomato, cored and quartered lengthwise
2 scallion (Indonesian: daun bawang), finely chopped
1 celery leaf (Indonesian: daun seledri), finely chopped
Instructions
Boil water and beef in a soup pot. Reduce heat and simmer until beef is tender and fully cooked.
Add garlic, ginger, cinnamon stick, salt, pepper, and nutmeg. Bring to a boil again and cook until fragrant.
Add potato and cook until potato is tender but still firm.
Add tomato, scallion, and celery leaf. Cook for another 1-2 minutes. Turn off heat and serve immediately.