Home / All Recipes / Indonesian / Sup Ikan dan Jamur Kuping - Fish and Wood Ear Mushroom Soup
Sup Ikan dan Jamur Kuping - Fish and Wood Ear Mushroom Soup
White fish, such as tilapia, rock fish, or red snapper can be used to make this wonderfully easy soup. Since the fish is thinly sliced, the whole thing should come together in under 10 minutes of cooking time! The tomatoes and lime juice lend a sour note, while the deep fried shallot flakes, white pepper, and tiny anchovies (a.k.a. _ikan ter_i in Indonesian) ensure that this soup will be savory and packed with umami. Chilies, such as bird eye chilies, can also be added if you love all thing spicy.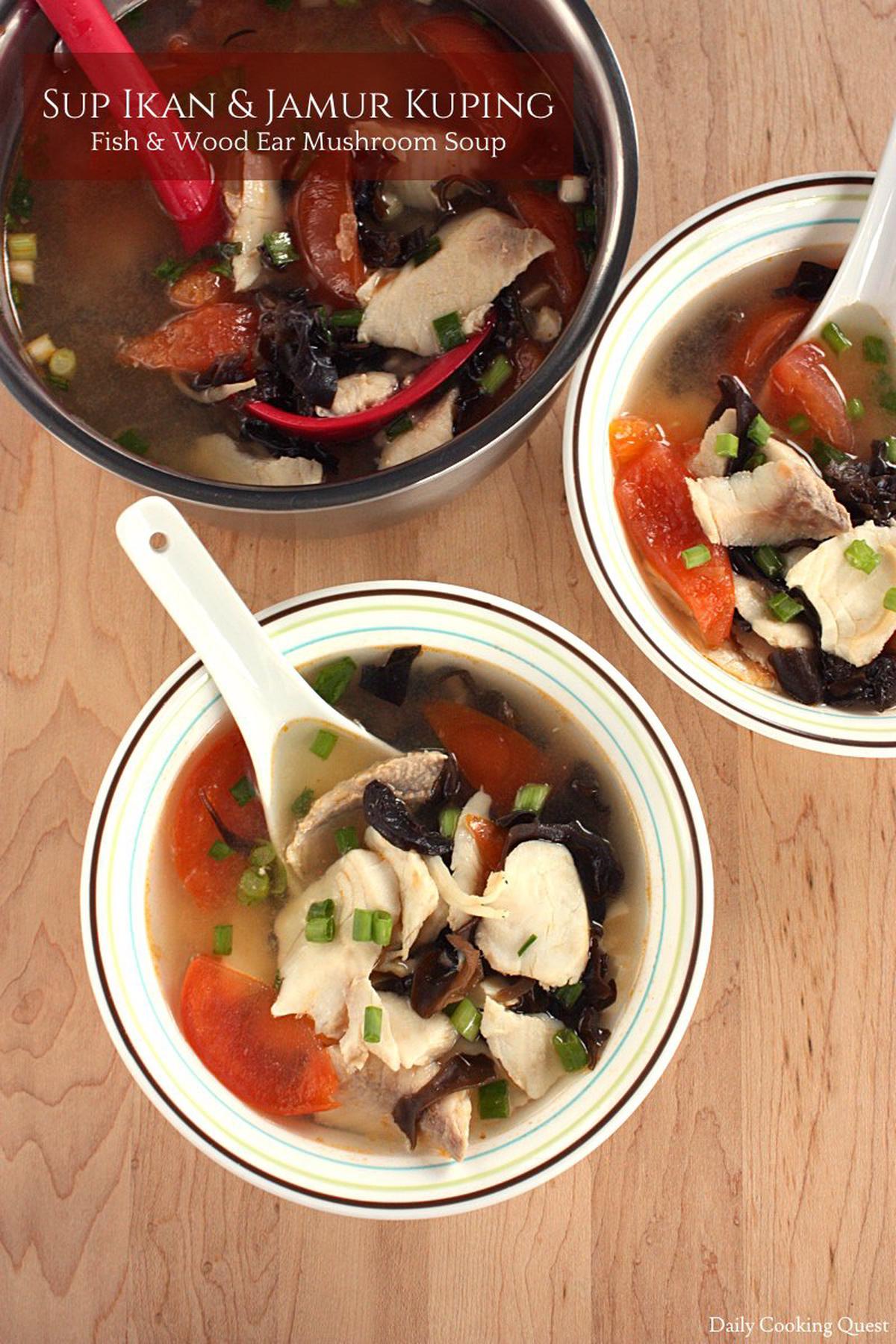 Sup Ikan dan Jamur Kuping - Fish and Wood Ear Mushroom Soup
5.0 from 2 reviews
Ingredients
6 cup water
1 tablespoon tiny anchovies (Indonesian: ikan teri)
2 tablespoon deep fried shallot flakes (Indonesian: bawang goreng)
4 tomatoes, cut into wedges
150 gram wood ear mushroom (Indonesian: jamur kuping), thinly sliced
1 tablespoon fish sauce (Indonesian: kecap ikan)
1 tablespoon salt
1 teaspoon sugar
1 teaspoon ground white pepper
500 gram firm white fish such as tilapia, rock fish, or red snapper, thinly sliced
juice of 1 lime
3 bird eye chilies (Indonesian: cabe rawit), sliced (optional)
2 scallions, thinly sliced
Instructions
In a soup pot, boil together water, anchovies, deep fried shallot flakes, tomatoes, wood ear mushroom, fish sauce, salt, sugar, and ground white pepper. Reduce heat and simmer for 5 minutes.
Return soup to a boil, add fish slices, then cook only until the soup boils again. Turn off heat. Add lime juice, chilies (if used), and scallions. Serve hot.