Home / All Recipes / Chinese / Sup Tahu dan Oyong - Tofu and Chinese Okra Soup
Sup Tahu dan Oyong - Tofu and Chinese Okra Soup
Sometimes, the best dish is the one that you can make easily, healthy, and if possible, within 30 minutes because you are so darn hungry and you want to cook something fast while the rice is slowly cooking away in the rice cooker. It is always good to still eat properly even when one is pressed for time, don't you think? ♥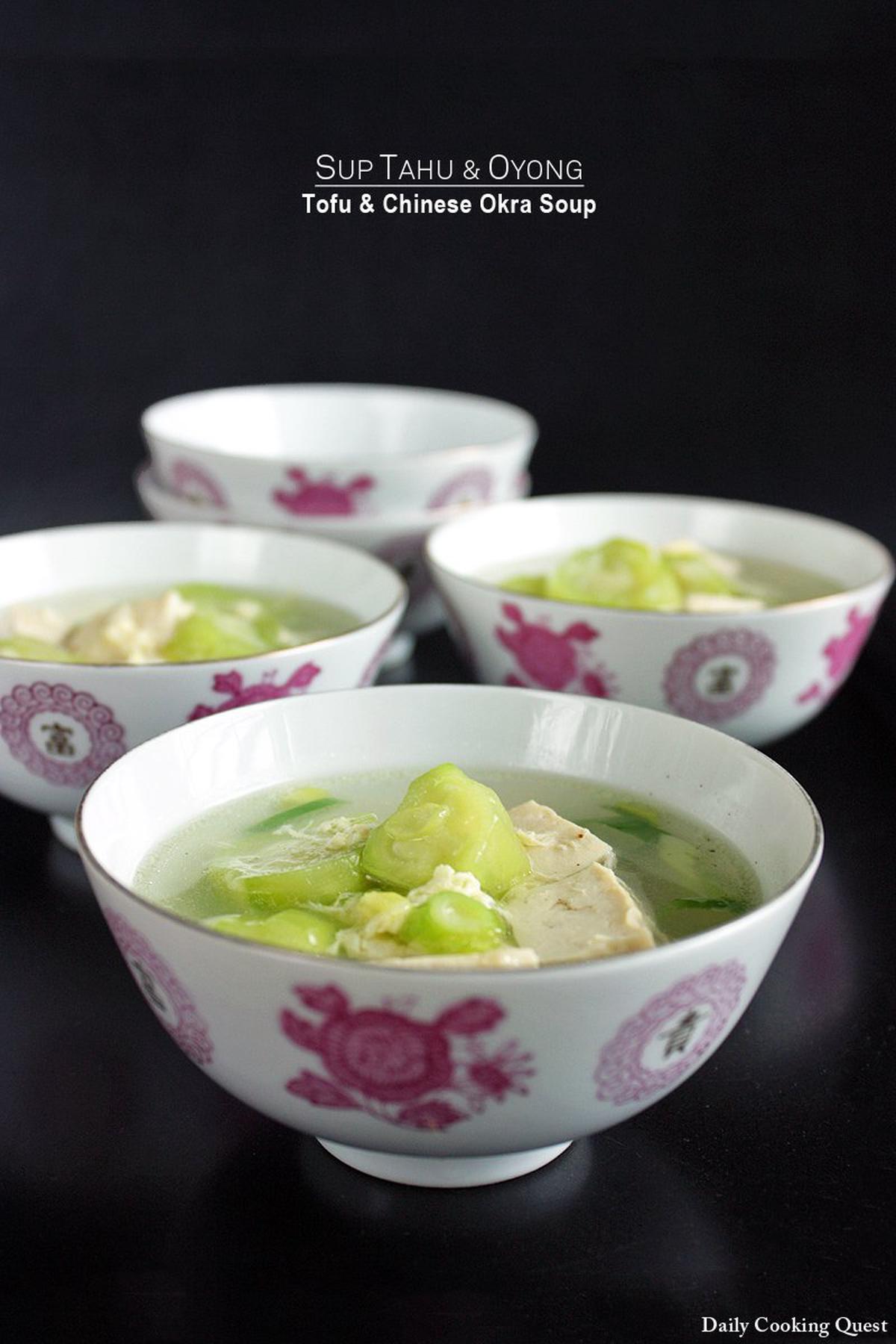 Sup Tahu dan Oyong - Tofu and Chinese Okra Soup
Ingredients
1 tablespoon oil
3 cloves garlic (Indonesian: bawang putih), peeled and lightly bruised
1 liter chicken stock (Indonesian: kaldu ayam)
600 gram Chinese okra (Indonesian: oyong), peeled and cut into 1 inch rounds
1 block firm tofu (Indonesian: tahu putih), about 400 gram, cut into 1 inch cubes
1 egg (Indonesian: telur ayam), lightly beaten
1 teaspoon salt
1/2 teaspoon sugar
1/4 teaspoon ground white pepper
1 scallion (Indonesian: daun bawang), thinly sliced
Instructions
Heat oil in a soup pot and sauté garlic until slightly golden brown and fragrant.
Add chicken stock and bring to a boil.
Add Chinese okra and tofu and bring to a boil.
Slowly pour the beaten egg into the soup while stirring, then season with salt, sugar, and ground white pepper.
Turn off heat, add the thinly sliced scallions and stir. Serve immediately.