Home / All Recipes / Indonesian / Sus Vla Tepung Beras - Cream Puffs with Rice Flour Pastry Cream
Sus Vla Tepung Beras - Cream Puffs with Rice Flour Pastry Cream
Everyone loves a good batch of delicious kue sus/cream puffs/choux pastry. This version is filled with super smooth (no lumps!) rice flour pastry cream.
When I was young, I thought that sus (or kue sus) is a local Indonesian dessert. They are sold everywhere and in fact, easier to buy from stores that sell traditional Indonesian sweets rather than the big bakery chains, no wonder the confusion right? Then, one day in college I got my hands on a copy of Joy of Cooking and lo and behold, I chanced upon choux pastry section and that was how I learned about sus being a non Indonesian sweets. I am no etymologist, but I bet the origin of sus is probably choux from choux pastry.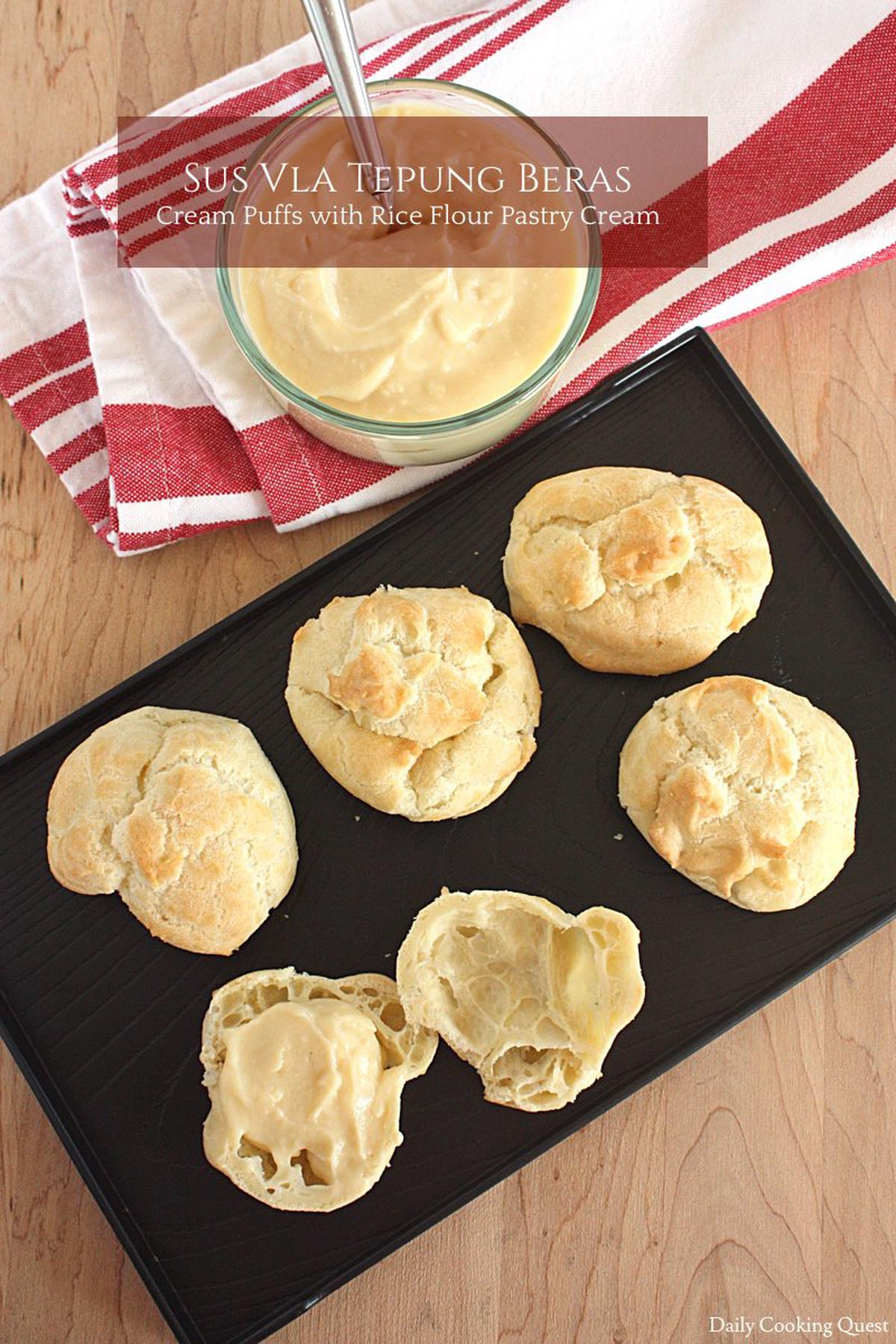 There are probably a million choux recipe out there, and you are free to stick to your favorite, but if you don't have one, the recipe I have here is pretty good. Now, the more interesting part of this recipe is not the choux portion, but the pastry cream, which uses rice flour instead of the more common corn starch. I chanced upon this recipe from food52, and boy oh boy, the pastry cream indeed deserves all the rave reviews it gets.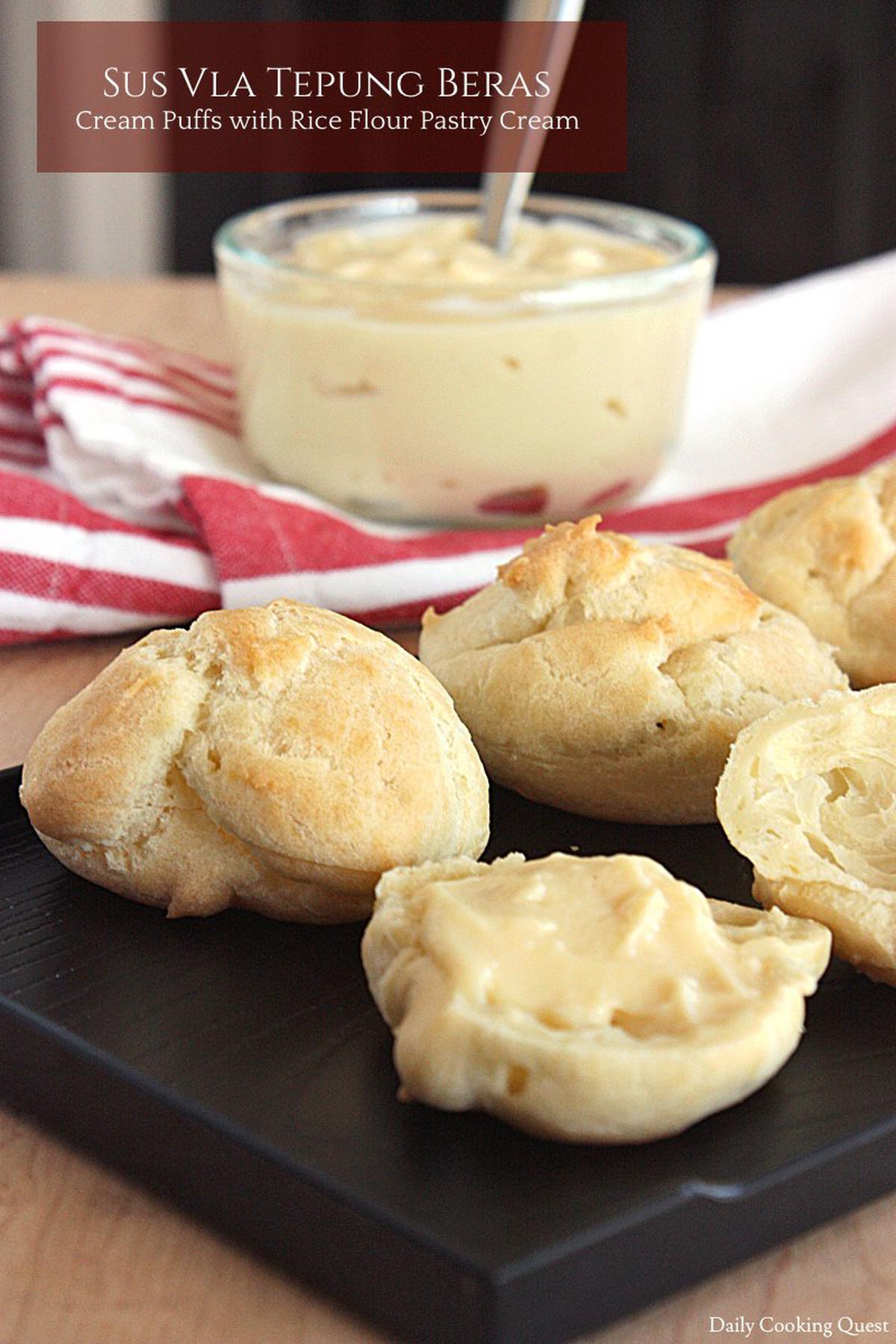 Sus Vla Tepung Beras - Cream Puffs with Rice Flour Pastry Cream
Ingredients
Rice flour pastry cream
40 gram sugar
13 gram Thai rice flour (*)
1 cup milk
2 egg yolks
3/4 teaspoon vanilla extract
Sus (choux)
200 ml water
100 gram unsalted butter
1/2 teaspoon salt
125 gram all purpose flour
3 eggs
Instructions
Rice flour pastry cream

In a small sauce pot, whisk together sugar, rice flour, and 2 tablespoons of milk. Add egg yolks and the remaining of the milk, whisk again until well mixed.
Turn the heat to medium, cook until bubble starts to form. Whisk frequently.
Once bubble forms, set a timer to 5 minutes. Continue to whisk until the timer is up.
Strain the pastry cream through a strainer/sieve into a mixing bowl. Add vanilla extract, mix well. Let the cream cool until room temperature, about 30 minutes, then cover with plastic wrap pressed directly against the surface of the cream to prevent a skin from forming. Refrigerate until needed, up to 3 days.

Sus (choux)

Preheat oven to 200 Celcius (400 Fahrenheit).
In a sauce pot, bring water, butter, and salt to a boil. Stir in flour until the mixture pulls away from the sides of pot and forms a ball.
Transfer the dough to a mixing bowl. Let it cool until warm to touch, about 10-15 minutes.
Using a spatula, wooden spoon, or stand mixer, beat in the eggs one at a time, mixing well after each. Drop by tablespoonfuls onto an ungreased baking sheet.
Bake in the oven for 25-30 minutes, or until golden brown.
Turn off the oven.
Take the tray out from the oven, with a toothpick, poke 1-2 holes at the sides of each choux to let the steam escape so the choux don't collapse. Then return the tray to the oven, with the oven door open, to further dry the choux, about 15 minutes.
Take the tray out from the oven, cool to room temperature. Cut each choux in half and fill with pastry cream.
Notes