Home / All Recipes / Indonesian / Tahu Telor - Tofu Omelette with Peanut Sauce
Tahu Telor - Tofu Omelette with Peanut Sauce
Tahu telor literally means tofu and egg, which of course are the main ingredients for this salad. We have a lot of peanut sauce variations and as such, it is pretty much a requirement to learn how to deep fry peanut to perfection. If you see bubbles when dropping a peanut into the hot oil, then the oil is hot enough and it is time to deep fry the entire batch. Once the peanuts turn a darker shade, use a slotted spoon to quickly remove them from the oil. A couple of times with the exercise and you will become a peanut deep frier expert in no time. ♥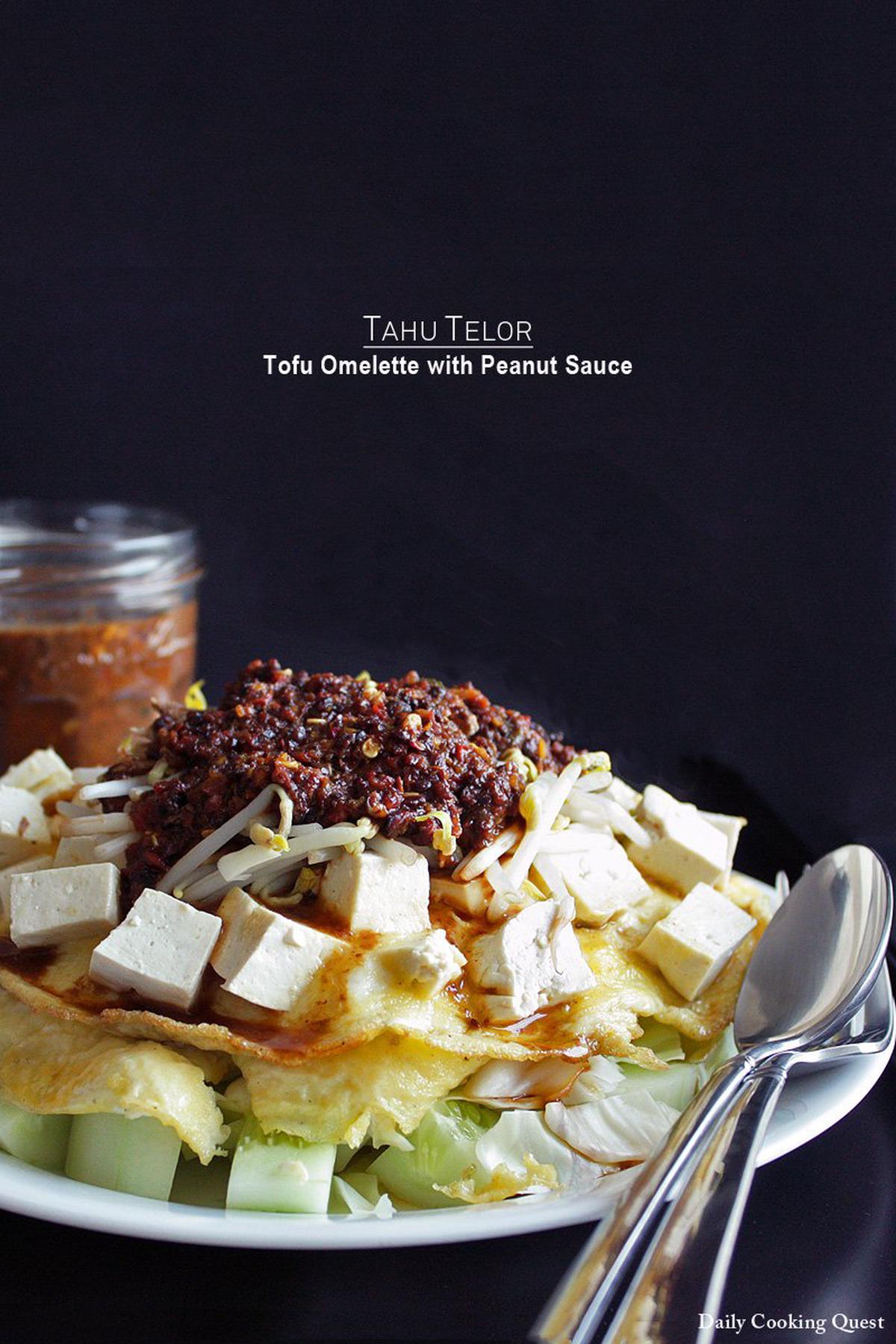 Tahu Telor - Tofu Omelette with Peanut Sauce
Ingredients
Omelette
5 eggs
200 gram firm tofu, cut into 2 cm cubes
1/2 teaspoon salt
1/2 teaspoon ground pepper
Peanut Sauce
oil for deep frying
100 gram peanut with skin (Indonesian: kacang tanah kulit)
5 cloves garlic (Indonesian: bawang putih)
3 red chilies (Indonesian: cabe merah besar)
3 Thai chilies (Indonesian: cabe rawit)
2 teaspoon shrimp paste (Indonesian: terasi)
1/4 teaspoon salt
2 tablespoon palm sugar (Indonesian: gula Jawa)
2 tablespoon sweet soy sauce (Indonesian: kecap manis)
1/2 cup hot water
Accompaniments
1 cucumber (Indonesian: timun), peeled, quartered lengthwise, then cut into wedges
100 gram bean sprout (Indonesian: taoge), blanched
100 gram shredded cabbage (Indonesian: kol), blanched
fried shallots (Indonesian: bawang goreng)
Instructions
Peanut Sauce

Heat enough oil in a pot for deep frying.
Deep fry peanuts until a shade darker. Remove and drain on paper towel to absorb excess oil.
Deep fry garlic, red chilies, Thai chilies, and shrimp paste about 2 minutes. Remove and drain on paper towel to absorb excess oil.
Grind peanut and set aside.
Grind chilies, shrimp paste, salt, and palm sugar together until becoming a thick paste.
Combine the ground peanut, chili paste, sweet soy sauce, and hot water and mix well.

Omelette

Lightly beat eggs together with salt and pepper.
Heat a frying pan and brush with some oil (this will prevent the omelette from sticking).
Pour a third of the egg and scatter a third of tofu on top of the egg. Cook until the egg is no longer runny and easily slide off the pan. Remove the cooked omelette from the frying pan and repeat the process two more times.

To serve

Arrange cucumber slices on a plate, then top with blanched cabbage, stack the three omelletes, top with blanched bean sprout and fried shallots, and lastly pour the peanut sauce on top of the layered salad. Cut into wedges and serve immediately.