Home / All Recipes / Chinese / Tahu Tumis Tauco - Tofu in Bean Paste Sauce
Tahu Tumis Tauco - Tofu in Bean Paste Sauce
Tauco (bean paste sauce) is one of my must have pantry ingredient. It is commonly used in both Indonesian and Chinese dishes. It elevates any regular stir fry into something more. You can easily add a tablespoon or two to your trusted stir fry recipes, but remember to adjust for saltiness since this is salty by nature. If you have no idea what tauco is, this salted soy beans from Yeo is the one I use here in the United States. My local asian groceries carry them, so if your house is close to one, buying from brick and mortar store is usually cheaper than online.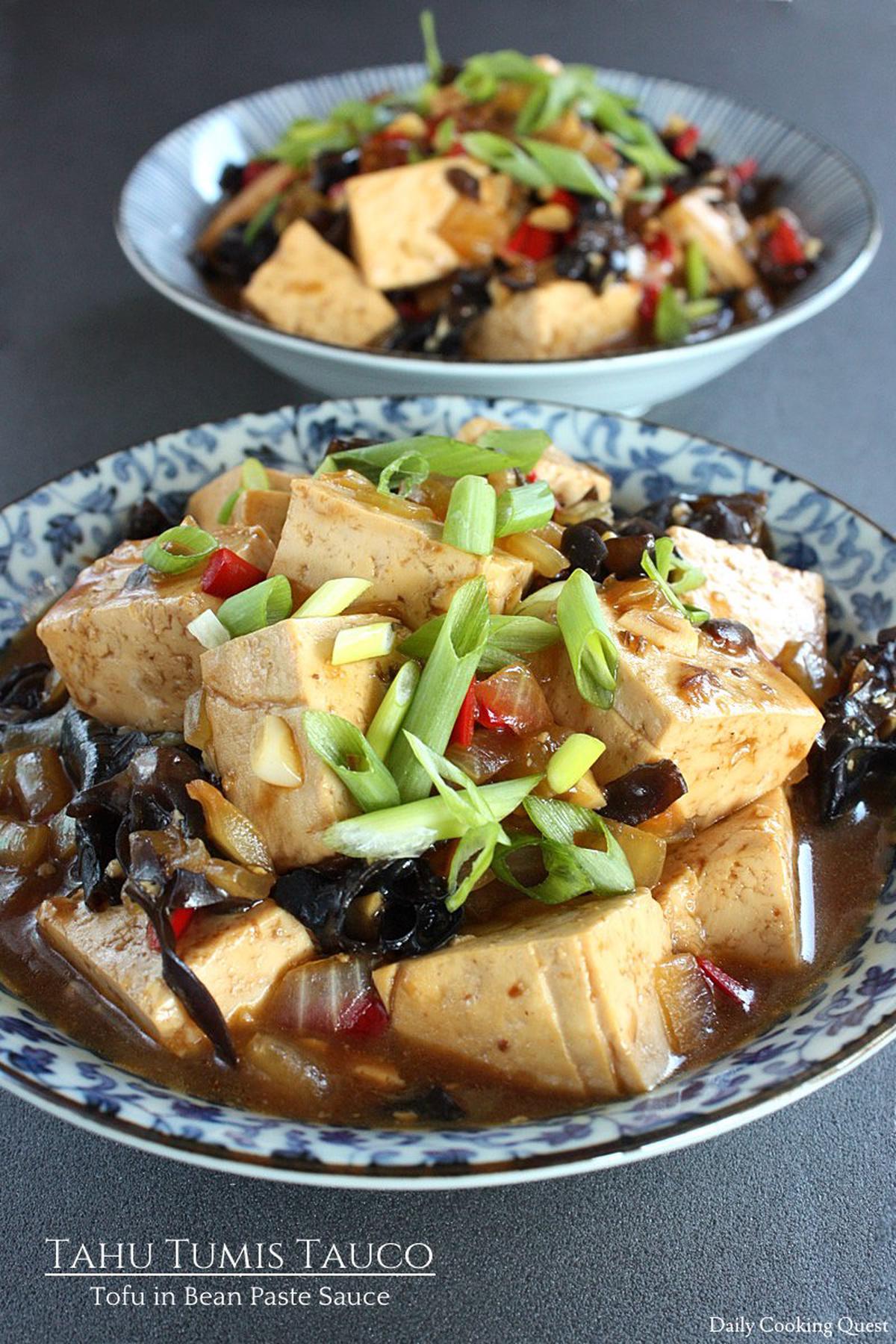 Tahu Tumis Tauco - Tofu in Bean Paste Sauce
5.0 from 3 reviews
Ingredients
2 tablespoon oil
1/2 onion, diced
3 cloves garlic, minced
3 red fresno chilies, remove seeds and diced
10 gram dried wood ear mushrooms, rehydrated in warm water, roughly chopped (*)
1 block firm tofu (about 400 gram), cut into bite size cubes
2 tablespoon salted soy beans (Indonesian: tauco)
1 tablespoon oyster sauce
1 tablespoon sweet soy sauce (Indonesian: kecap manis)
1/4 teaspoon ground white pepper
1/2 cup water
1 teaspoon cornstarch + 1 teaspoon water, mix well
2 scallions, thinly sliced
Instructions
Heat oil in a wok/frying pan on medium high, sauté onion, garlic, and chilies until fragrant. About 3 minutes.
Add wood ear mushrooms and tofu. Mix well.
Add salted soy beans, oyster sauce, sweet soy sauce, and ground white pepper. Mix well.
Add water, mix well. Bring to a boil. Thicken the sauce with corn starch solution, cook for 1 minute.
Turn off heat, transfer to a serving plate and garnish with sliced scallions.
Notes
(*) You can also use 75 gram fresh wood ear mushrooms.