Home / All Recipes / Chinese / Taro Paste
Learn how to prepare taro paste with three ingredients: taro, coconut milk, and sugar. Taro paste is a great filling for bread, mooncake, mochi, or pastry.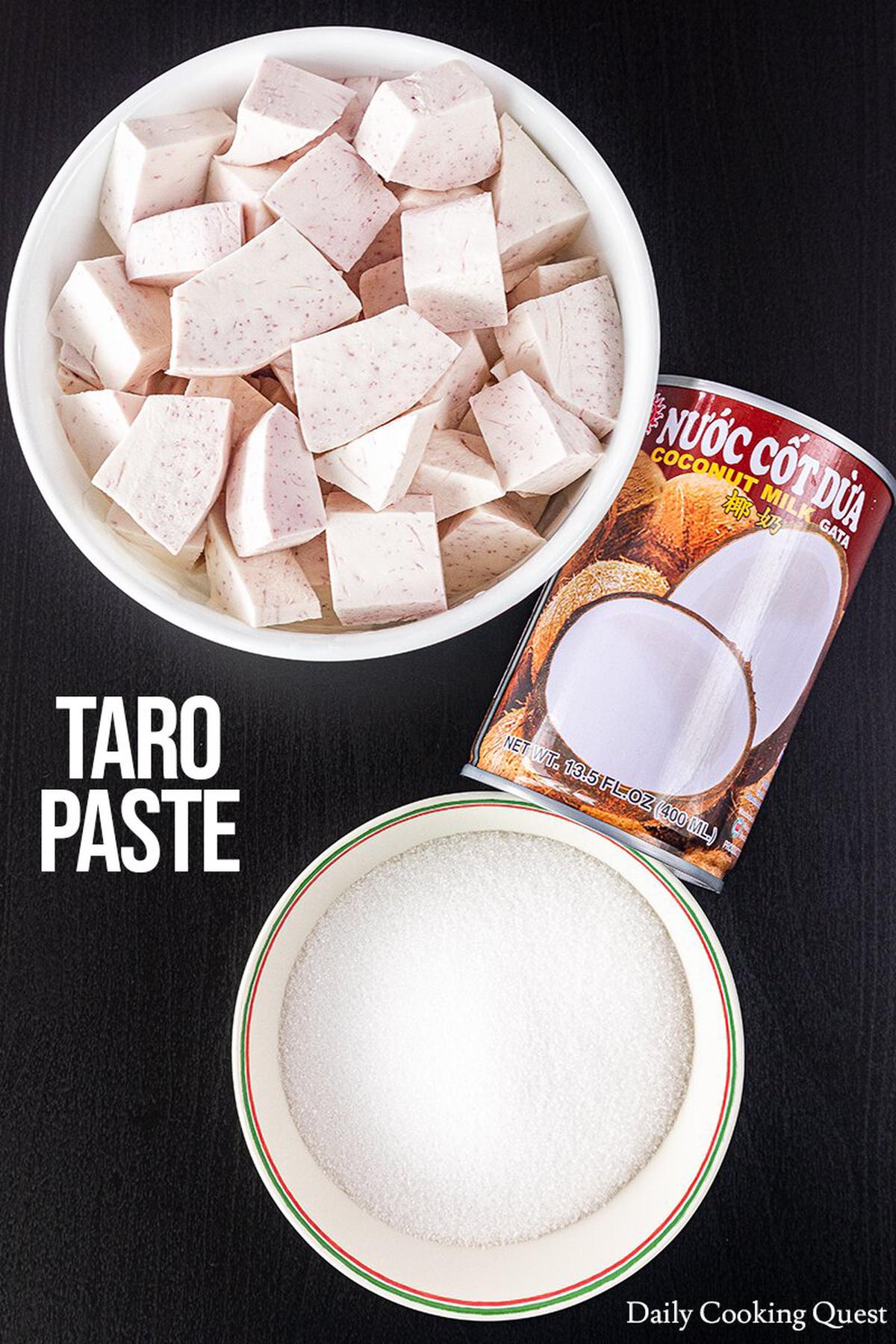 Have you ever visited Asian bakerie and look at the pretty purple color from their taro baked goods?
Actually, you can make taro paste easily at home, just with a handful of ingredients: taro root, coconut milk, and sugar. You won't get the shocking bright purple color though (I suspect the ones from the bakery are most likely artificial), but what you will get is a pretty pink hue sweet paste.
You can use taro paste for all sort of dessert, like for steamed buns (Chinese bao/mantou), bread filling, mochi filling, even mooncake filling.
And if you want to go with western dessert, mix this taro paste with a bit of butter (or coconut cream) to make the paste more like buttercream consistency and use as your cake/cupcake frosting!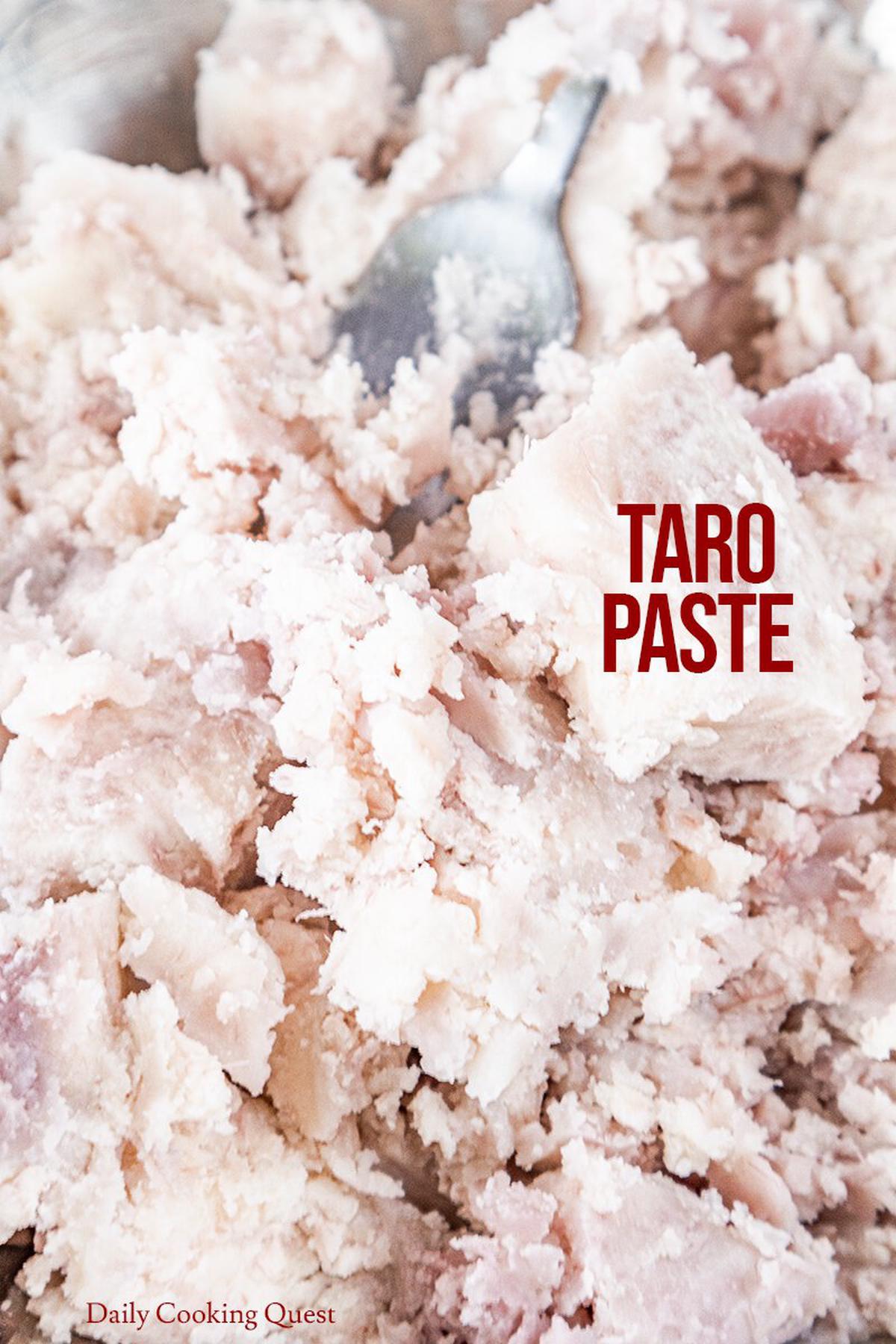 Taro Roots
Taro roots are usually available in most Chinese grocery stores. Sometimes you can find them fresh, in which case you will need to peel the rough brown skin to reveal the whitish flesh with pink/purple vein/thread.
Some people can feel itchy from handling taro, so if you have a pair of disposable gloves, it is a very good idea to wear those while handling taro.
Most likely though, you will find the roots already peeled and vacuum packed, which is very convenient since the store already does the prep work of peeling the skin away for you.
Since we will be steaming the roots, it is best to chop them into smaller chunks. I like to chop them into roughly 1" cubes.
Once they are chopped, you can steam the taro until fork tender. You can then mashed the steamed taro root with either a fork, a potato masher, or even a food processor if you don't want to do it manually.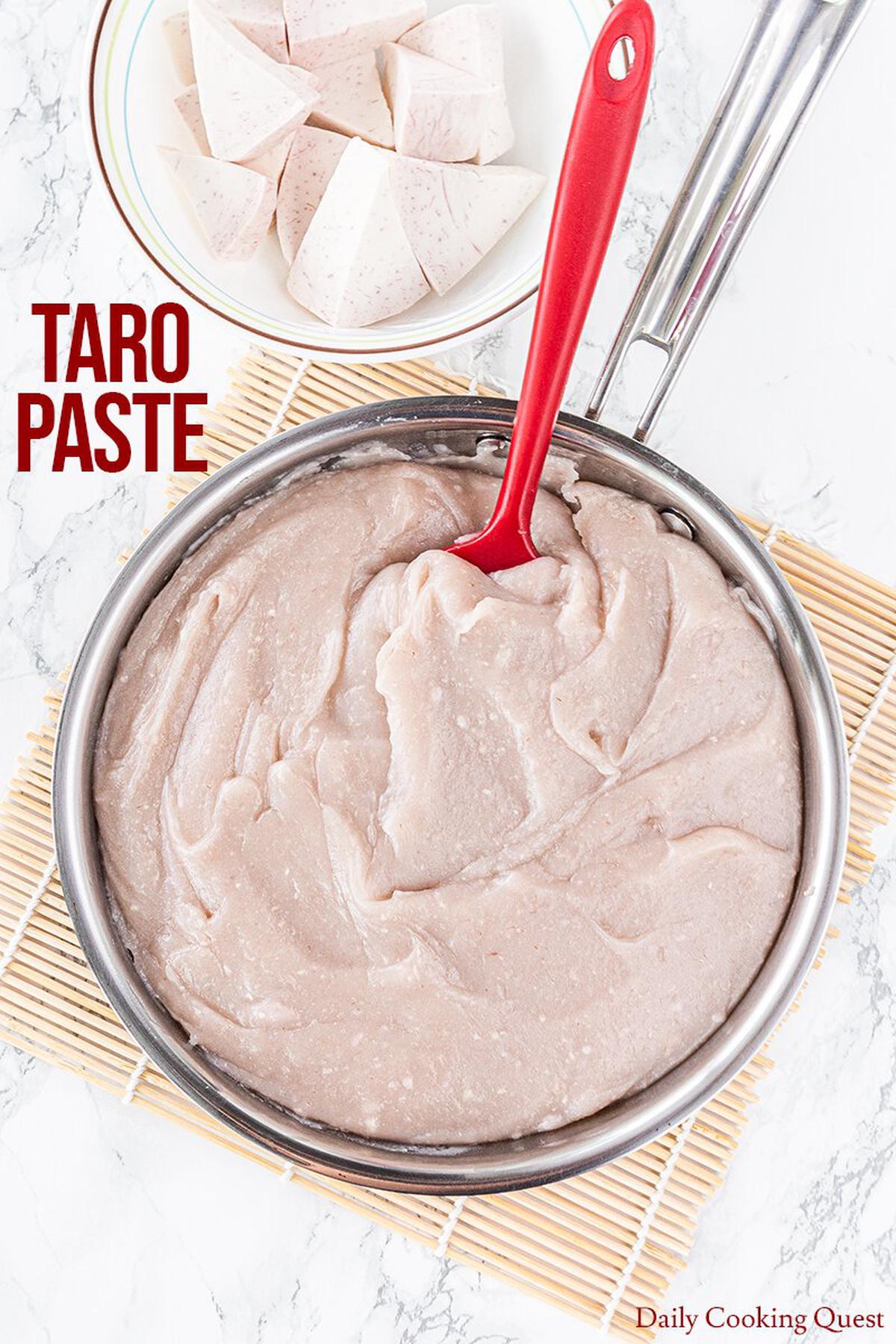 Cook the Steamed Taro with Coconut Milk and Sugar into Taro Paste
Once you have mashed/pureed steamed taro, transfer to a frying pan (it doesn't have to be non-stick, I use my stainless steel pan for this) along with coconut milk and sugar.
Cook all these three ingredients together over medium-low heat, and stir until everything is homogenous.
Stir regularly until a paste is formed. There should be no standing liquid and the paste should be smooth.
For me, 200 gram of sugar is generally sweet enough, but you can increase the amount of sugar to 250 gram, or even 300 gram, if you prefer sweeter paste.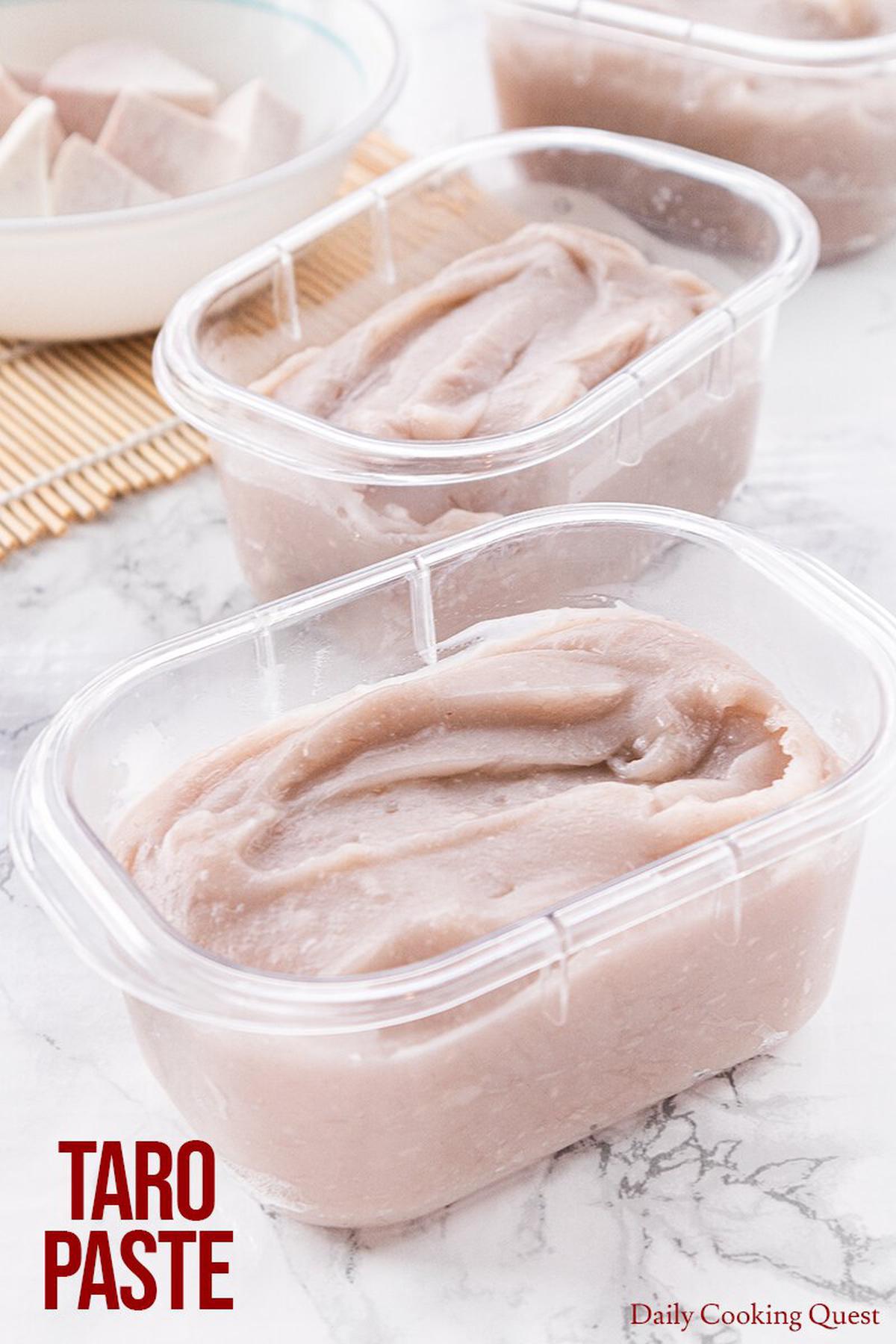 Transfer to Jars/Containers for Longer Storage
This recipe should yield about 3 cups of taro paste. For ease of storage and usage, I usually store each cup individually.
Whenever I make a batch of bread, steamed buns, or pastry, I typically only need one cup per batch, so storing my homemade taro paste into separate containers per cup make the most sense for me.
I hope you will give this recipe a try, and hopefully this will end up being one of your favorite Asian sweet paste that you can use for many purposes: bread, steamed buns, mochi, mooncakes, and even for Western-style pastries.
Taro Paste
5.0 from 13 reviews
Ingredients
750 gram peeled taro, cut into wedges
200 ml coconut milk
200-250 gram sugar
Instructions
Steam taro wedges in a steamer on medium high heat until fork tender, about 30 minutes.
Mash steamed taro with a fork into a smooth paste. Or, you can use a food processor for this.
Transfer the mashed taro paste to a frying pan. Add coconut milk and sugar. Cook on medium low heat, stir until coconut milk and sugar are completely incorporated to the taro paste. Taste test and adjust sweetness to your taste. I prefer to use 200 gram sugar.
Chill to at least room temperature before using. Store any leftover in a clean tupperware in the fridge for up to 1 week.