Home / All Recipes / Indonesian / Tauto Pekalongan - Pekalongan Beef Soup with Fermented Soy Bean
Tauto Pekalongan - Pekalongan Beef Soup with Fermented Soy Bean
Here is another famous soto (soup), this time from the city of Pekalongan in Central Java, a place famous for its batik and of course, soto :) Tauto is actually abbreviation of soto tauco, or I guess more precisely, tauco soto, and hence tauco (or fermented soy bean) is a must have ingredient to make this soup.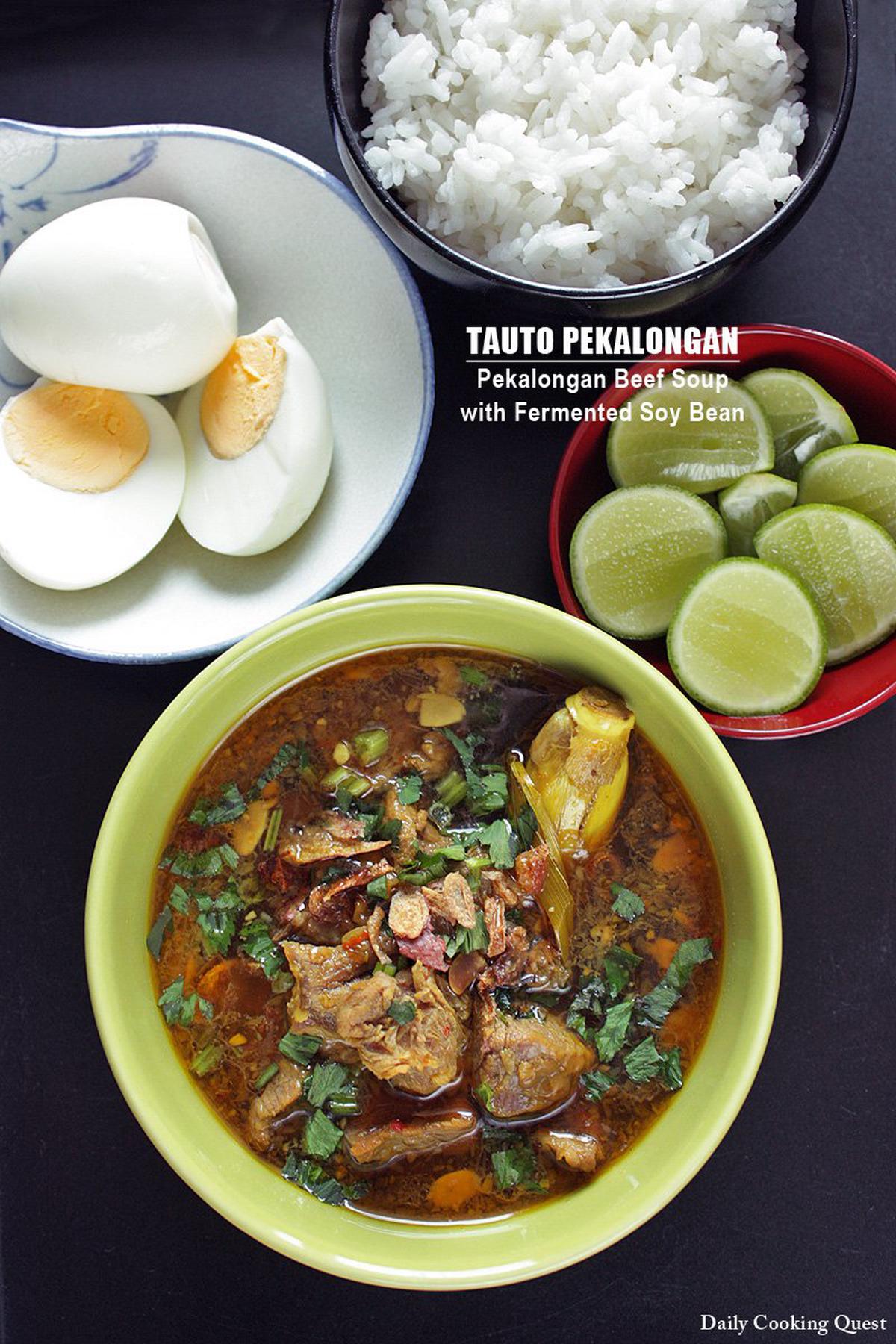 There is actually a slight difference in taste between tauco produced in Medan, and tauco produced in Java. Javanese tauco uses palm sugar in the production, hence most people refer to this tauco as tauco manis (or sweet tauco), though it is still salty overall, just not as salty as the one produced in Medan. I think the most important thing is that different brand of tauco will have a different level of saltiness, so you may need a different amount of salt for your soup. My 2 cents is to just go with 1 teaspoon of salt and adjust from there (even if you end up using like 1 or 2 tablespoon of salt), it simply is way easier to add more salt than having to reduce the level of saltiness from a soup. ♥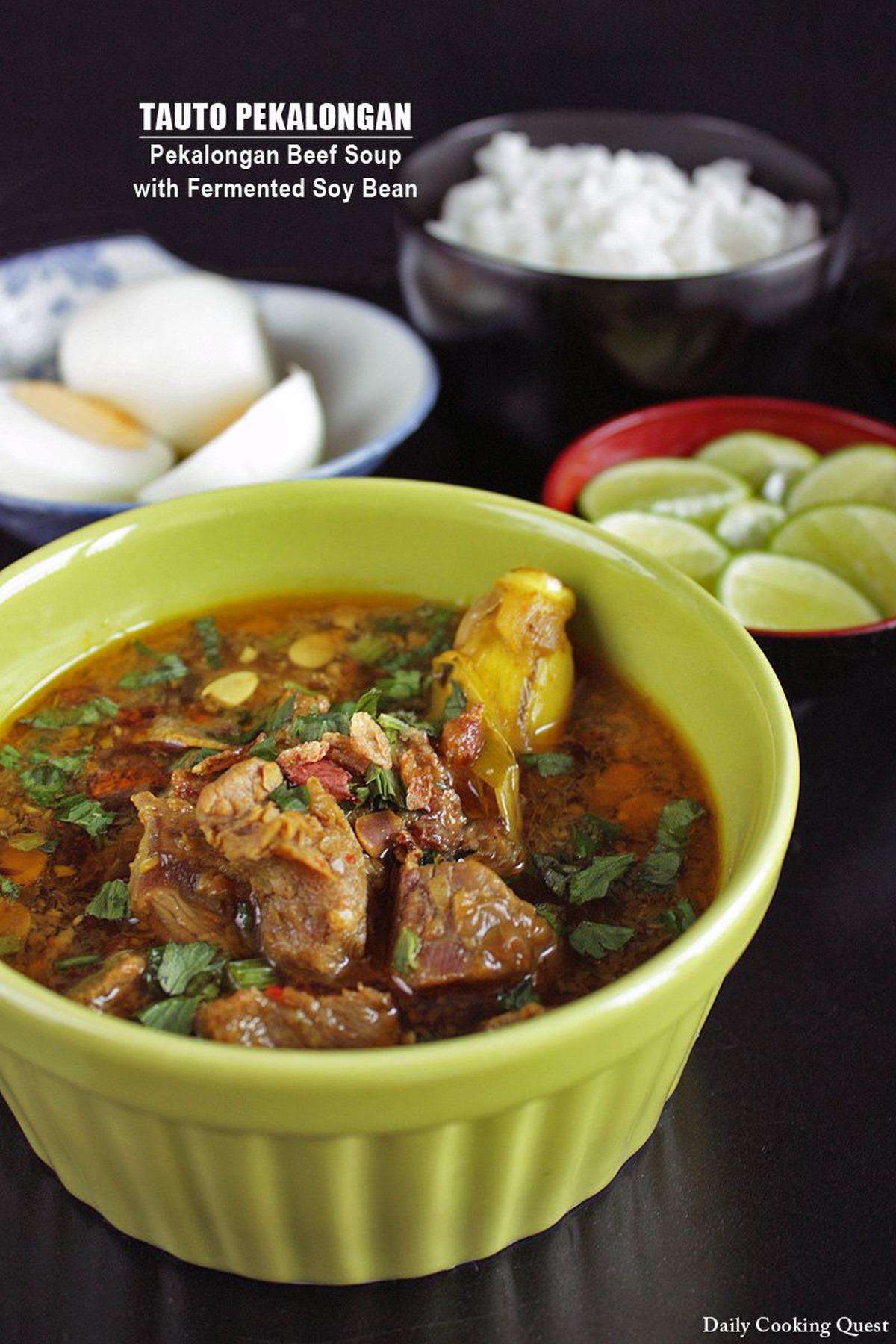 Tauto Pekalongan - Pekalongan Beef Soup with Fermented Soy Bean
Ingredients
1 kilogram beef, cut into bite size pieces (*)
3 lemongrass (Indonesian: lemongrass), bruised and knotted
8 kaffir lime leaves (Indonesian: daun jeruk)
2 1/2 liter (10 cups) water
3 tablespoon oil
4 tablespoon fermented soy bean (Indonesian: tauco), washed and drained
1 1/2 tablespoon salt (**)
1 1/2 tablespoon sugar
1 1/2 tablespoon sweet soy sauce (Indonesian: kecap manis)
Grind the following into spice paste
10 shallots (Indonesian: bawang merah)
6 cloves garlic (Indonesian: bawang putih)
3 red cayenne chilies (Indonesian: cabe keriting merah)
1 inch ginger (Indonesian: jahe)
1 inch turmeric (Indonesian: kunyit)
Garnish and accompaniments
hard boiled eggs (Indonesian: telur rebus)
lime wedges (Indonesian: jeruk nipis)
chopped celery leaves (Indonesian: daun seledri)
fried shallot flakes (Indonesian: bawang goreng)
Instructions
Boil together beef, lemongrass, kaffir lime leaves, and water in a soup pot. Remove scum to ensure you get a clear soup.
Meanwhile, heat oil in a frying pan and sauté spice paste until fragrant, about 4 to 5 minutes. Add the cooked spice paste to the soup.
Add fermented soy bean to the soup, season with salt, sugar, and sweet soy sauce. Continue cooking the soup with low heat (simmer) and covered until the beef is tender, about 1 hour.
Turn off heat, ladle the soup to serving bowls and serve with steamed white rice, along with the garnish and accompaniments.
Notes
(*) I use 700 gram beef meat and 300 gram beef bone so the soup stock will be much more delicious than a straight 1 kilogram beef meat.
(**) Different brand of tauco (fermented soy bean) will have a different level of saltiness, so adjust the amount of salt for your soup accordingly.