Home / All Recipes / Indonesian / Tempeh Goreng Sambal Kemangi - Fried Tempeh in Basil Chili Sauce
Tempeh Goreng Sambal Kemangi - Fried Tempeh in Basil Chili Sauce
Whenever I feel like doing a bit of deep frying, tempeh almost always ends up as my first choice. All kind of tempeh dishes start with deep frying the tempeh pieces to a crisp. If there is a sauce, it is almost always cooked separately. Once the sauce is done, the crispy golden brown tempeh will be toss in the sauce until all the pieces are fully coated.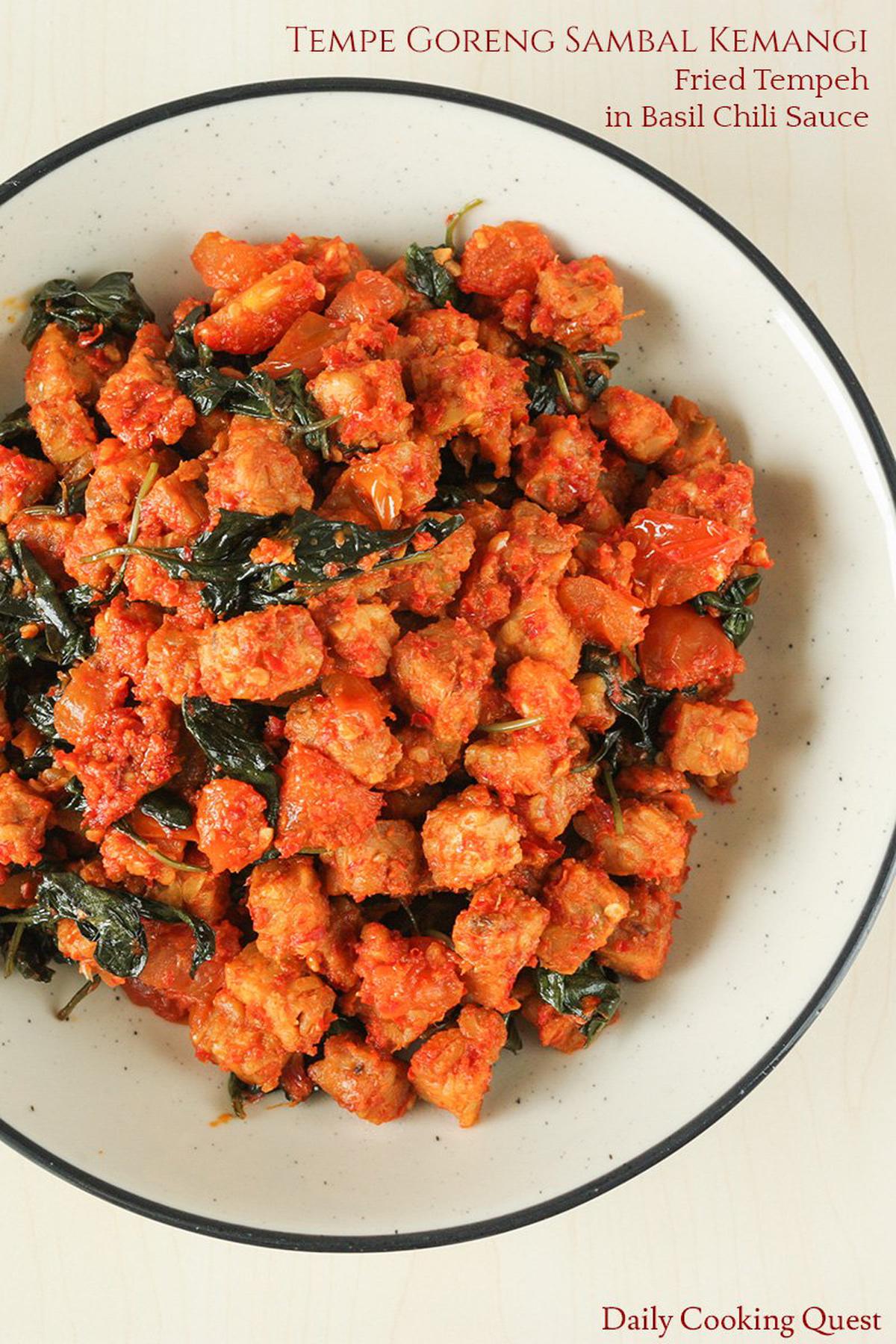 This tempeh dish also follows the same pattern. First the tempeh is cut into small cubes and marinate in garlic salt solution before deep frying. Then the chili sauce, which is lovely since we add tomatoes, terasi (toasted shrimp paste), and daun kemangi (basil leaves), is cooked in a separate frying pan. Again, once the sauce is done, we return the fried tempeh into the sauce and toss until fully coated.
Tempeh Goreng Sambal Kemangi - Fried Tempeh in Basil Chili Sauce
5.0 from 1 reviews
Ingredients
Fried Tempeh
250 gram tempeh, cut into 1 cm cubes
2 cloves garlic, grind into a paste
1 teaspoon salt
1 cup water
Basil Chili Sauce
6 red cayenne peppers (Indonesian: cabe merah keriting)
3 red anaheim peppers (Indonesian: cabe merah besar)
5 shallots (Indonesian: bawang merah)
3 cloves garlic (Indonesian: bawang putih)
1 teaspoon toasted shrimp paste (Indonesian: terasi)
3/4 teaspoon sugar
1/4 teaspoon salt
3 tablespoon oil
1 tomato, seeded and cut into small cubes
5 stalks of basil leaves (Indonesian: daun kemangi), about 1/4 cup
Instructions
Fried Tempeh

Marinate tempeh in garlic, salt, and water for 30 minutes. Drain
Deep fry until crispy and golden brown, about 8 to 10 minutes. Set aside.

Basil Chili Sauce

Grind cayenne peppers, anaheim peppers, shallots, garlic, toasted shrimp paste, sugar, and salt into a spice paste.
Heat oil in a frying pan on high and sauté the spice paste until fragrant, about 3 minutes.
Add tomato cubes and basil leaves. Stir until the basil leaves are wilted.
Return the fried tempeh into the pan and toss until all the tempeh pieces are fully coated with the chili sauce.
Turn off heat, transfer to a serving plate and serve immediately.