Home / All Recipes / Indonesian / Tempeh Mendoan - Deep Fried Tempeh with Spiced Batter
Tempeh Mendoan - Deep Fried Tempeh with Spiced Batter
Do you miss snacking on crispy, crunchy, and super savory Indonesian tempeh mendoan? Follow my recipe to cook tempeh mendoan to snack on any time you like!
Tempeh mendoan originates from the city of Purwokerto in Central Java, Indonesia. Most people consider tempeh mendoan as a snack, and is one of the more popular Indonesian street food, for good reason.
Imagine tempeh, coated with a layer of spiced batter, and deep-fried in hot oil until it develops a crispy, crunchy, and super savory skin.
When you take a bite into it, you are treated with a delightful texture contrast between the crispy skin and the soft and tender tempeh inside. And to make the experience over the top, you really don't want to make this without the chili sauce!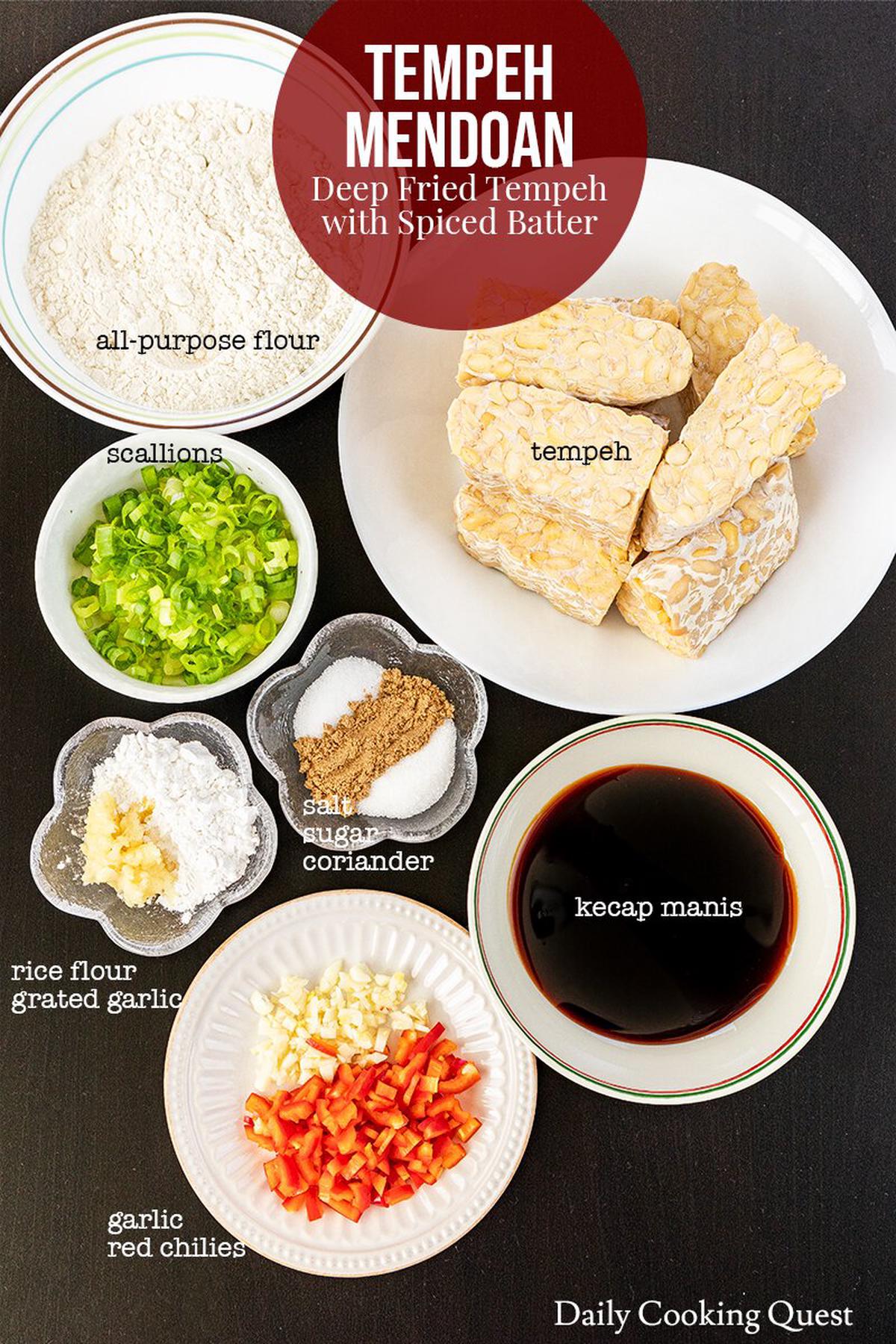 Choose 100% soybeans tempeh to make tempeh mendoan
It is not a surprise that tempeh is the main ingredient to prepare tempeh mendoan.
I know that there are so many different varieties of tempeh being offered nowadays, but if you want authentic tempeh mendoan, please stick to Indonesian style tempeh, which is made from 100% soybeans.
And if you are adventurous, you can try your hands at making your very own homemade tempeh!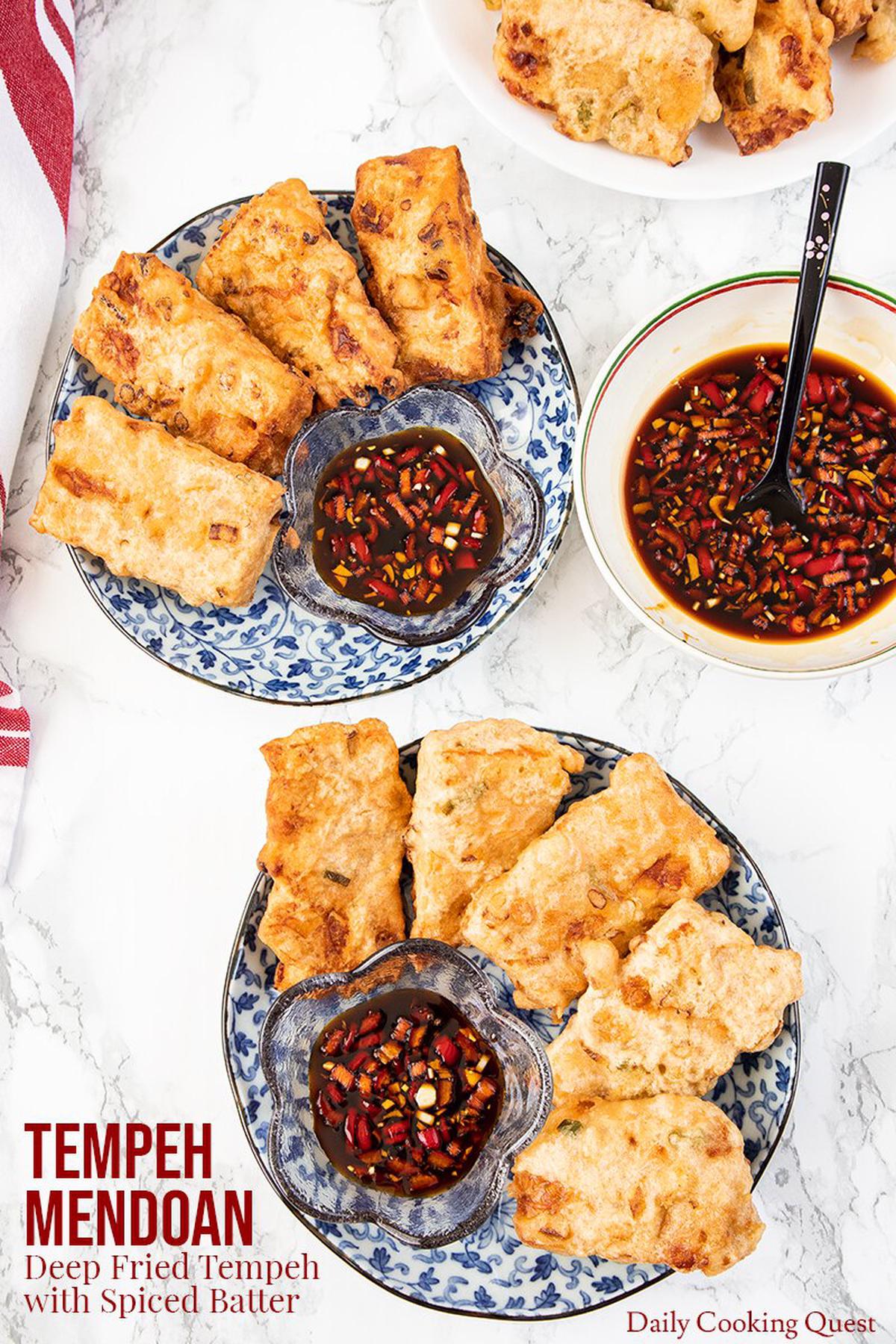 Ingredients to prepare tempeh mendoan
Aside from the 100% soybeans tempeh, you will need the following to make the spiced batter:
all-purpose flour
rice flour, this is the secret ingredient for crispy skin
grated garlic
thinly sliced scallions
coriander
salt
sugar
The accompanying chili sauce for your tempeh mendoan is very easy to make. You simply need:
kecap manis (Indonesian sweet soy sauce)
minced garlic
thinly sliced red chilies, you can use Thai bird-eye chilies or Fresno chilies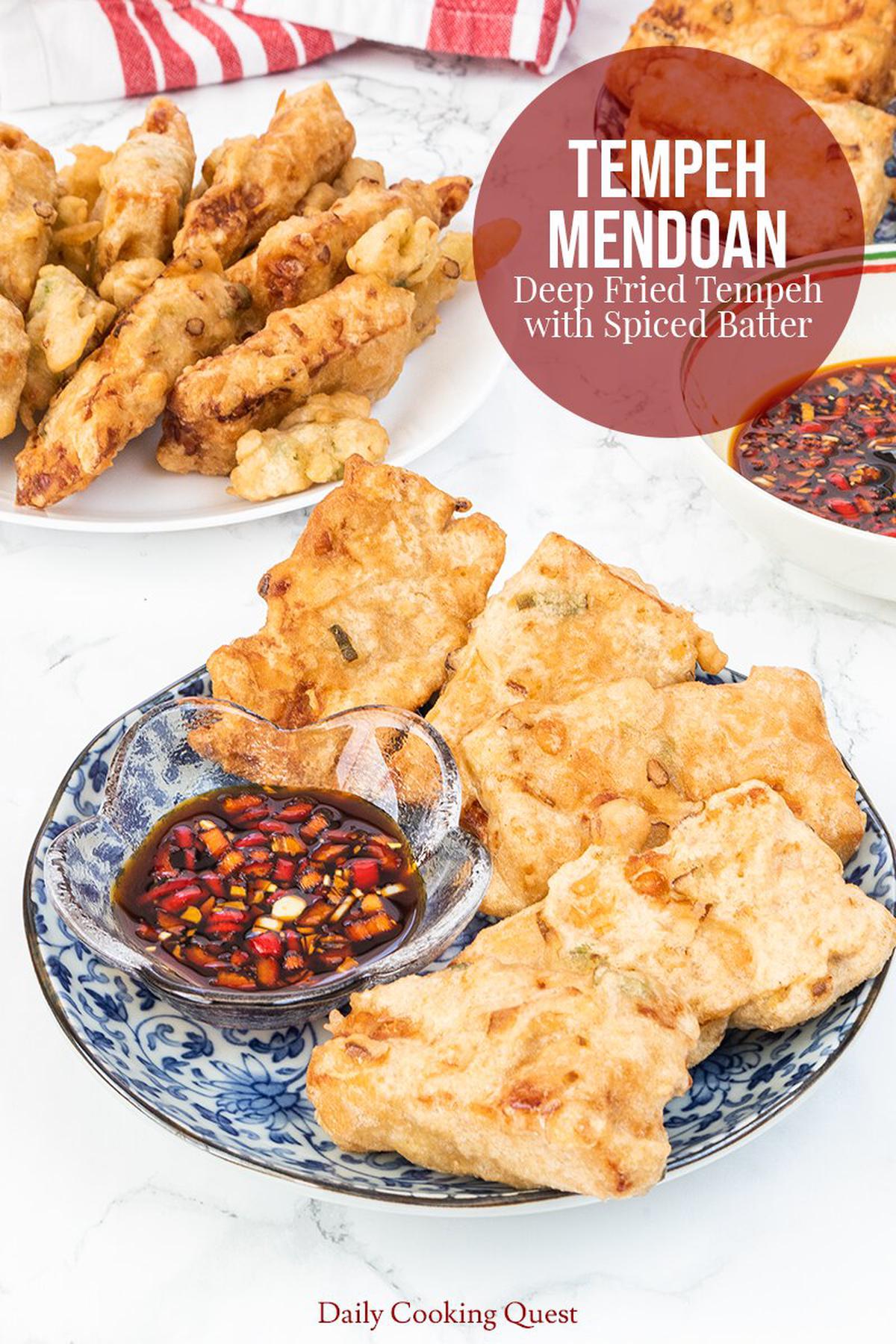 Frying tempeh mendoan
Once you have everything, it is ready to finally fry some tempeh mendoan. So, let's go over the steps:
1. Cut tempeh into thin slices
Unless I am in Indonesia, I usually use my own homemade tempeh. And I like to cut them into 12-16 thin slices. You want each slice to be more like a card than a stick!
2. Mix the spiced batter
Simply add all the spiced batter ingredients in a mixing bowl and stir it into a thick batter. It should resemble a slightly thicker pancake batter. Add some water (a tablespoon at a time), if you find the batter is too thick to stir.
3. Heat a pot of oil for deep frying
You will want at least 2 inches of oil. If you want to be precise, use a thermometer and start deep-frying once it reaches 170 Celsius/340 Fahrenheit.
For a no thermometer method, stick one bamboo chopstick into the hot oil, and if there are bubbles around the chopstick, the oil is ready.
4. Fry the tempeh
Coat each tempeh slice with the batter, and gently drop into the hot oil. Once the coat is golden brown, remove with a slotted spoon and drain over a wire rack.
Not too difficult right? Now you too can make some tempeh mendoan and enjoy these super tasty Indonesian snacks!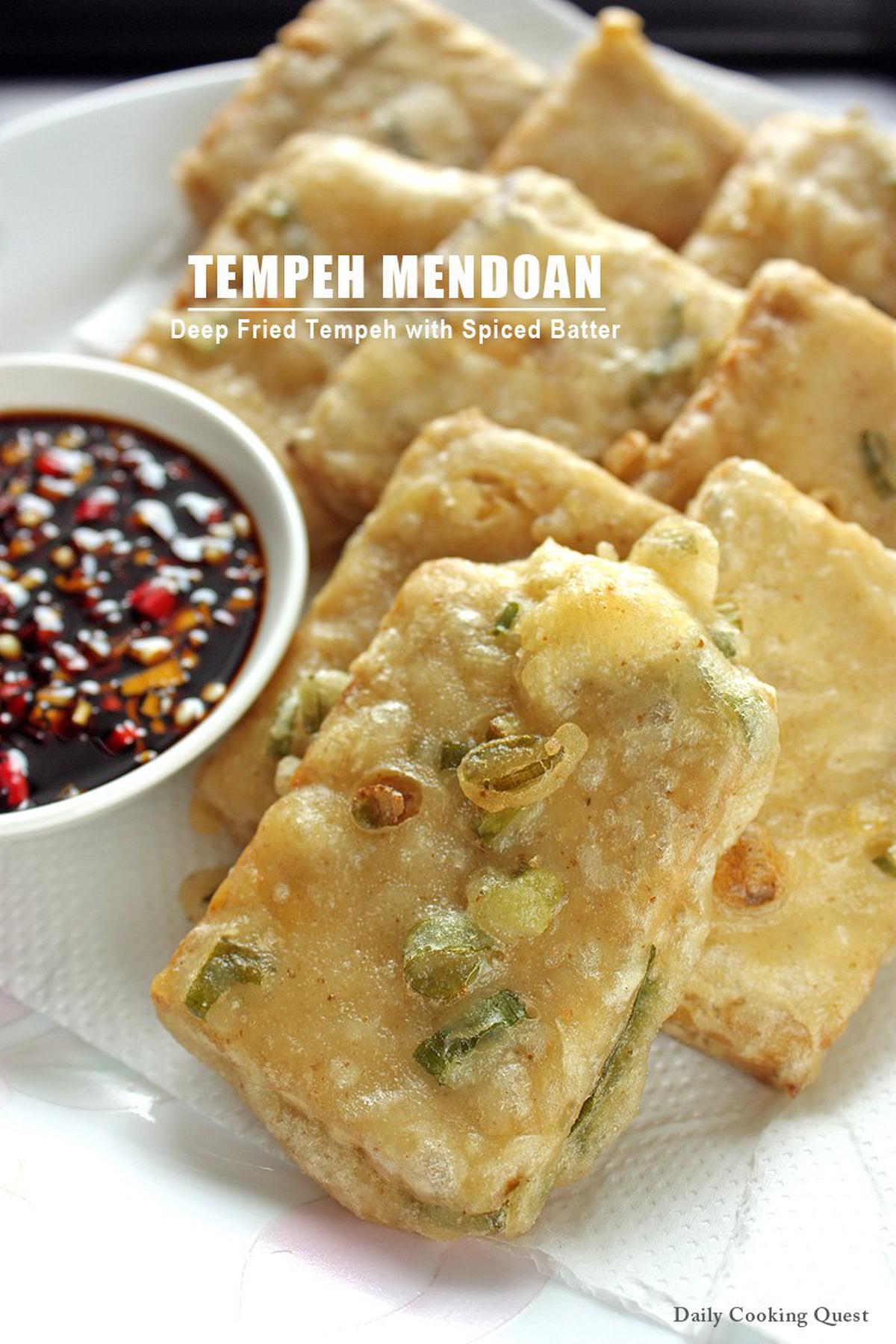 Tempeh Mendoan - Deep Fried Tempeh with Spiced Batter
5.0 from 8 reviews
Ingredients
450 gram (1 lb.) soybeans tempeh, cut into thin slices (I cut mine into 12-16 slices)
oil for deep frying
Spiced batter
125 gram all-purpose flour (Indonesian: tepung terigu)
1 tablespoon rice flour (Indonesian: tepung beras)
1 teaspoon salt
1 teaspoon sugar
1 teaspoon coriander powder (Indonesian: bubuk ketumbar)
2 cloves garlic (Indonesian: bawang putih), grated
2 scallions (Indonesian: daun bawang), cut into thin sliced
200 ml water
Chili sauce (mix together the following ingredients)
4 tablespoon sweet soy sauce (Indonesian: kecap manis)
2 to 5 red Thai chilies (Indonesian: cabe rawit merah), seeded and thinly sliced
1 clove garlic (Indonesian: bawang putih), minced
Instructions
Heat enough oil in a pot/frying pan for deep frying.
Combine all batter ingredients in a mixing bowl, make sure to remove all the lumps.
Once the oil is ready, dip each slice of tempeh in the batter and deep fry until crispy.
Arrange the fried tempeh on a serving plate and serve with the chili sauce.