Home / All Recipes / Thai / Thai Pork and Pineapple Yellow Curry
Thai Pork and Pineapple Yellow Curry
The pairing of pork and fruit is found in almost all cuisines, sweet and sour pork and fruit glazed ham are the two of the most iconic pork and fruit dishes that come to my mind. In Thai cuisine, this pairing can be found in pork and pineapple yellow curry. You can use ready made Thai yellow curry if you don't want the bother of making your own paste. But if you can find the ingredients and want to make the paste on your own, the recipe covers that too. Enjoy! ♥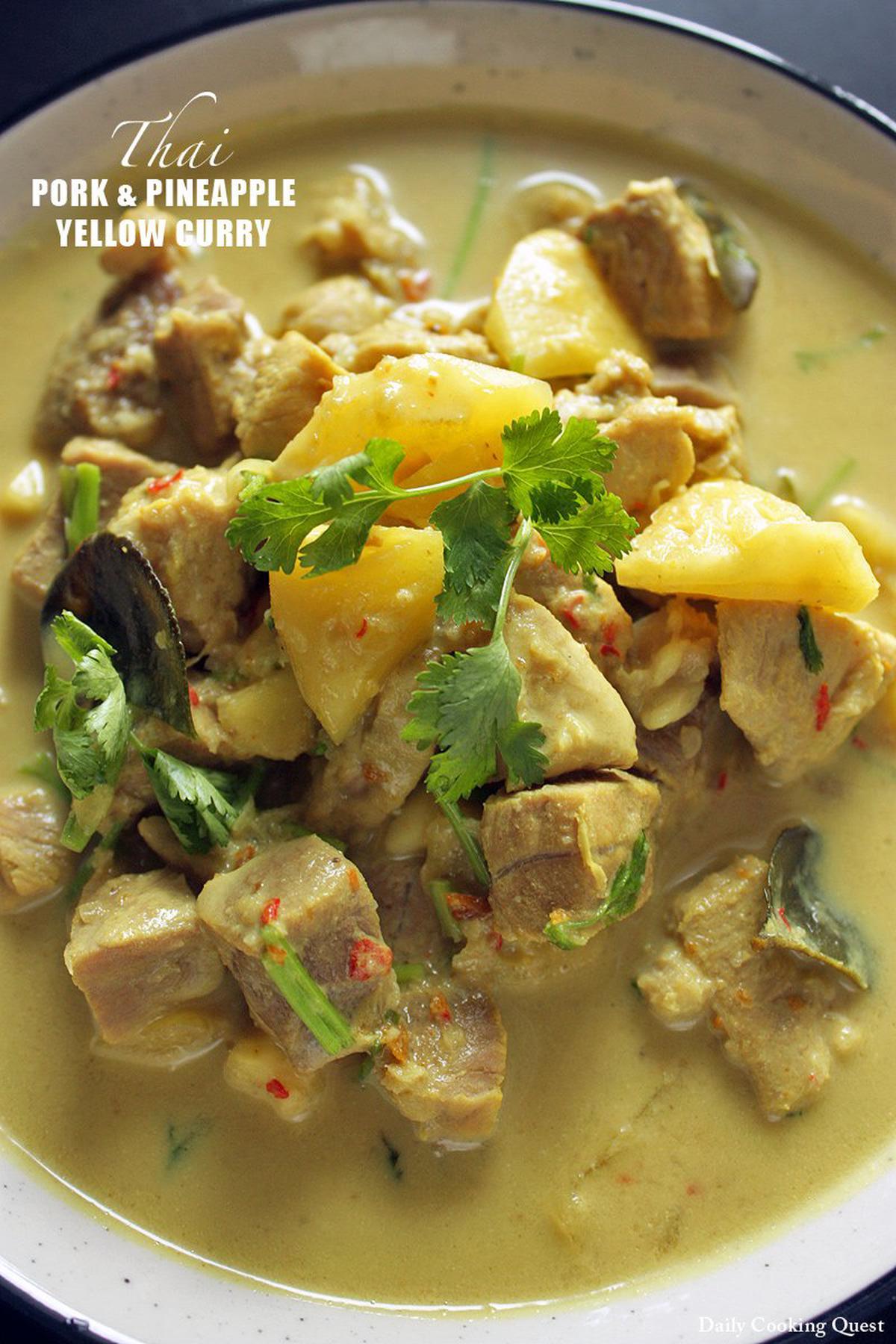 Thai Pork and Pineapple Yellow Curry
Ingredients
2 cups coconut milk
2 lemongrass (Indonesian: sereh), bruised and knotted
5 kaffir lime leaves
2 tablespoon tamarind juice (2 teaspoon tamarind + 2 tablespoon water), remove pulp and pits
1 tablespoon sugar
1 teaspoon salt
400 gram pork, cut into bite sizes
1 small pineapple, peeled, cored, and cut into bite sizes
3 tablespoon chopped coriander leaves (Indonesian: daun ketumbar)
Yellow curry paste (grind the following)
4 shallots (Indonesian: bawang merah)
4 cloves garlic (Indonesian: bawang putih)
2 inch turmeric (Indonesian: kunyit)
1 red cayenne chili (Indonesian: cabe merah keriting)
1 teaspoon toasted shrimp paste (Indonesian: terasi bakar)
Instructions
Pour 1 cup of the coconut milk into a pot and bring to a boil.
Add yellow curry paste, lemongrass, and kaffir lime leaves. Stir and bring to another boil.
Add tamarind juice, sugar, salt, and the rest of the coconut milk (1 cup).
Add pork and stir until the pork is no longer pink.
Add pineapple and continue cooking until the pork is fully cooked and tender. About 20 to 30 minutes.
Add about 2 tablespoons of the chopped coriander leaves and stir until wilted. Turn off heat, and transfer to a serving plate, garnish with the rest of coriander leaves (1 tablespoon).