Home / All Recipes / Thai / Thai Pumpkin and Shrimp Coconut Soup
Thai Pumpkin and Shrimp Coconut Soup
Pumpkin really goes hand in hand with coconut milk, be it in a sweet dessert like Indonesian kolak, or in savory soup such as this. The addition of lemongrass, shrimp paste, chilies, and palm sugar really tie everything together beautifully in this simple and hearty soup. ♥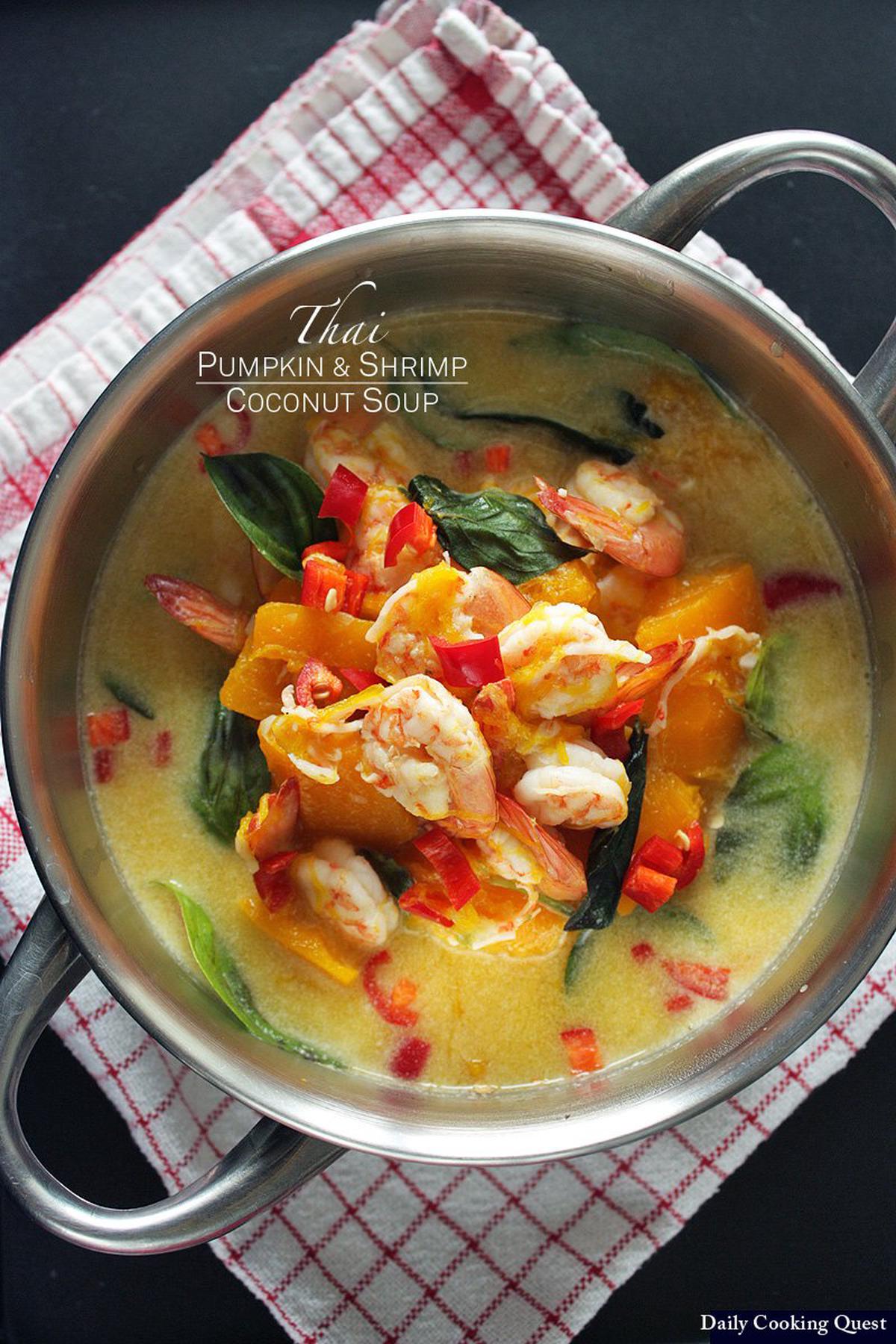 Thai Pumpkin and Shrimp Coconut Soup
5.0 from 1 reviews
Ingredients
2 1/2 cups chicken stock
1 lemongrass, bruised and knotted
500 gram pumpkin flesh (Indonesian: daging labu kuning), cut into cubes
2 1/2 cups coconut milk (Indonesian: coconut milk)
1 tablespoon palm sugar (Indonesian: gula Jawa)
3 tablespoon fish sauce (Indonesian: kecap ikan)
250 gram peeled shrimps (Indonesian: udang kupas)
Spice paste
4 shallots (Indonesian: bawang merah)
2 cloves garlic (Indonesian: bawang putih)
2 red bird eye chilies (Indonesian: cabe rawit merah)
1 teaspoon toasted shrimp paste (Indonesian: terasi bakar)
Garnish
12 fresh lemon basil leaves (Indonesian: daun kemangi)
1 red anaheim chilies (Indonesian: cabe merah besar), chopped
Instructions
Boil chicken stock in a pot, add lemongrass and spice paste and stir well to dissolve the paste.
Add pumpkin and bring to a simmer. Simmer for 10 to 15 minutes until pumpkin is tender.
Add coconut milk and return the soup to a simmer, don't let it boil. Add palm sugar and fish sauce, adjust to suit your preference.
Add shrimps and cook for 1 to 2 minutes until the shrimps turn pink.
Turn off heat, and serve the soup immediately garnished with basil leaves and chopped chilies.