Home / All Recipes / Thai / Thai Salmon Soup with Lemongrass and Galangal
Thai Salmon Soup with Lemongrass and Galangal
This is an impressively elegant soup that will not be out of place in a fancy party, yet super easy and really fast to prepare. Sure it can get a bit pricey with the salmon, but you can always use other fish of your choice, or even shrimps! ;)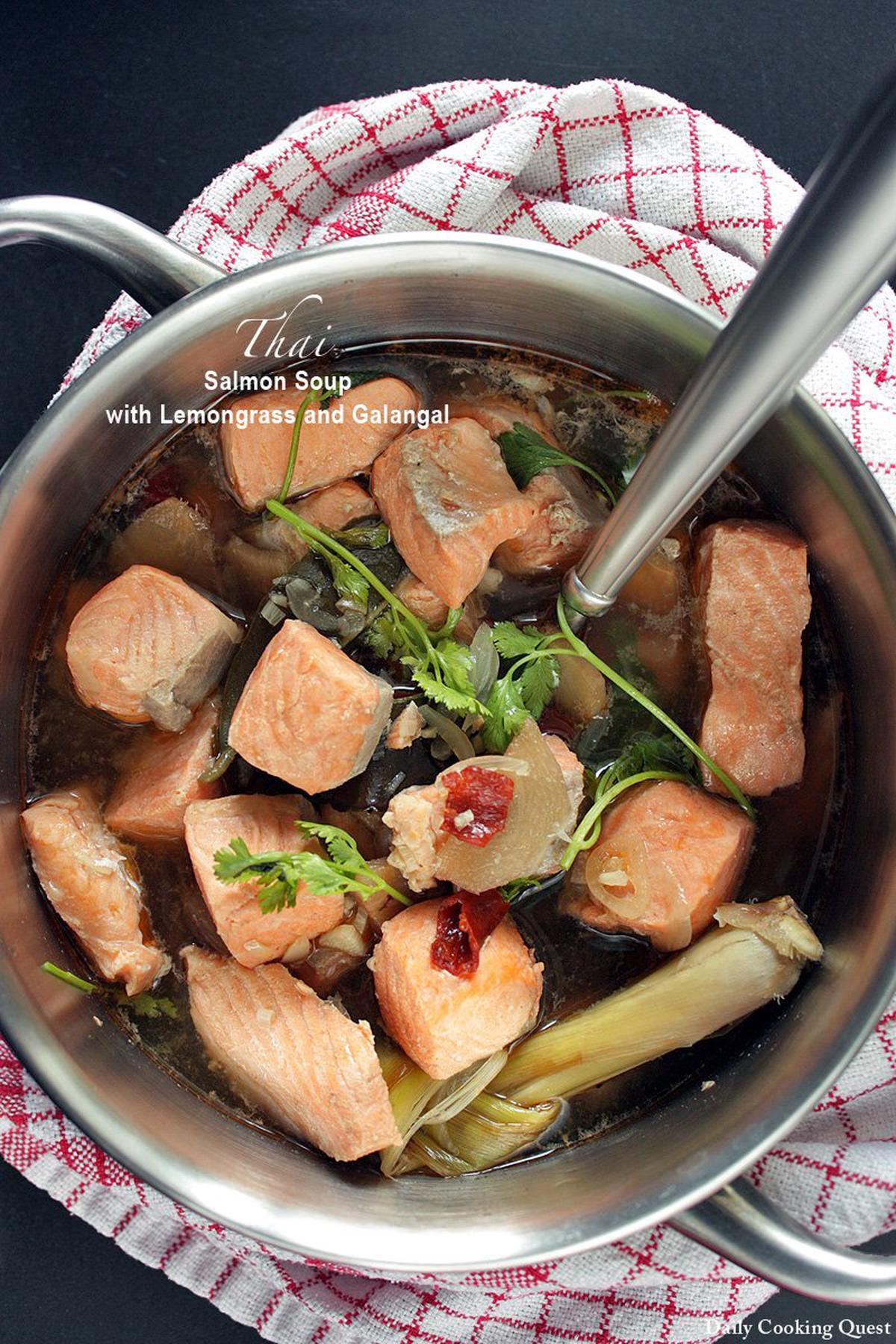 Thai Salmon Soup with Lemongrass and Galangal
5.0 from 1 reviews
Ingredients
2 cups water
4 shallots (Indonesian: bawang merah), peeled and thinly sliced
2 cloves garlic (Indonesian: bawang putih), peeled and minced
2 dried red chilies (Indonesian: cabe kering), crushed
1 lemongrass (Indonesian: sereh), bruised and knotted
2 inch galangal (Indonesian: lengkuas), peeled and bruised
8 kaffir lime leaves (Indonesian: daun jeruk), tear each in halves
1 tablespoon palm sugar (Indonesian: gula Jawa)
1 teaspoon toasted shrimp paste (Indonesian: terasi bakar)
1 teaspoon salt, or to taste
500 gram salmon fillet, remove skin and cut into 1 inch cubes
1 tablespoon coriander leaves (Indonesian: daun ketumbar)
Instructions
Place water, shallot, garlic, chili, lemongrass, galangal, lime leaf, palm sugar, shrimp paste, and salt in a soup pot. Bring to a boil. Reduce heat, and simmer for 15 minutes.
Add salmon into the soup and return to a boil. Reduce heat, cover and simmer for 5 minutes.
Turn off heat, adjust salt and sugar as needed. Transfer to a serving bowl and garnish with coriander leaves.