Home / All Recipes / Indonesian / Tofu Salad with Lime Dressing
Tofu Salad with Lime Dressing
I really love this spicy lime dressing, I think it pairs nicely with a wide range of salad. It is sweet, salty, sour, spicy, and with the addition of fish sauce, you can bet it is full of umami as well. And since the dressing contains no oil, it is very light and is a really good choice if you are watching your calorie intake.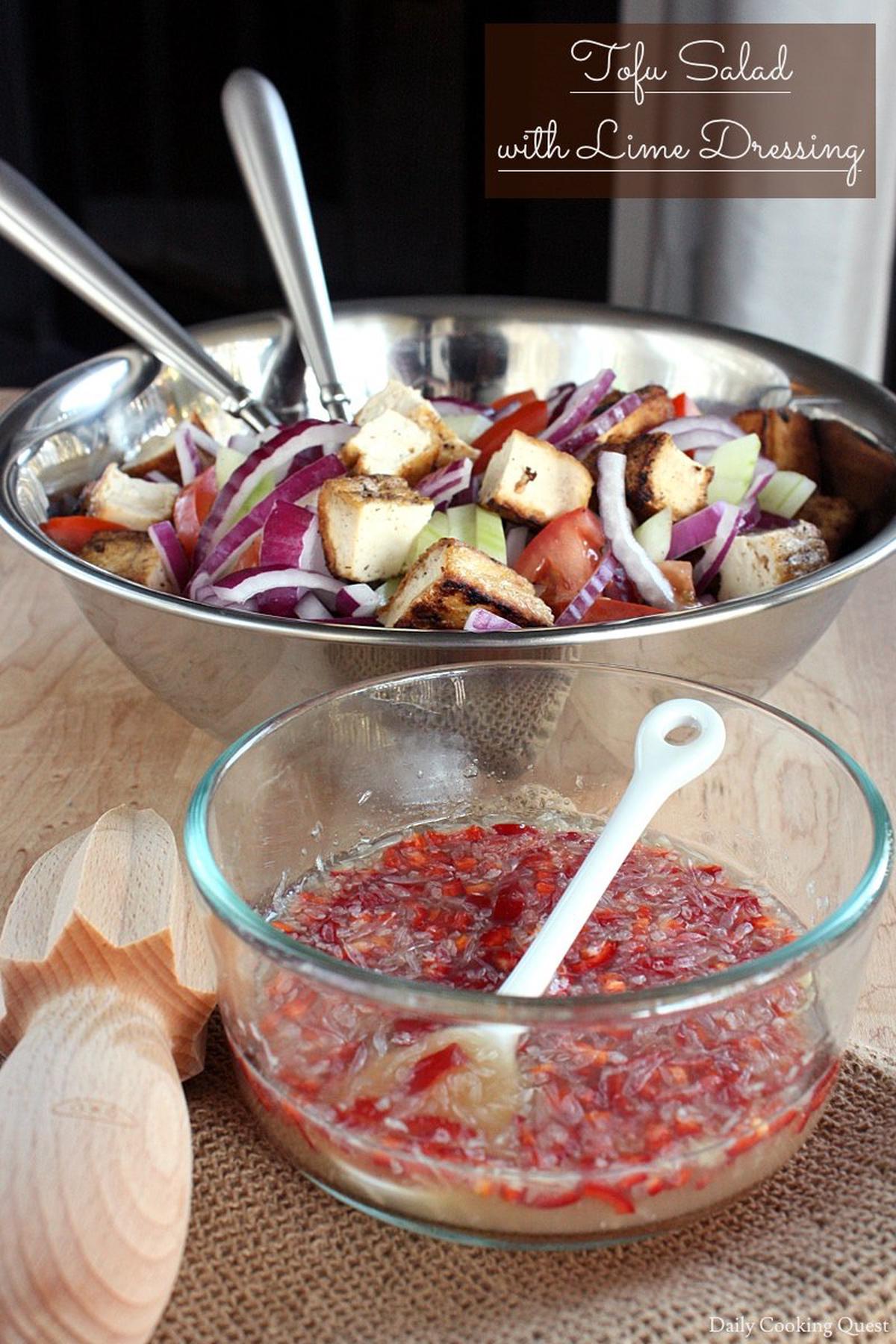 As far as the salad composition goes, you can switch tofu with other protein of your choice, such as roast chicken/beef/pork, ham, or even hard boiled eggs. In short, use whatever you have at hand, it doesn't have to be tofu, and if you don't want any protein in your salad, feel free to do so :)
Tofu Salad with Lime Dressing
Ingredients
2 tablespoon oil
1 firm tofu (about 400 gram)
1 red onion, halves, slice into rings
1-2 cucumber, peeled and seeded, thinly sliced
1-2 tomatoes, quartered and sliced
Lime dressing
2-3 red chilies, seeded and roughly minced (*)
1-2 cloves garlic, grated
2-3 teaspoon sugar
2 teaspoon fish sauce
2 lime, juiced
Instructions
Heat oil in a non-stick frying pan. Cut tofu into 8 equal pieces, and pan fried until all sides are golden brown. Set aside to cool, then cut each piece into 2-4 pieces.
In a mixing bowl, combine red onion, cucumber, tomatoes, and tofu. Set aside.
In a small bowl, mix together all the lime dressing ingredients. Adjust the amount of fish sauce and sugar as needed.
Prior to serving, pour the dressing onto the tofu and vegetable mixture. Gently toss to coat well. Divide into 4 salad plates/bowls.
Notes
(*) I use red Mexican chili, you can use any chilies of your choice