Home / All Recipes / Thai / Tom Kha Kai - Chicken Galangal Soup
Tom Kha Kai - Chicken Galangal Soup
Aside from tom yam kung, tom kha kai is a really close runner up as my favorite Thai soup. This is another super refreshing soup, and it does feel heavier than tom yam kung since coconut milk is used here instead of just plain water/chicken stock, which makes it a wonderful go to soup for colder season. Making this soup is really simple, the prep work is actually taking way longer than the cooking time. But then, I kind of tried to plate my ingredients as best as I could to take good photos, so yeah :D Anyway, here is what you need, some chicken breast strips and coconut milk.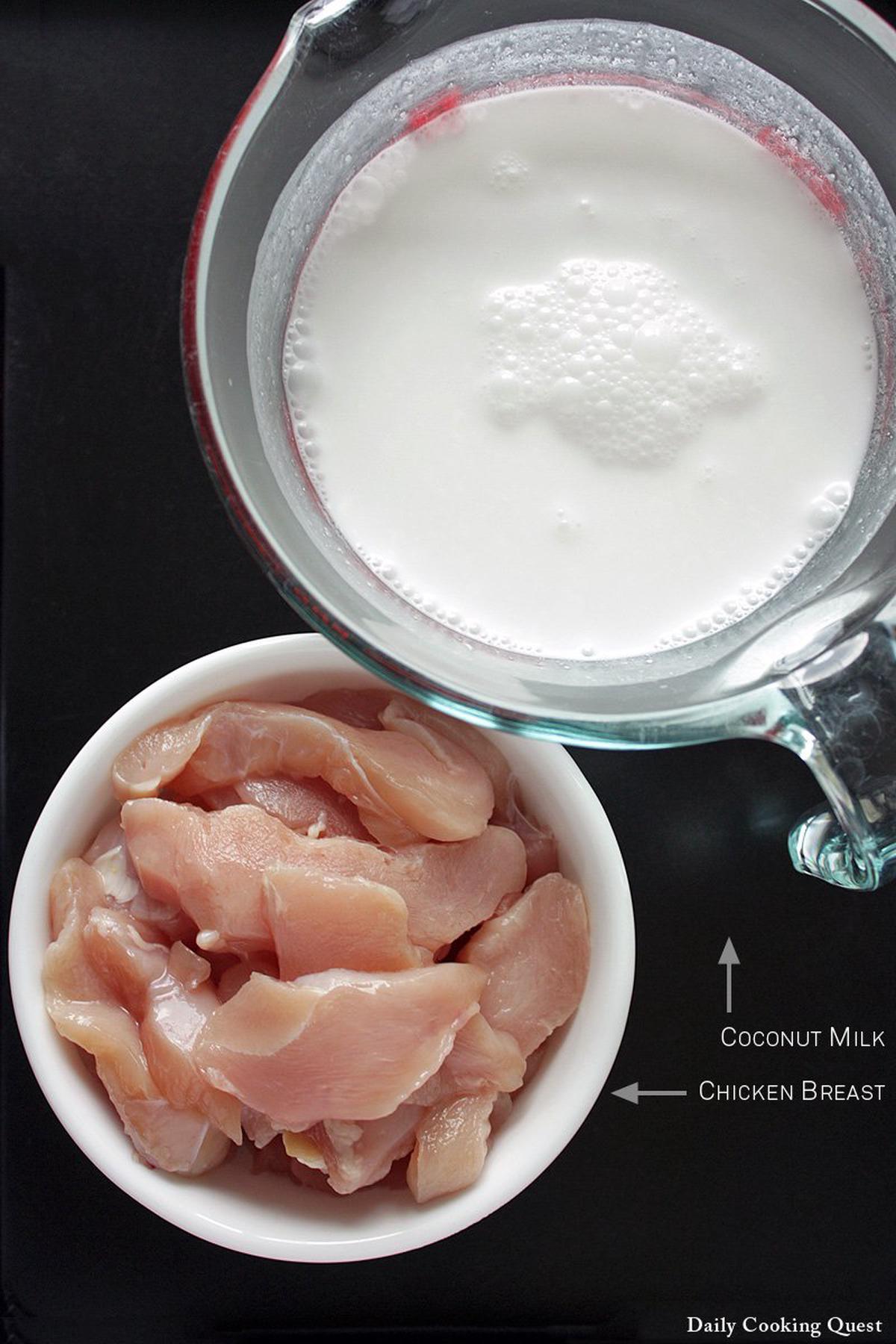 Next, prepare your vegetables. We are going to use some white button mushrooms and young corn cobs. Feel free to use other mushrooms of your choice, such as straw mushrooms, or even fresh shiitake.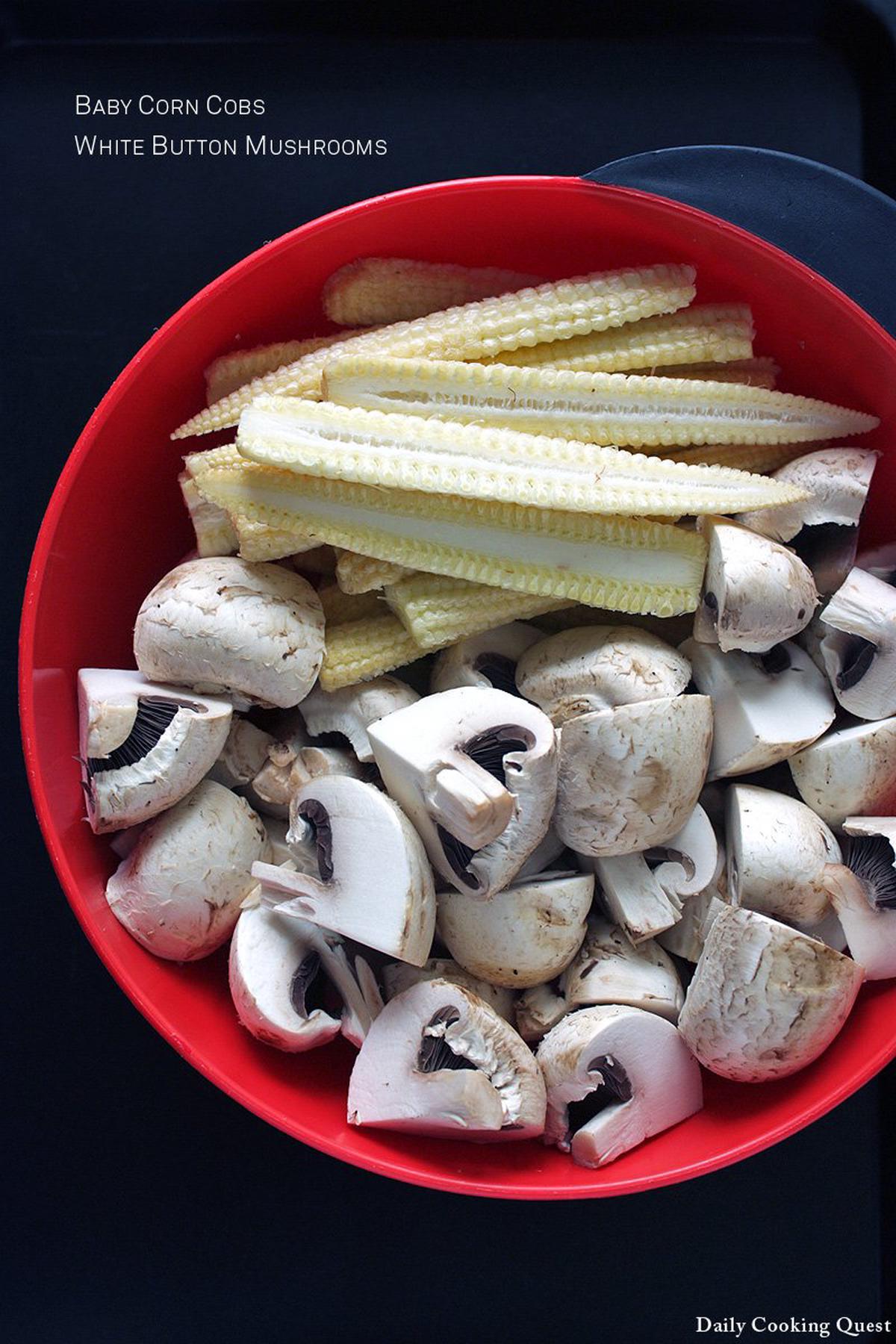 Then, bruised your lemongrass and make a knot, bruise a piece of galangal, grab some kaffir lime leaves, thinly sliced some red chilies, scallions, and coriander leaves. And lastly, squeeze some fresh lime juice.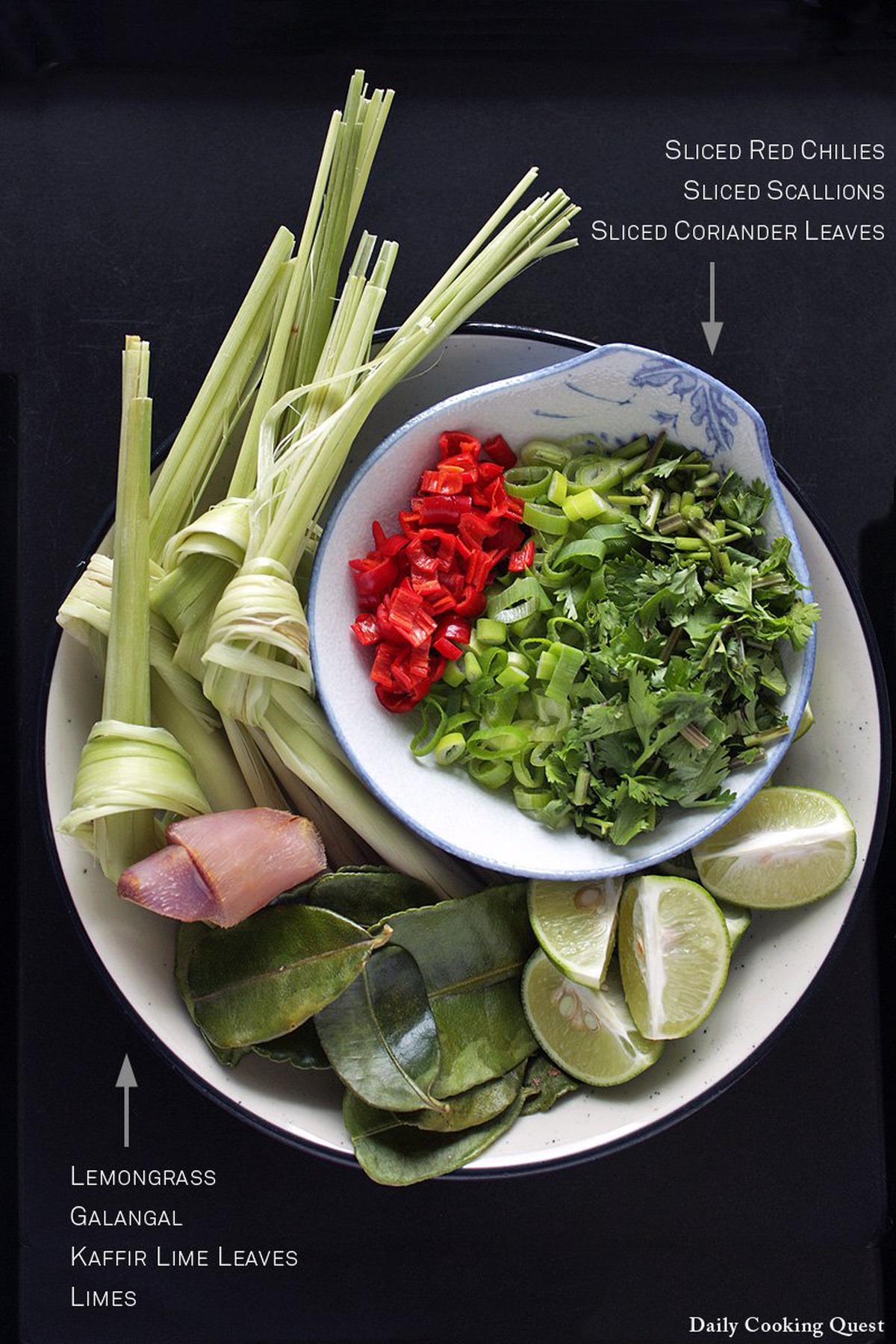 Once all the prep work is done, we can safely proceed with the cooking. I am refraining myself from repeating steps, so please follow the recipe below, I promise it is super simple :) And here is how the final soup looks like. ♥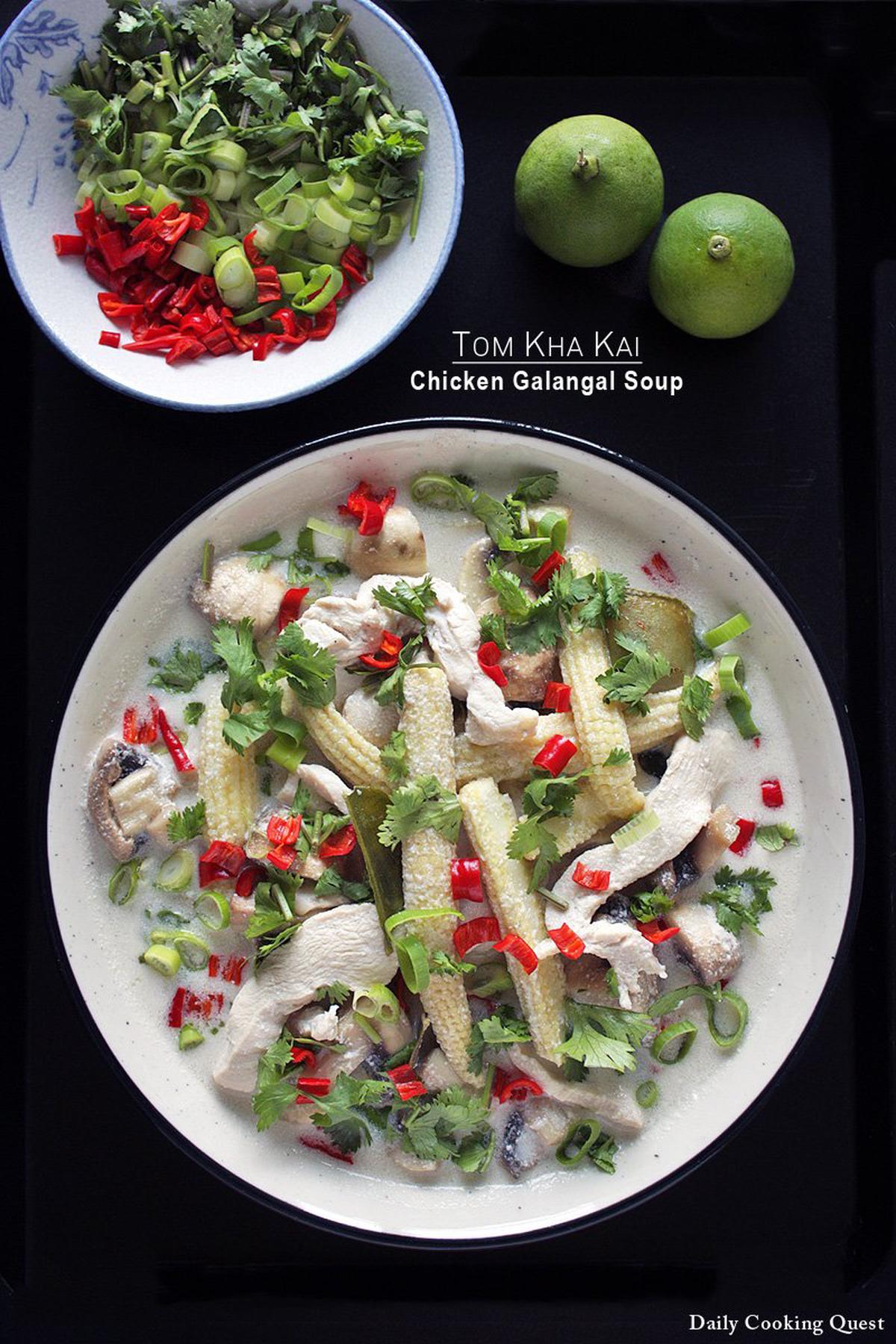 Tom Kha Kai - Chicken Galangal Soup
Ingredients
4 cups coconut milk
2 cups water/chicken stock
4 lemongrass (Indonesian: sereh), bruised and knotted
1 inch galangal (Indonesian: lengkuas), bruised
10 kaffir lime leaves (Indonesian: daun jeruk)
400 gram boneless skinless chicken breast (Indonesian: dada ayam), cut into strips
250 gram young corn cobs (Indonesian: jagung muda), half each
250 gram white button mushrooms (Indonesian: jamur kancing), quarter each
4 tablespoon lime juice (Indonesian: air jeruk nipis)
3 tablespoon fish sauce (Indonesian: kecap ikan)
1/2 tablespoon sugar, or to taste
1 teaspoon salt, or to taste
Garnish
2 scallions (Indonesian: daun bawang), thinly sliced
1 bunch coriander leaves (Indonesian: daun ketumbar), thinly sliced
4 red cayenne chilies (Indonesian: cabe merah keriting), seeded and thinly sliced
Instructions
Place coconut milk, water/chicken stock, lemongrass, galangal, and 5 kaffir lime leaves into a soup pot and bring to a boil over medium heat (high heat has a tendency to curdle the coconut milk and we want to avoid that). Reduce heat to a bare simmer and cook for 10 minutes until the soup is fragrant.
Add chicken breast, corn cobs, and mushrooms. Continue cooking gently until the chicken is cooked, about 5 to 8 minutes.
Pour the lime juice, fish sauce, and season with salt and sugar, then add the remaining 5 kaffir lime leaves.
Turn off heat. Laddle the soup into serving bowls, and serve hot garnished with sliced scallions, coriander leaves, and red chilies.