Home / All Recipes / Thai / Tom Yam Kung - Hot and Sour Prawn Soup
Tom Yam Kung - Hot and Sour Prawn Soup
Wonderful thing happened the other day. As I said, every time I moved I seemed to be loosing some of my recipe books. Well, apparently some of them ended up with my mother in law, and she returned them to me :D And… one of the book is on Thai cuisine recipes, of course I immediately set myself to recreate the most beloved Thai soup, tom yam kung. Quick warning, I am most definitely going to make more Thai food in the near future and I really hope you will love it. ♥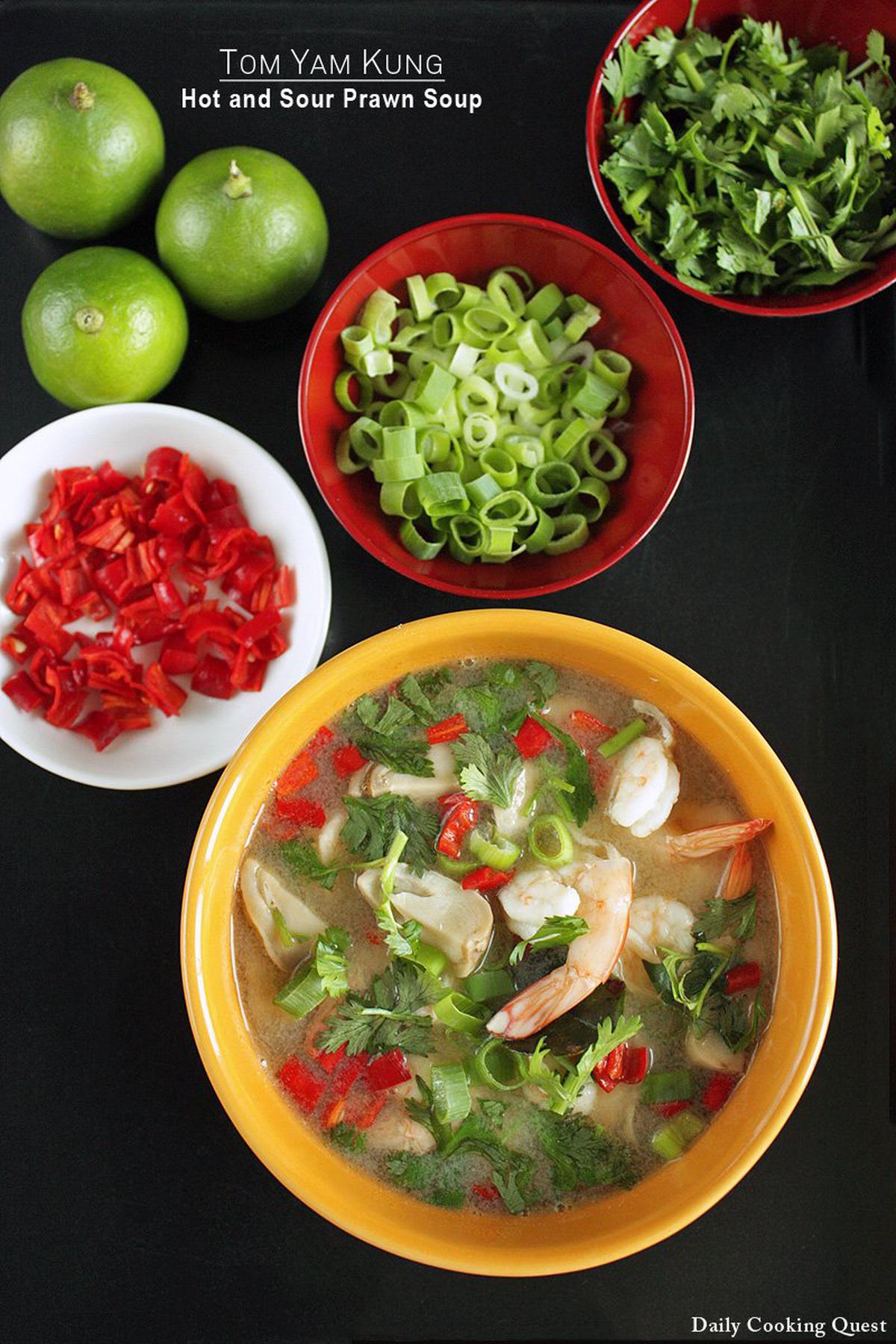 Tom Yam Kung - Hot and Sour Prawn Soup
Ingredients
500 gram prawn
1 liter water
3 lemongrass (Indonesian: sereh), bruised and knotted
10 kaffir lime leaves (Indonesian: daun jeruk)
250 gram straw mushroom (Indonesian: jamur merang), cut into halves or quarters, depending on size
3 tablespoon fish sauce (Indonesian: kecap ikan)
4 tablespoon lime juice (Indonesian: air jeruk nipis)
2 scallion (Indonesian: daun bawang), thinly sliced
1 bunch coriander (Indonesian: daun ketumbar), thinly sliced
4 red cayenne chilies (Indonesian: cabe merah keriting), seeded and thinly sliced
salt, to taste
pepper, to taste
Instructions
Peel the prawns, reserve the shells, and keep the tails intact. Devein the prawns and set aside.
Wash the prawn shells under cold running water, then put them in a soup pot. Add water, lemongrass, and 5 kaffir lime leaves. Bring to a boil, then reduce heat and simmer for 10 minutes.
Strain the stock and return it to a clean pot and bring it to a boil again.
Add straw mushroom and cook for 5 minutes. Then add prawns and cook until they start to turn pink.
Quickly add fish sauce, lime juice, 5 kaffir lime leaves, sliced scallion, coriander, and chilies. Season with salt and pepper to taste. Turn off heat and serve immediately.