Home / All Recipes / Japanese / Tori Misoyaki Miso Glazed Grilled Chicken
Tori Misoyaki Miso Glazed Grilled Chicken
Tori misoyaki is Japanese grilled chicken with a miso-mirin glaze. Don't forget to prepare the onion miso soy sauce to serve with the grilled chicken.
Misoyaki (味噌焼き) is a Japanese grilled dish where the main protein (usually chicken or fish) is marinated in a miso and mirin paste prior to grilling. A misoyaki dish is usually delicious as is, but I think the onion miso soy sauce makes a misoyaki dish even tastier, and it's not that difficult to prepare.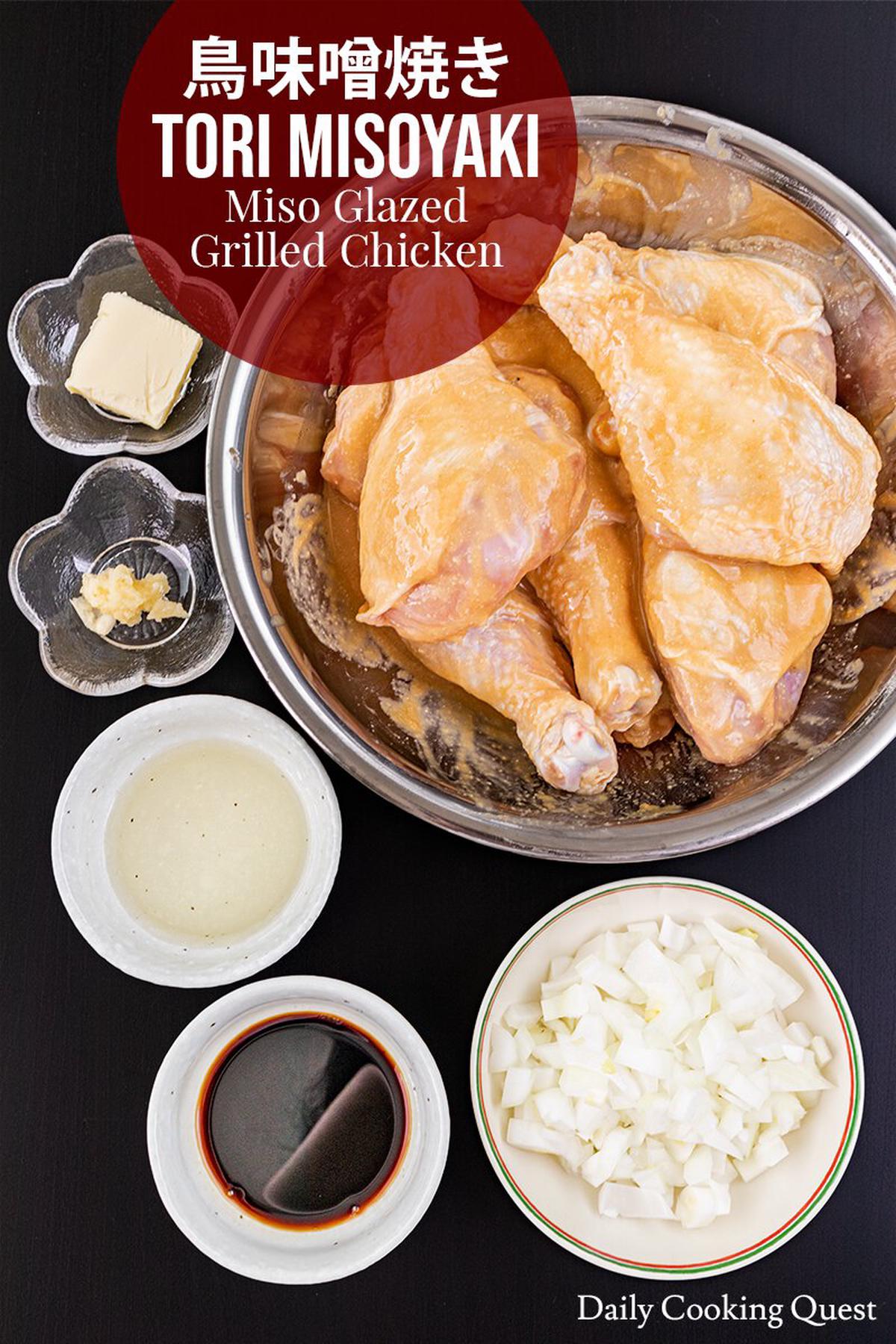 Use bone-in chicken pieces or a whole chicken
When I prepare this for a daily meal for my family, I like to use bone-in chicken pieces, and the favorite in my home is drumsticks. You can also use chicken thighs, or chicken quarters, just make sure they still have skin and bone.
For special occasions, like Thanksgiving, or Christmas, you may want to go with a whole chicken. Make sure your chicken weight is about 1.5 kilogram (3.5 lb), and be sure to rub the marinade into all the chicken cavities and not just the outer part! I have found that the roasting/baking time is the same as long as the total weight of the whole chicken is kept at 1.5 kilogram (3.5 lb).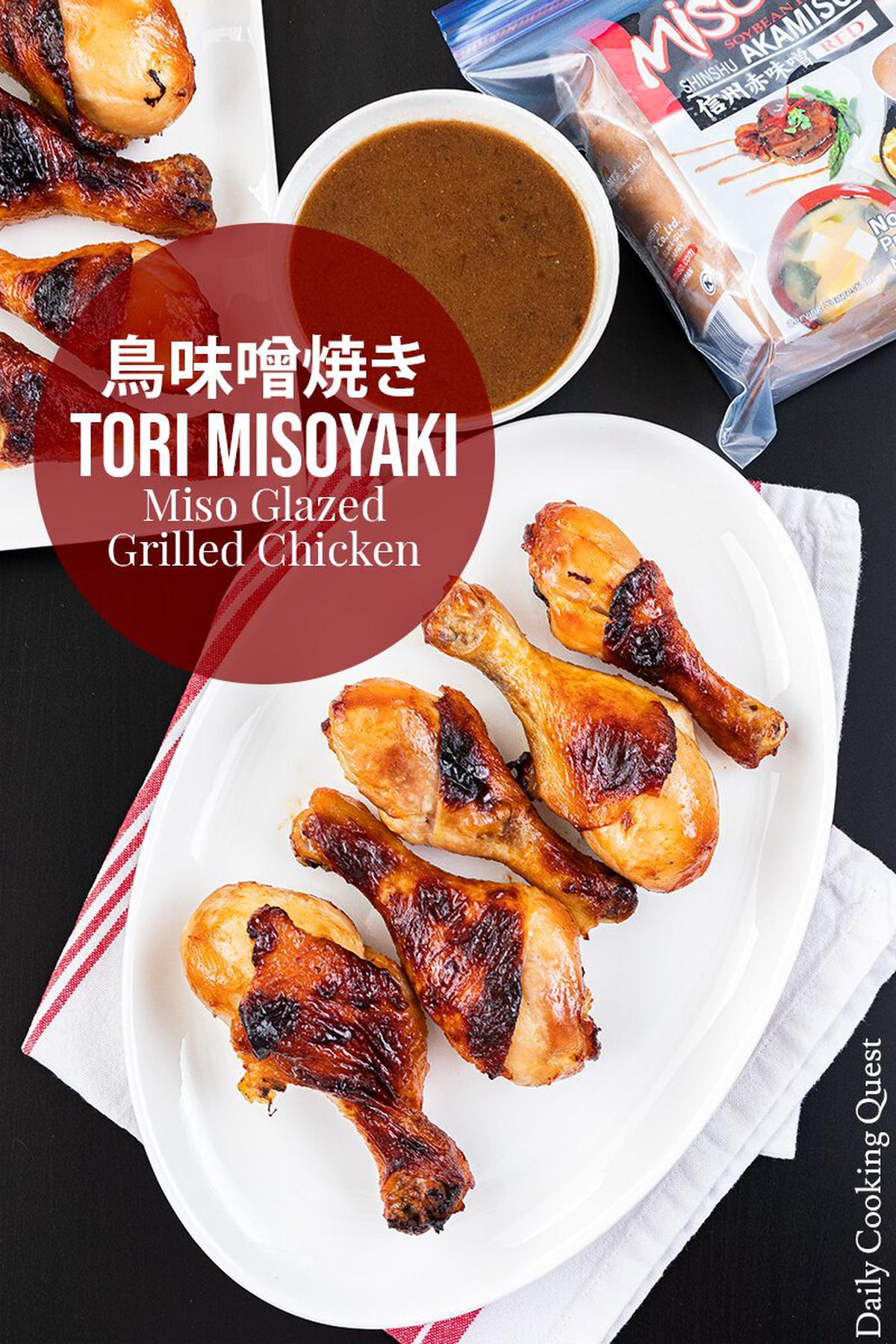 Japanese pantry ingredients to prepare misoyaki
Misoyaki is a gentle introduction to the Japanese pantry. It only requires a minimal amount of Japanese ingredients that you may not currently stock in your kitchen. To prepare misoyaki, you will need:
The rest of the ingredients should be very common in all kitchen, so do give this easy grilled chicken recipe a try. Hopefully this tori misoyaki recipe can be a nice addition to your repertoire. :)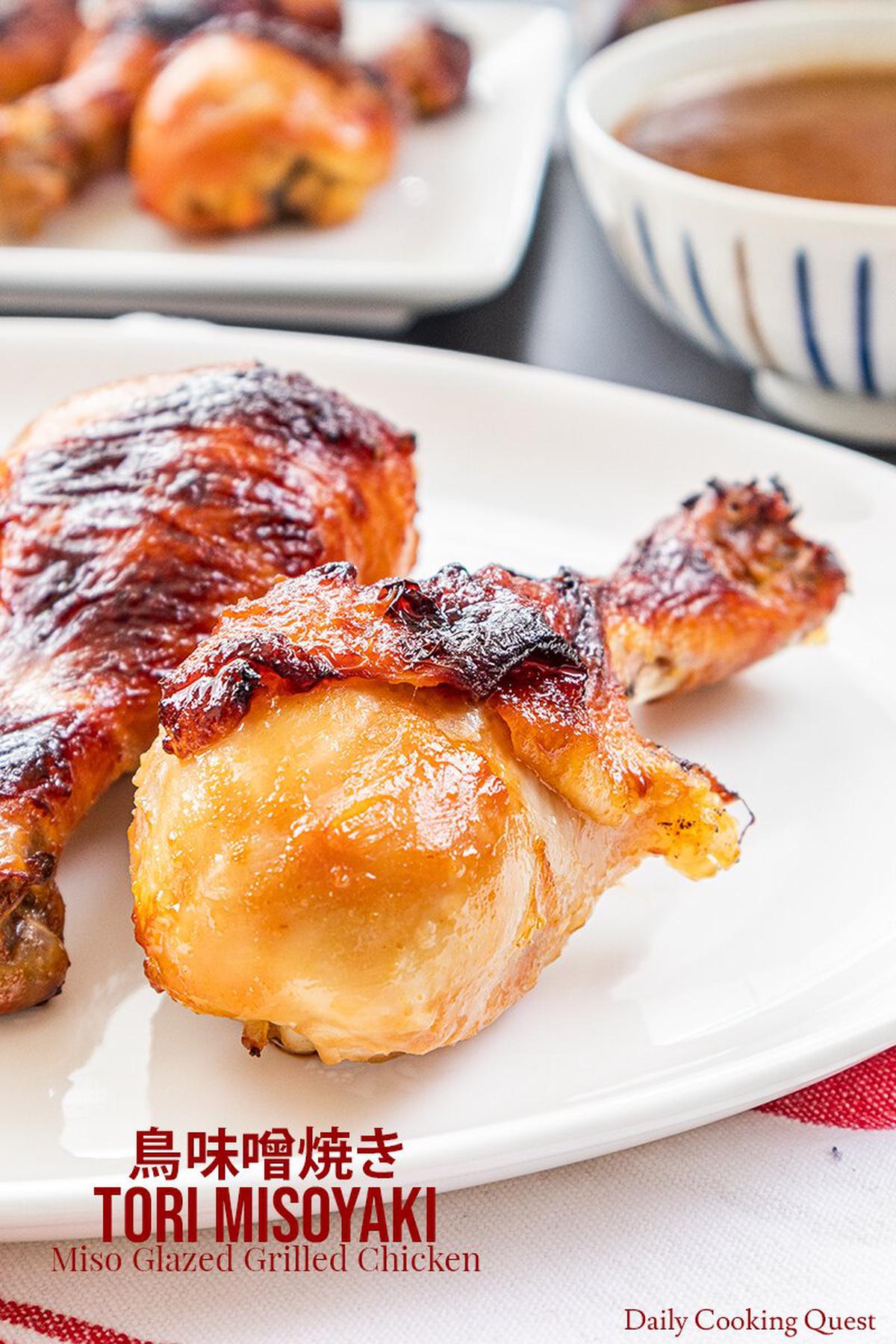 Tori Misoyaki Miso Glazed Grilled Chicken
5.0 from 9 reviews
Ingredients
Grilled chicken
1/2 cup red miso paste
1/2 cup mirin
1.5 kilogram (3.5 lb.) bone-in chicken pieces (I use all drumsticks)
Onion miso soy sauce
2 tablespoon oil
1/2 cup diced onion
1/2 cup water
1/4 cup soy sauce (preferably low sodium version)
1/4 cup mirin
1 clove garlic, grated
1 tablespoon unsalted butter
1 tablespoon red miso paste
Instructions
Combine 1/2 cup red miso paste and 1/2 cup mirin until smooth. Use this miso-mirin paste to marinate chicken pieces. Let the chicken marinate in the fridge for at least 4 hours, overnight is best.
Remove chicken from the fridge and let them return to room temperature. Preheat oven to 230 Celsius (450 Fahrenheit).
Scrape/wipe off as much of the marinate from the chicken, miso is easily burnt in the oven, so we don't want that. Arrange chicken on a baking pan.
Bake/roast the chicken for 25 minutes at 230 Celsius (450 Fahrenheit). Reduce the oven temperature to 180 Celsius (350 Fahrenheit), and continue baking/roasting for another 40 minutes. You may want to turn the chicken pieces a few time during baking/roasting to get an even color.
(Optional step): Five minutes prior to the chicken finish roasting/baking, brush the chicken skin with some mirin. This will give the chicken skin a glossy glaze.
Once the chicken has finished roasting/baking, remove from the oven, and rest for 10 minutes before serving.
To make the sauce (I usually do this step while the chicken is in the oven): in a small sauce pot, fry onion with the 2 tablespoon oil until translucent. Add water, soy sauce, mirin, and garlic. Bring to a boil, reduce the heat a little and continue cooking until the sauce is reduced and thick. Add butter, and turn the heat off once the butter has melted. Remove the sauce pot from heat source, then add the 1 tablespoon of red miso paste, stir until miso is completely melted.
Serve the chicken with the sauce and some steamed white rice.