Home / All Recipes / Indonesian / Tumis Kacang Panjang - Snake Bean Stir Fry
Tumis Kacang Panjang - Snake Bean Stir Fry
I love eating vegetables, and when I shop for grocery, I tend to linger a bit in the produce section looking at the different greens and decide which one looks the best. And that is how I ended up with this snake bean. You don't have to use snake bean for this recipe, so if you are more of a chayote guy or a tofu person, feel free to go wild. :D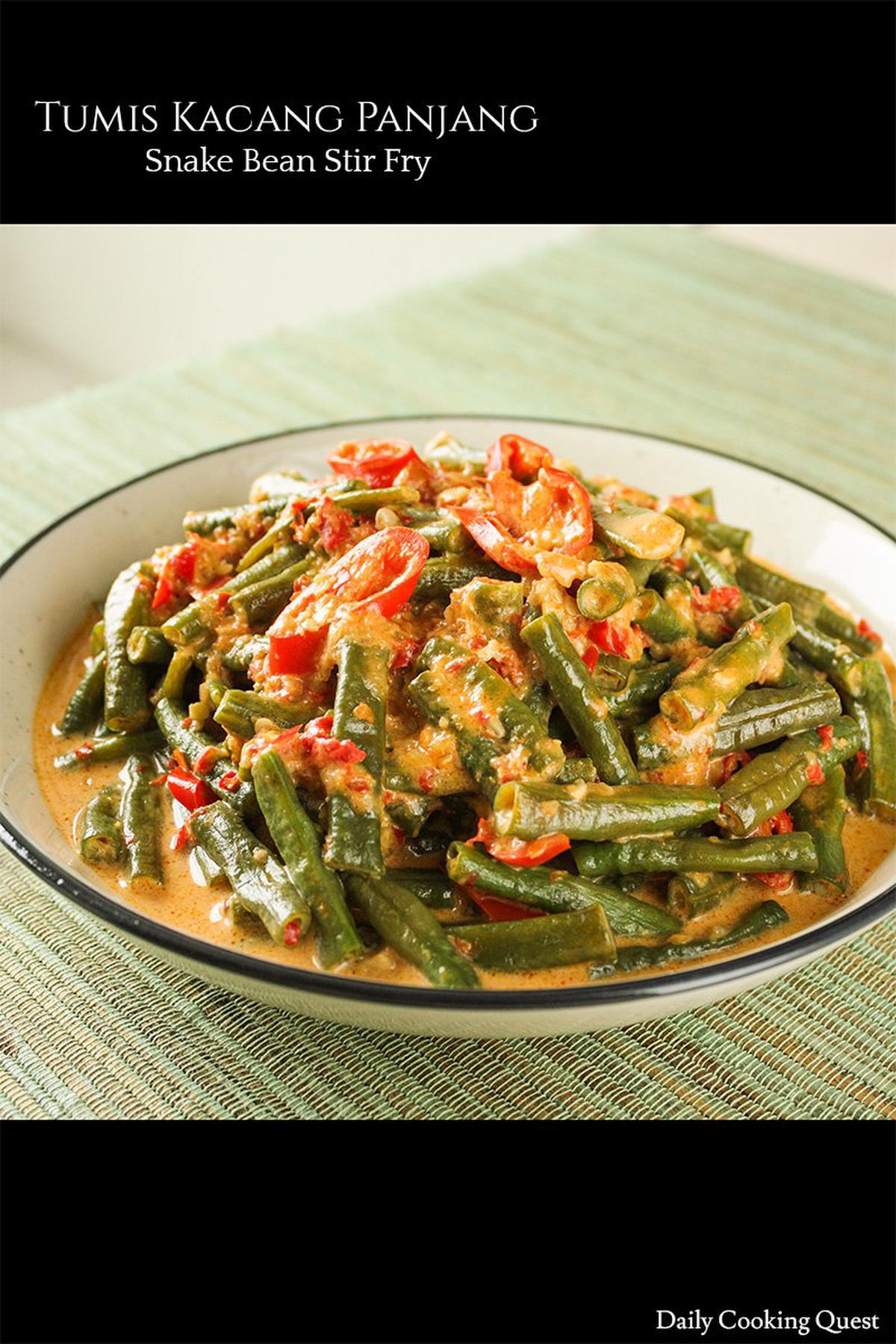 Tumis Kacang Panjang - Snake Bean Stir Fry
5.0 from 1 reviews
Ingredients
2 tablespoon oil
1 bay leaf (Indonesian: daun salam)
2 red anaheim peppers (Indonesian: cabe merah besar), thinly sliced diagonally
300 gram snake bean (Indonesian: kacang panjang), cut into 2 inch pieces
1 teaspoon palm sugar (Indonesian: gula Jawa)
1 teaspoon salt
250 ml coconut milk (Indonesian: santan)
Grind the following into spice paste
3 shallots (Indonesian: bawang merah)
3 cloves garlic (Indonesian: bawang putih)
4 red cayenne peppers (Indonesian: cabe merah keriting)
1 red anaheim pepper (Indonesian: cabe merah besar)
2 candlenuts (Indonesian: kemiri)
1 cm galangal (Indonesian: lengkuas)
Instructions
Heat oil in a wok/frying pan and stir fry spice paste and bay leaf until fragrant, about 2 minutes.
Add the anaheim peppers and stir until wilted, another 1 minute.
Add the snake bean and season with palm sugar and salt. Mix well.
Pour the coconut milk and bring to a boil. Keep cooking until the sauce is slightly reduced and some oily sheen has formed, about 5 minutes.
Turn off heat and serve immediately with steamed white rice.