Home / All Recipes / Indonesian / Udang Pedas Manis - Sweet and Spicy Shrimps
Udang Pedas Manis - Sweet and Spicy Shrimps
Quick and easy 5 ingredients shrimp dish that is perfect for weekdays. You'll need shrimps, shallots, red chilies, chicken stock, and Indonesian kecap manis.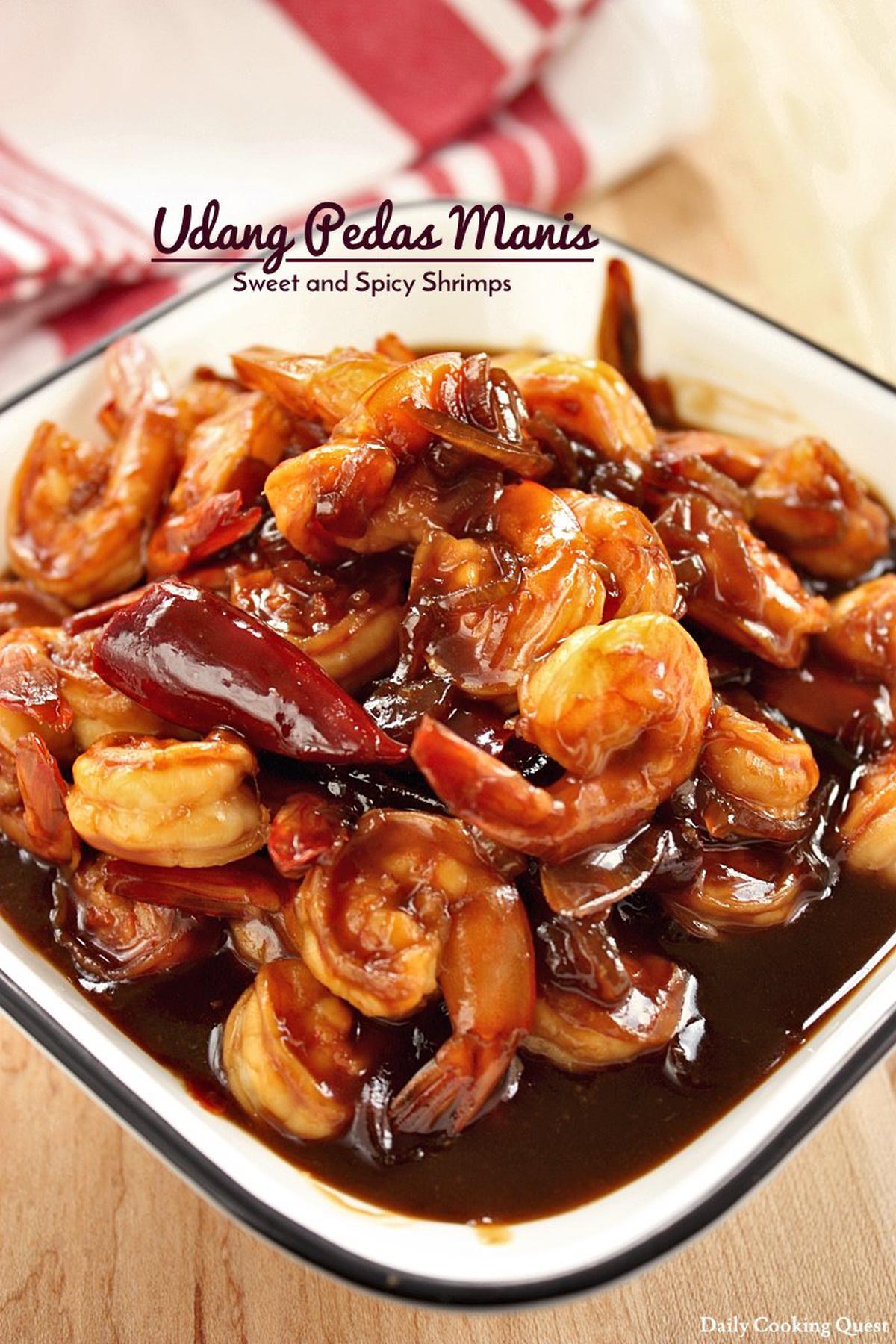 Weekdays can be hectic and busy, and I rely on easy recipes like this udang pedas manis (sweet and spicy shrimps) to slog through the week.
The shrimps are packed with bold flavors from shallots, red chilies, chicken stock, and sweet soy sauce (Indonesian: kecap manis). And if you start with peeled and deveined shrimps, you can easily make this dish under 10 minutes including prep works.
Whole shrimps vs. peeled and deveined shrimps
Peeling and deveining shrimps takes time, but somehow I prefer that than buying the already peeled and deveined ones.
One reason is, of course, cutting down the cost (it's always cheaper when buying whole shrimps), but there are two other advantages:
you get to make seafood stock out of the peeled heads and bodies
I sincerely believe that the closer the time between shrimps being peeled to being dumped into a hot pan the better
But the choice is yours, and the dish will turn out beautiful regardless of which ones you start with. :)
Storing and reheating shrimps dishes
In an ideal world, we finish the food we cook on the same day. But if you do have leftover, you can store them in an air-tight container in the fridge for up to 3 days.
To reheat, place in a microwave-proof bowl, and reheat/cook in a microwave for 1 minute. Take care not to reheat/cook for too long as shrimps become tough when overcooked.
Udang Pedas Manis - Sweet and Spicy Shrimps
5.0 from 6 reviews
Ingredients
2 tablespoon oil
100 gram shallot (Indonesian: bawang merah), thinly sliced
5-10 dried red chilies (Indonesian: cabe merah kering)
3/4 cup chicken stock (or water is fine too)
1/3 cup sweet soy sauce (Indonesian: kecap manis)
500 gram medium size shrimps, peeled, deveined, tails intact
1 1/2 tablespoon corn starch + 3 tablespoon water
Instructions
Heat oil in a frying pan and sauté shallot and dried red chilies until fragrant, about 3 minutes.
Pour chicken stock and sweet soy sauce into the pan and bring to a boil.
Add shrimps and cook until they start to turn pink, about 1 minute.
Add corn starch solution to thicken the sauce and cook for another 2 minutes.
Turn off heat, transfer to a serving plate, and serve with steamed white rice.