Home / All Recipes / Indonesian / Woku Ikan Kakap - Manado Spicy Basil Red Snapper
Woku Ikan Kakap - Manado Spicy Basil Red Snapper
Manado is home to fiery dishes, and this woku is no exception. I actually chickened out on the chilies and use only two bird eye chilies, and even that after I removed the seeds. If I were to order this dish in a restaurant, I think I won't even be able to handle this without risking hospitalization. Taste wise, a woku is a very aromatic and fragrant dish, the spiciness does get balanced out with the freshness of the dish. Although red snapper is kinda traditional, you can use other firm white fish of your choice, and you can even cook the fish whole too if your wok/pan is big enough to hold that.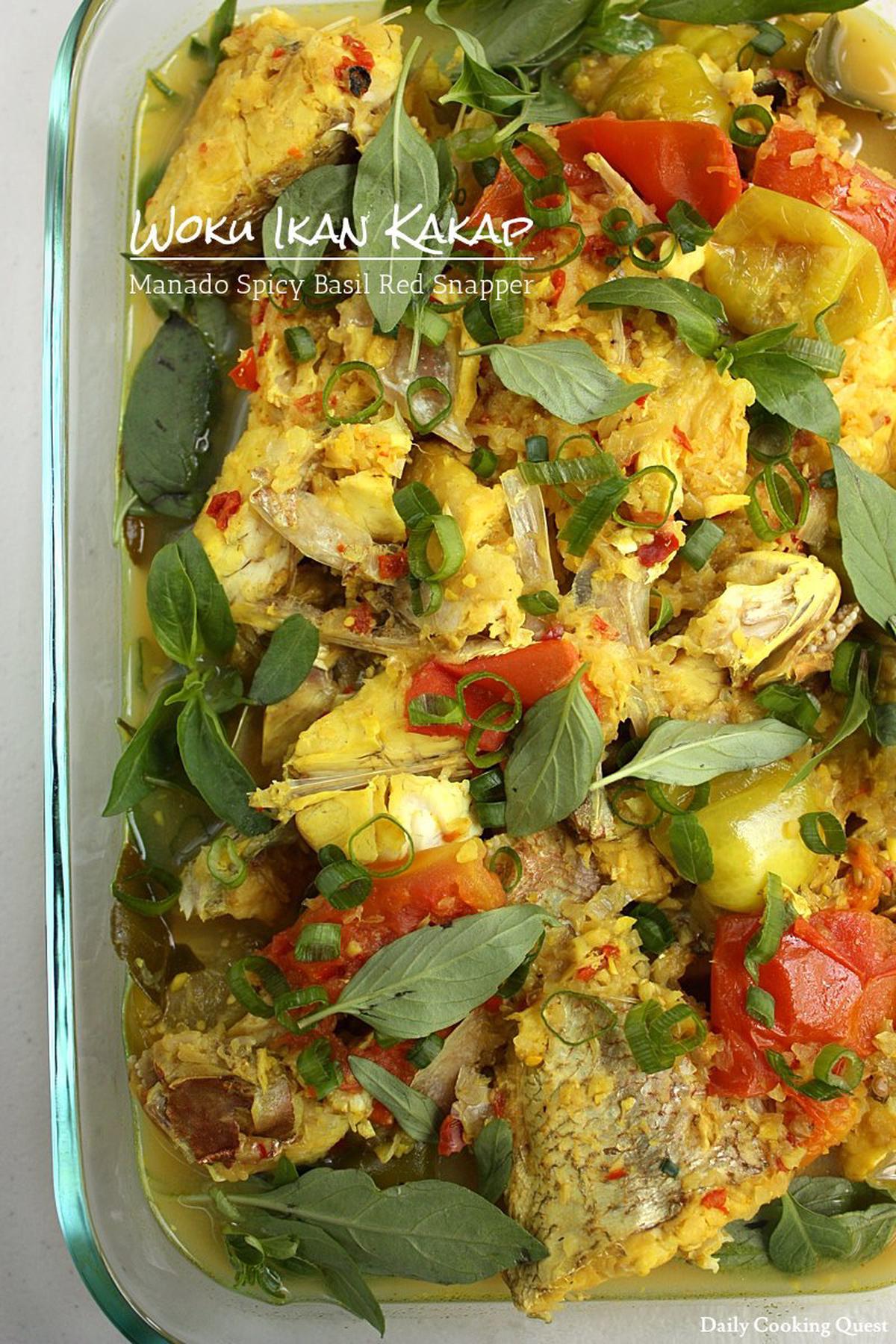 Woku Ikan Kakap - Manado Spicy Basil Red Snapper
Ingredients
2 red snappers (about 1 kilogram total), clean and cut to 4-6 pieces each
1 lime, extract the juice
1 teaspoon salt
4 tablespoon oil
3 lemongrass (Indonesian: sereh), bruised and knotted
2 pandan leaves (Indonesian: daun pandan), knotted
6 kaffir lime leaves (Indonesian: daun jeruk)
1 liter water
5 tomatillos (Indonesian: tomat hijau), cut each into halves
1 tomato (Indonesian: tomat), cut into quarters
1 teaspoon salt, or to taste
Grind the following into spice paste
150 gram shallot (Indonesian: bawang merah)
3 cloves garlic (Indonesian: bawang putih)
10 red cayenne chilies (Indonesian: cabe merah keriting)
2-10 red bird eye chilies (Indonesian: cabe rawit merah)
2 inch ginger (Indonesian: jahe)
1 inch turmeric (Indonesian: kunyit)
4 candlenuts (Indonesian: kemiri)
Garnish
2 scallions (Indonesian: daun bawang), thinly sliced
a handful of lemon basil/Thai basil leaves (Indonesian: daun kemangi)
Instructions
Marinate red snapper pieces with lime juice and salt. Set aside in the fridge for 30 minutes.
Heat oil in a wok/pan on high heat and sauté spice paste, lemongrass, pandan leaves, and kaffir lime leaves until fragrant, about 5 minutes.
Add the fish into the wok/pan, mix well.
Add water and bring to a boil. Add tomatillos, tomato, and season with salt. Reduce heat, and simmer until the sauce is slightly reduced, about 30 minutes. Adjust the salt as needed.
Turn off heat, transfer to a serving plate, garnish with scallions and lemon basil.