Home / All Recipes / Japanese / Yu Doufu - Simmered Tofu
Yu doufu (Japanese: 湯豆腐) is a Kyoto dish celebrating the refine taste of tofu. This is a very simple and I think elegant dish, and more importantly, easy to prepare at home. Though at a glance this dish looks like a vegetarian dish, be aware that the dipping sauce is made with dashi, hence it contains fish and renders the whole dish non vegetarian. In general, most Japanese dishes use dashi, so if you are vegan/vegetarian, please take note of the ingredients list.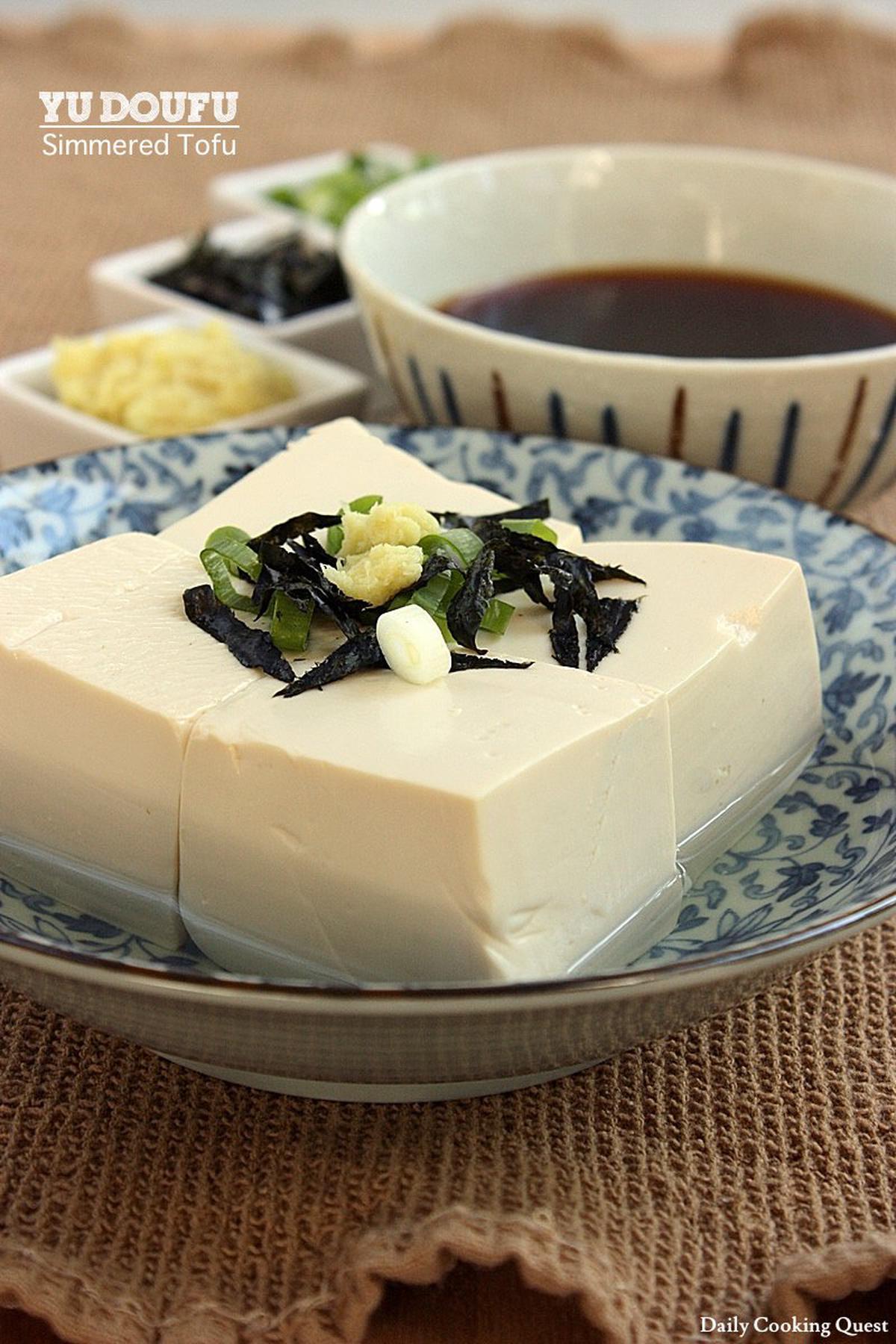 Yu Doufu - Simmered Tofu
Ingredients
4 cups water
30 gram konbu, wipe gently with a damp kitchen towel
2 blocks tofu (I love using silken or soft tofu for this dish), cut into 1 or 2 inch cubes
Dipping sauce
1 cup dashi
100 ml soy sauce
2 tablespoon mirin
Condiments
1-2 scallions, thinly sliced
1-2 inch ginger, grated
1 sheet toasted seaweed (Japanese: nori), crumbled
1 tablespoon toasted white sesame seeds
1-2 tablespoon bonito flakes
Instructions
Place water and konbu in a pot, let stand for 3 hours. (*)
Place dipping sauce ingredients in a small saucepan, bring to a boil. Transfer to serving bowls.
Add tofu to the pot containing water and konbu. Simmer over low heat for 5-10 minutes.
Add condiments to dipping sauce while eating.
Notes
(*) If you use a nice looking clay pot, you can serve the tofu directly and no need to transfer to serving bowls.